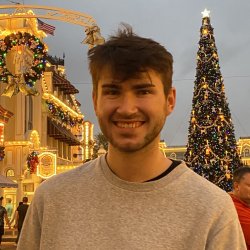 Jack Bell
"I like how there is such a broad variety of modules that can link with other disciplines such as sociology, criminology and politics."
Study abroad location
University of Central Florida, USA
What's something you couldn't live without at university?
Having Simply Fresh is a big help as I live on campus and I can always rely on it when I'm in need of a study snack whilst at the library.

What's one food dish or snack you couldn't live without at university? 
Making and experimenting with new recipes has been an important part of my life as a student. I've realised that I'm good at making a spicy Indian curry. No recipe required, I just play it by ear and it seems to work – most of the time.

Describe your experience at Surrey in three words.
Fun, character-building and stimulating
Why did you choose to come to Surrey? What appealed to you?
The location is perfect as I am not too far away from home and I have London on my doorstep. The course also really appealed to my interest in media studies and communication theory. The study abroad placement was an additional perk as I had always wanted to experience university life in the States.
What was your first impression when you got here?
The campus really appealed to me, especially the lake area. It looked so green and peaceful and I knew it would be the perfect place to spend my free time. The people I have met also gave me a great first impression as all of my new classmates and professors were so welcoming and friendly.
Why are you passionate about your subject?
I had studied both media and communication and cultural studies at sixth form and I knew I wanted to develop my understandings at a higher level because it focusses on contemporary societal structures and questions why groups of people behave the way they do in everyday life. Media is such an important area of study nowadays as it dictates the course of everybody's lives and demonstrates how common issues are represented to the masses.
What do you like about your course and why?
I like the fact it is a BSc which means there is a heavy focus on the research aspect of social sciences. I also like how there is such a broad variety of modules that can link with other disciplines such as sociology, criminology and politics.
What were the facilities like on your course? How did they help your studying experience?
The professors have been very helpful in ensuring I achieve the best I can by giving academic advice and providing a pathway that will surely help my future career.
If you went on a Turing exchange or studied abroad, why did you choose to do so? Where did you go?
I spent two semesters at the University of Central Florida in Orlando, USA. I chose to go because I had always wanted to experience life as an American College student and position myself in an entirely new education environment.
What were the highlights of the experience? Would you recommend it to others?
My study abroad year was probably the best year of my life. I got to witness an entirely different learning and living environment first-hand and meet so many new people from around the world. Studying in Florida was definitely character-building and it allowed me to bring back an new and improved perspective on life for when I returned to Surrey. I one hundred-per cent recommend it to anyone and I am very jealous of all the upcoming Surrey students who get to enjoy this opportunity in the future!
Are you part of any clubs or societies? How have they contributed to your Surrey experience?
I co-hosted a music show for Stag Radio in my first year which was a new and entertaining opportunity. I feel that I learnt a lot about the technical side of radio and the social side of being a presenter. I currently play in an intramural football league at Surrey Sports Park which is a great way to let off some steam in between studying and meet new friends.
What are the best things about life at Surrey? 
The campus feels like a small village and I definitely feel part of a community here. Of course, the location is perfect as it is near London yet the countryside is also on your doorstep. Guildford is a lovely, old town and there are so many bars and restaurants to enjoy time with friends.
What has been your best moment at Surrey so far?
The opportunity to study abroad is the highlight of my life at Surrey as it came at a time where COVID-restrictions were being lowered and it gave me a sense of freedom.
How has your time at Surrey had an impact on you?
Surrey has definitely made me grow as a person and has given me more confidence. I have learnt a lot through studying here and I feel like my academic know-how has increased significantly.
Do you know what you want to do when you graduate?
In the short-term, I hope to find a graduate job working in Florida and have applied to be a Cultural Representative of the UK at the EPCOT resort at Walt Disney World. In the long-term, I would like to pursue a career within the media industry and hopefully integrate my passion for travel during this.
Discover more about the BSc Media and Communication and other degree courses in the Department of Sociology.