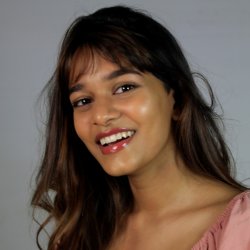 Yashna Budoo
"My lecturers on my course were all fantastic.... They have assisted me in improving my writing skills, challenging my ideas, and advising me, for which I am grateful."
Is there a song that reminds you of Surrey? Why?

The song 'Sway by Cupidon and Shaqdi' reminds me of Surrey because it was one of my favourite songs to listen to while driving to university. It also reminds me of the beautiful scenery in Surrey, especially the lake during the summer.

What's something you couldn't live without at university?

One of the most valuable aspects of my university experience has been the friendships I have formed. People at Surrey are usually very friendly, and it is always easy to make new friends.

What's one food dish or snack you couldn't live without at university?

I love Mauritian prawn curry, which I often bring for lunch. When it comes to snacks, I always opt for mochi, which is usually available at Simply Fresh. It's chewy, sweet and delicious.
Why did you choose to come to Surrey? What appealed to you?
As I live in London, home was never too far away. I found Surrey easy to commute to as I chose to drive to University. In addition, the course piqued my interest because it offered an optional placement year.
What was your first impression when you got here?
The campus was the first thing I noticed when I arrived at the University. The campus was beautiful, and the variety of food options, shops, and ease of access to the local shopping area intrigued me.
Why are you passionate about your subject and what do you like about your course?
I believe that the media has a significant impact on everyday life and the world. The pandemic demonstrated this, as we were all connected because of the media.
I like how intellectually stimulating my course is. There is always something new to learn and discuss, as well as opportunities to challenge my perceptions and ideas.
My lecturers on my course were all fantastic, but Paul Hodkinson and Nathalie Weidhase stood out for me. They have both assisted me in improving my writing skills, challenging my ideas, and advising me, for which I am grateful.
What were the facilities like on your course? How did they help your studying experience?
The library and the Department of Sociology common room are excellent study spaces. They have plenty of room for a variety of uses, including a silent area and group working areas. At the University of Surrey, there is never a shortage of study space.
Are you part of any clubs or societies? How have they contributed to your Surrey experience?
Joining the Taekwondo sports club was one of the best decisions I made during my time at university. Through participation in the sport, I was able to make many close friends as well as physically and mentally challenge myself. As a result, I was able to grow as a person and become more involved at university.
What are the best things about life at Surrey?
Surrey Sports Park is large and has numerous facilities. The campus is also beautiful, and the University exudes a positive atmosphere. The location is also ideal, being close to both London - the city, and Portsmouth – the beach.
"My course's field trips have been enjoyable because we are all involved in media-related activities as a class. Taekwondo grading and competitions have also been a fun challenge that I will never forget."
How has your time at Surrey had an impact on you?
During my time at University, I developed as a person. I've gained knowledge, been able to adapt to different environments and people, and been able to do and participate in things I never thought I'd be able to do.
Describe your experience at Surrey in three words:

Fun

Stimulating

Encouraging.
Discover more about the BSc Media and Communication and other degree courses in the Department of Sociology.