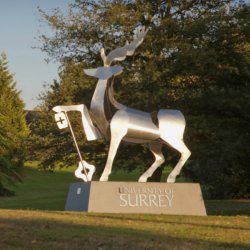 Janet Preston
Physics graduate Janet Preston studied at Surrey in the 1970s and met her husband, Mark, a fellow physics student, in her final year. Janet Preston is a former partner at KPMG and is now director of Cold Fuzion business consultancy, as well as studying for a PhD in astrophysics.A strong advocate for the University, Janet has supported Surrey through a number of volunteering roles and was named one of the UK Volunteers of the Year in the Vice-Chancellor's Alumni Awards 2016.
How did you feel to be named as Volunteer of the Year?
I was excited and humbled. It is really nice to be recognised, not that you do it for the glory! I enjoy giving back and have a passion for passing on my experience in an informal way. I hope that I and others who get involved can give students an edge when they graduate, for example making sure their CVS are the best they can be. I love it when people come up at the end of a workshop to ask questions – I feel like I've made a bit of a difference.
The beauty of the volunteering programme is that you can do something as soon as you graduate, such as helping out at an Open Day, or reconnect later, and pass on your skills and tips – people are always welcome back.
Why did you choose to study at Surrey?
It had an industrial placement year and an astronomy module in the final year – both of which I really wanted to do. It actually was my number two university but when I visited it felt like home and the faculty members I met were really approachable. So I made Surrey my number one choice and was delighted when I was accepted - even though at the time the campus resembled a building site as Guildford Court was in the process of being built.
Why did you decide to study physics?
My dad was involved with the space programme in the late 1950s. He always encouraged me to take an interest in science, especially at A level, and physics seemed to be a good choice. Not many girls studied it at the time – out of 47 students in my year, there were only five girls. I think the ratio is a little better today but I think there is still more to be done to encourage girls to consider science careers.
Where did you spend your Professional Training year and how did it help with your career?
I knew that industrial training would give me an edge when it came to looking for a job, and spent it at the Institute of Oceanographic Sciences at Wormley near Godalming. I used my physics looking at the mixing of layers in water, which has implications for the use of submarine communications. 
The PTY proved to employers that I had a track record of being a responsible and valuable employee and it teaches you to get on with a whole range of people – as a student you are generally mixing with others of a similar age so it's beneficial to have that early exposure to how it will be in the real world.
What's your favourite memory?
It has to be my friends – they were an amazing group and I am still in contact with most of them.
How has the University helped with your career?
Although I didn't end up using physics in my career, the scientific discipline has really helped me. The systematic problem-solving approach has been a godsend, especially in business innovation and project management.
Why did you decide return to study?
When I graduated with my BSc, I had an offer to study for a Masters which I deferred for a year so I could raise the money I would need. However, in the end I opted to stay working. A couple of years ago I was at a place in my career when I could take a break and thought maybe it was the right time to study for the Masters. Ironically, just before I started, a number of projects came up at Cold Fuzion but I knew that this time I had to put my education first and not travel down the same path of putting it on hold for business.
Initially, I just hoped to pass but after a couple of good marks, I realised that I could do well but was still stunned when I came out with a distinction. We were encouraged to think about PhDs, and I just went along to the information talks to test out the idea. I was offered an interview and when I received my PhD offer, I was overwhelmed. I didn't realise how much it meant until the opportunity was put in front of me.
I love learning and picking up new things and gaining fresh insights into a topic.
What are your future ambitions?
I'm really enjoying my astrophysics PhD research and would like to continue in academia when I finish. It's great to have a qualification academics recognise and also have the experience that businesses value.
What advice would you give to students?
Try and engage in some business-orientated initiative to gain an understanding of business language and culture. I'm talking about something beyond a part-time job. For example, I would encourage everyone to get involved with the Young Enterprise Start-up programme during which students are supported to run a company for a year. Having an idea how business ticks means you're better prepared for an interview and a job. Business-literate science graduates would give Surrey a real edge.
Who was your favourite lecturer?
Professor Daphne Jackson. She made atomic physics sound so easy it wasn't true. She made the subject accessible and she was a fabulous role model.