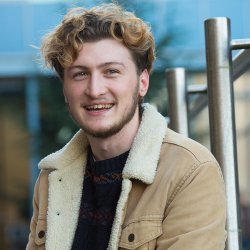 Jonny Beavis
"I thoroughly enjoy the opportunity to take a novel, creative approach to tasks and I feel that studying Psychology at Surrey has fostered this trait. With every assignment, we are encouraged to critique literature and go beyond merely regurgitating content."
Course
Psychology
Placement company
Life Works
"I began my search for a university at the league tables, specifically related to university ratings for my chosen subject. I soon found that Surrey was in the top ten for Psychology so I attended an Open Day and found out about the Professional Training placement. The idea of a placement made so much sense to me. I didn't know what exactly my degree would lead to but I knew that I wished to apply it in a practical setting and the only way to experience this is by undertaking a placement.
The Open Days were interesting and helped me to realise the beauty of the campus as well as how engaging the lecturers were.
Just being on campus gives you the sense that you could be a real student here and all sorts of thoughts run through your mind about life at university.
I chose to study Psychology because it seemed to me to encompass education on a huge variety of topics (particularly the programme at Surrey): statistics, philosophy, neuroscience and many more. I was unsure exactly where it would take me, but I knew that I wanted to learn as much about people as I could and apply that knowledge to help them. Psychology is the study of people and people will always need studying.
I thoroughly enjoy the opportunity to take a novel, creative approach to tasks and I feel that studying Psychology at Surrey has fostered this trait. With every assignment, we are encouraged to critique literature and go beyond merely regurgitating content. I also enjoy the variety of topics from language to history to cognitive psychology, it is all important in my opinion. 
The academic staff at Surrey are incredibly knowledgeable, completely approachable and they push the students to think critically about content which is the hallmark of a great lecturer.
The facilities at Surrey are modern and I'm almost certain that they have anything that a university student would ever need. I cannot count the number of hours that I have clocked in the Library but I can tell you that I would not have been able to complete my assignments without the comforting, quiet study areas which are always available. 
I lived on Hazel Farm in first year and found the facilities to be rather good. The campus is incredible and walking through it genuinely induces wonderment. Also, the lake is very lovely.
My Professional Training placement
As part of the third year of my programme, I undertook a Professional Training placement working as a clinical intern at Life Works, a private rehabilitation centre specialising in the treatment of addiction, eating disorders and mood disorders. I found this placement through an advertisement on Surreylearn.
During my placement, I worked in three departments. In the Clinical department, I observed hundreds of group therapy sessions with clients, took clinical notes, discussed formulation of treatment for individuals receiving care and observed one-to-one therapy sessions. In the Nursing department, I assisted the Head Nurse in distributing medication and other administrative tasks. In the Enquiries and Admissions department, I organised admissions to the centre, liaised with enquirers and referrers, replied to thousands of email and telephone enquiries from clients and conducted pre-screening assessments with potential clients.
I met some of the most brilliant people on my placement. Learning about my intended line of work was half of the experience but the chance to go and do something completely outside of my comfort zone, immerse myself in a world of addiction and psychological disorders, and emerge in 2016 the same person but with an entirely new outlook is exactly what I hoped would happen.
Placement is like shopping for hats. I temporarily assumed the roles of counsellor, therapist, friend, colleague, manager and realised what life would be like if I took the plunge and purchased one of these hats. Having finished placement, I realise that the best type of placement is one which gives the individual the freedom to try on any hat they fancy as many times as they like.
I would absolutely recommend a Professional Training placement. Everyone wants a job at the end of university but not everyone (including pre-placement me) knows what full time work will be like. Whatever a person's placement is, it gives them a chance to to experience situations which they would previously have shied away from.
Good or bad, a placement is an insight into challenges which everyone will have in their workplace after university. Placement is just safer and comes with a lot of support which makes the challenges a more salient learning process. 
When I look back at my placement, I can honestly say that I made a difference to vulnerable people when they needed it. I was a voice on the other end of a phone call which I'm certain most people never thought that they would make. What's more is that I was the initial response to enquirers and then saw the same enquirer through 28 days of treatment in a clinical setting (in collaboration with a team of professionals). I was able to assist clients on both sides and so, in some small part, I was part of the recovery process for people. That makes me very happy.
I have matured and begun to find my purpose since I began at Surrey. University is the time when you start to ask all the important questions, academically, theoretically and professionally. I am a more independent, optimistic, critical, pragmatic, understanding person since I began University. Essentially, a grown up.
I am currently applying for Masters courses in Clinical Psychology with the hope of applying for a Clinical Doctorate after that."
Discover more about our psychology programmes, including our BSc Psychology.