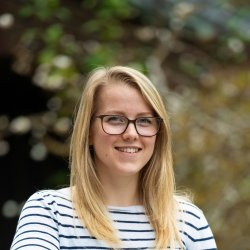 Louise Jones
"The teaching staff are always willing to help and really know their stuff. I always have confidence that I'm being taught the most up-to-date information."
My course
My BSc (Hons) Nutrition course is so interesting and varied, and there are optional modules in the second and final year, so you can really tailor the course to your interests.
All the teaching staff are very approachable and really know their stuff. I always have confidence that I am being taught the most up-to-date information and they are always willing to help should you need help with any area of your studies.
My placement
I completed my Professional Training placement as a sports nutrition intern at Surrey Human Performance Institute, based at Surrey Sports Park. I would definitely recommend a placement to others. Surrey has such great links to industry that you're sure to find a placement that you like. It really helps you mature and get experience, with the chance to network with others in your field.
The experience helped me realise nutrition is definitely the career I want to follow and has provided me with valuable experience to help me stand out in the industry.
"A placement really helps you mature and get experience that will set you apart from other graduates."
My life at Surrey
In my first and second year, I was part of the University's Boat Club as a rower and women's development captain. It taught me the value of supporting a team and managing my time effectively and gave me the opportunity to meet some of my best friends. Now in my final year, I have joined the Weightlifting Club and Lacrosse Club. Joining Team Surrey is also a great way of meeting people outside of your course and has helped me to unwind after a busy day of lectures! 
I lived in University accommodation in my first year and it was great. The best thing about it was always being able to be with your friends and having someone to sit and have a cup of tea with! I lived with 11 other people and we are all still great friends three years on.
There are so many great things about being at Surrey. The campus has such a nice atmosphere, with lots of places to work, eat and meet up with friends. The Sports Park facilities are unrivalled, and offer students a good discount. When I'm on campus, I like to grab myself a coffee from one of the many coffee shops and head to the library to do some work. There are so many study spaces for individual or group work which is great!
The town is also great for shopping and eating out, and has close links to other cities and towns, including London and Reading. So, there is always something to do!
My career and development
Choosing to come to Surrey was the best decision ever. I have been able to meet people that would become my best friends, and study a course that I am truly passionate about and which has set me up for a great career ahead. My time at Surrey has been some of the best moments of my life, and I am so glad I came.