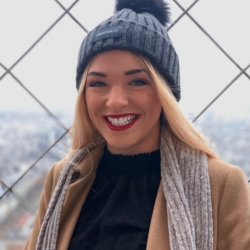 Macy Wrintmore
"The most amazing thing about Surrey has been the support, communication, and sense of community even during the pandemic. Despite all the uncertainty, my lecturers, the Students' Union, and societies have continuously gone above and beyond".
Course
Modern Languages (French and Spanish)
Choosing Surrey
I applied to Surrey after having visited an open day in summer 2018.
For me, the biggest selling point was the degree itself. Modern languages courses vary so much, but Surrey focuses on the applications and purposes of languages in business, research, and professional environments. This, alongside the incredible language facilities on campus, made my decision to study at Surrey very easy.
The course
I love communication that defeats barriers. Learning multiple languages gives me the opportunity to converse with likeminded people in new environments to push me to better myself. There is such a variety of modules and topics covered on my course. We don't solely focus on learning the languages, but we also learn about the applications of the languages too, for example the cultures, translation theories and techniques, and contemporary society and politics.
Staff support
Both the languages staff and the facilities are impeccable. The module leaders and lecturers are all extremely helpful and very easy to approach about any academic or personal issues. I always feel as if I have someone to turn to at Surrey, which can be rare to find at university.
Life at Surrey
I joined the women's football team in my first year and it was the best way to meet new people and make friends whilst playing a sport I love. The ladies are all so friendly and encouraging and I'm now Social Secretary and Social Media Executive for the club. I also am Vice-President of the new LangSoc which has been an amazing opportunity to encourage the appreciation of language learning.
University accommodation
I lived on Manor Park in my first year and I absolutely loved it! It was a fantastic opportunity to meet other freshers, not only in my flat, but across the entire village. For me, the best thing was the feeling of living on my own for the first time, without being completely isolated as there was always someone there.
When I'm on campus, I spend most of my time either in the library using the language learning facilities or in the Nest studying.
Career support
Each year, I've participated in an Employability Week, which our course leaders offer detailed seminars into the career opportunities for a languages student.
Surrey has continuously provided me with invaluable information and knowledge about life after university, through my modules choices and the possible career opportunities available through Surrey Pathfinder. I intend to apply for jobs straight after university and am hoping my professional training placement will help me decide what I enjoy doing.
Best Surrey moment
The best moment for me was winning the cup final in March 2020. We had organised a charity bar crawl celebration for the evening with over 125 people. The whole experience highlighted the feeling of being part of something really special here at Surrey.