Maddy Taggart
"My time at Surrey fully prepared me for life as a qualified practitioner and I've now moved back home to the Isle of Man, where I'm working as a Midwife at a local hospital."
Course
Midwifery (Registered Midwife) BSc (Hons)
Why I chose Surrey
I always knew I wanted to work in healthcare but wasn't sure which area I wanted to specialise in. After completing some work experience on a maternity ward, witnessing my first birth and the autonomous care midwives provide, I knew it was the vocation for me.
I chose Surrey because of the great feel I got from the campus when I visited on an open day. It was so picturesque, and everyone was friendly. The lecturers and mentors I met at my interview day really put me at ease and set the tone for the ongoing supportive atmosphere I then went on to experience during my time training to be a midwife.
My course
I loved so many things about my midwifery course but one of my favourites has to be the practical element. I really enjoyed following pregnancies from the very first booking appointment, through to birth and postnatal checks. These allowed me to see a continuity of care model first-hand, building amazing relationships with the families in my care and consolidating my learning.
The lecturers on my course were all incredible. They always had time for me and didn't hesitate to offer support. I really felt empowered by my personal tutor, who inspired me to explore opportunities I would never have imagined I'd have been able to. I will be forever grateful for this amazing start to my midwifery career.
The facilities in the Kate Granger Building were amazing! I felt so lucky to have state-of-the-art, modern equipment to aid my learning, like the Immersive Learning Environment. I had simulation days, where actors were brought in as patients. These made me think on my feet and helped me build my confidence, before going into practice, working with real mothers and babies.
Credit: University of Surrey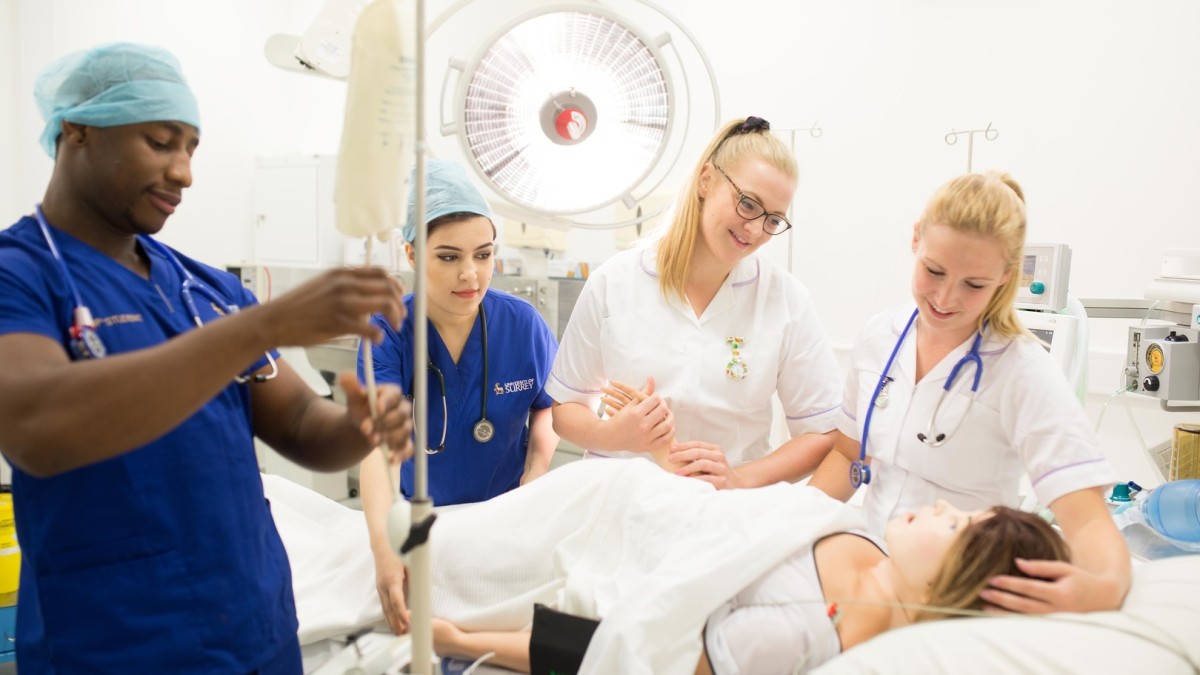 My clinical placements
On my clinical placements, I was placed with the Royal Surrey NHS Foundation Trust. I got to work in all areas of midwifery care at the hospital, in an antenatal clinic, antenatal ward (including inpatient care), planned assessment unit, labour ward, maternity theatre and postnatal ward. I also went out into the community across Guildford and the surrounding area with the homebirth team.
From my first day I supported with taking blood pressures, feeling babies' positions, listening to their heart rates, and visiting new mothers and babies in their homes after being discharged from hospital. As I grew in skill and confidence, I got to complete more and more independent care, preparing me for life as a qualified midwife.
Every team I worked with was amazing and offered me loads of support. I learnt so much from the experience, from my first postnatal check to catching my first newborn baby!
My elective placement
At the end of my second year, I arranged and funded a trip to Ontario, Canada for an elective placement with the Community Midwives of Halton. There, I took part in hospital and home births, community clinics and home visits within the Oakville community. It was an incredible way to experience midwifery in a country like the UK, meaning everything I learnt I could apply to my practice.
I would recommend anyone to go and experience midwifery around the world. It was an experience that I will never forget.
My most memorable moments
There were so many highlights, it's difficult to pick one, so here are a few of my favourites:
I got to support so many women throughout their pregnancies, homebirth and postnatal care, and I'm still in touch with one family. It's been so rewarding seeing them grow and reminds me why I wanted to be a midwife.
I helped several families through the bereavement of their babies. Although this is a very challenging aspect of midwifery, it was a privilege to be able to support them through such difficult times in their lives. Their stories stay with you forever.
I was a finalist for the Royal College of Midwives 'Pregnacare Student Midwife of the Year Award 2020'.
My career and development
During my time at Surrey, I received amazing support that allowed me to grow as a person and a professional. I made friends and memories that I will carry with me for the rest of my life.
My time at Surrey fully prepared me for life as a qualified practitioner and I've now moved back home to the Isle of Man, where I'm working as a Midwife at a local hospital. I've brought so many unique and innovative ideas from my time at Surrey to the role and the team I work with have been fully supportive of these and helped me find my feet. It's such a privilege providing continuity of care to families, in what is such a special moment in their lives. Being with women throughout their pregnancies, births and beyond is so rewarding and there really is nothing else like it.
My advice
Before applying, get as much experience as possible and read around current topics in midwifery. It's hard work but worth it!
Persevere if you don't get in first time. I got a place second time round and the experience I was able to gain during my year reapplying allowed me to grow so much.
Believe in yourself, it will be the best thing you ever do!