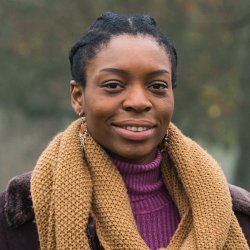 Monica Oluwole
"If you ever ask an Erasmus student to summarise their experience in a few words, they would laugh and say that's not possible. I met people in Barcelona, Catalonia and made friends from all over the world, friends that shared the best experience of my life with me."
"I chose to study at the University Surrey for its proximity to home and its ever increasing ratings in the league tables, but mostly for its Professional Training placement option. Also what stood out to me, was the chance to study a language (the Global Graduates Award) for free alongside your degree.
I attended an Open Day which allowed me to take a look at the facilities at the University and I was particularly pleased with the size and appearance of the Library, which was vast and very modern.
The best part of my course is its structure. It allows me to prepare work on a week-by-week basis, be tested in the middle of the semester, seek advice and prepare for coursework and exams. Not only is this useful, but it allows me to manage the variety of modules and the mass of information from lectures and reading. I love how Law is different, vast and relevant to us all. Law is a programme, though tough and in its own way demanding, that is so very interesting in its many areas and concepts and also applicable to everyday life.
The Law common room is a great place to study or talk with fellow coursemates. It is comfortable, in a quiet location and the printing facilities are excellent for the necessary and desired reading that you complete.
In my first year, I lived in Manor Park accommodation. Although a short walk or 10-minute cycle to campus, it was amazing. Located near Surrey Sports Park, it was easy to travel to the gym and walk to Tesco after for post-workout snacks. Additionally, the accommodation was modern and very clean in Band D and E. Having met people on the first day of moving into Manor Park, I made friends for the rest of my degree and remember Manor Park with fond memories, including Nigerian Independence Day celebrations and celebrating birthdays with a Fajita Night.
The Sports Park is a great facility. The location of campus is great in relation to the town city centre. I attend Family Church Guildford which has been a true blessing in my life and allowed me to meet beautifully kind and thoughtful people studying, working and living in this area. 
I am also part of the Chosen Fellowship Society. I remember attending in my first year, walking into an acapella worship and thinking how amazing it was to be happening on campus next door to where my lecture would usually take place. This has helped me to engage with others of the same faith in fellowship and allowed me to meet people from other courses. This allowed me to form strong friendships.
I completed a four-month unpaid legal placement at Burke Niazi Solicitors and Advocates in North London, a partner of the University. I met the Practice Manager of my placement location at the University of Surrey Law Fair, spoke with her, gave her my CV and later contacted her by email to secure an informal meeting at the office. 
As a Housing Clerk, I managed all new and ongoing housing enquiries. Often people from the local area would call or come into the office seeking legal aid assistance. Only a few issues are covered by legal aid due to government cuts, therefore it was imperative to find out details of the potential client's issues to determine their eligibility.
I would recommend a Professional Training placement to all who wish to obtain some work experience before the completion of your degree. It is an insight into working life and allows you to see the benefits of being a student and managing different tasks around your course.
When I applied to the University of Surrey, a big part of its appeal was the chance to complete a placement. I looked at the options for my third year and was attracted to the opportunity of studying abroad. Having studied Spanish at A Level, I thought this would be the perfect opportunity to improve my level of conversational Spanish. Therefore, I applied to Surrey's partner university in Spain, Universitat Pomeu Fabra, located in the heart of the beautiful city of Barcelona.
The University helped me with finding accommodation and provided me with knowledge of the city and institution in which I would study. They provided me with a booklet of relevant information and several websites which helped me whilst abroad. The placement and study abroad department were a great help in making this experience possible and maintaining communication with me whilst abroad.  
If you ever ask an Erasmus student to summarise their experience in a few words, they would laugh and say that's not possible. I met people in Barcelona, Catalonia and made friends from all over the world, friends that shared the best experience of my life with me. There was lots of studying, laughing, experiencing new culture and trying many new foods - Erasmus is the best! It is a chance to get out of your home university and your comfort zone. It is an invaluable experience that many say cannot be repeated in the same way.
I believe that I have grown to be a more rounded individual, developing my interests and desires whilst studying over the past three years. With many opportunities, events and societies on campus, there have many chances to determine your interests, test your abilities, and find out what type of person you are and want to be."
Discover more about our law programmes, including our LLB Law.