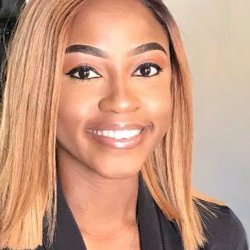 Mutale Chewe
"Coming to university is a bit of a scary prospect, particularly as an international student. However, Surrey creates an optimal environment for everyone to thrive in – regardless of where you come from."
Course
Economics and Finance BSc (Hons)
"I chose Surrey primarily because of its rankings on many university league tables. Being an international student, this was one of the first places I went to assess which university I wanted to attend. My time here has superseded the high averages that I saw with regards to the student experience.
My first point of contact upon arrival in the UK was with Surrey's International Student Support team – they provided transport for both my mum and me from Heathrow to Guildford. The team were very friendly and supportive with the main aim of making us feel as comfortable as possible by enabling a smooth transition. This set the tone for my whole stay here, as I have been consistently supported in various capacities.
Coming onto campus, I got to see how beautiful the University was. I was amazed at how the University has both modern infrastructure and beautiful scenery.
I really enjoy the fact that on my course we have a variety of modules offered to us. They have developed various skills within me and harnessed my analytical capabilities. Also, they are tailored to industry and so, the stress of going through interviews has been alleviated by the fact that we learn about relevant content to the job market – even from first year.
The academic staff are very helpful. They also go past the assessments and the course; taking time to know your name and interests.
This is very important because while getting a good grade is important, having supportive lecturers has added value to my Surrey experience.
The fact that these lecturers come from various backgrounds (in terms of countries and research interests) has added value to my degree. Furthermore, the facilities are also really good with access to most of the books via the Library (or Library website), recorded lectures and a very efficient online platform called SurreyLearn. I really like SurreyLearn as it has allowed me to ask questions, see fellow students' questions and interact with my cohort!
I have lived in University accommodation throughout my stay at Surrey. I first lived in Cathedral Court, then Battersea Court and now Stag Hill Court. All of these have been 'Band C' accommodation and so I get to have my own room but share a bathroom with one other person. I have really enjoyed staying on campus because of the proximity to all important places (lecture theatres, the Library, Tesco supermarket and town). Also, the estates team is very helpful if you have any concerns about accommodation or other amenities such as the internet.
I think the greatest thing that I have benefitted from living on campus accommodation is the ability to interact and engage with people from different countries and courses!
In my first year, I was involved with the Economics and Finance Society, where I wrote in their Market Snapshot. This was very exciting for me as I learned more about financial markets; it was also an amazing opportunity to be able to contribute to society work a few weeks into my degree. This not only allowed me to add something to my CV but also to make new friends! I was part of a Business Competition with ENACTUS Surrey, where I got to unleash my creative side as we had to come up with an innovative business idea.
In my second year, I got involved with the UNICEF on Campus Society. This was a really great experience as I had the opportunity to plan and participate in fun events, develop life-long friendships and give back to those in need. I am also a course representative and have had the privilege of contributing to a development scheme for high achievers at the University called, 'STARS.' At Surrey, any suggestions and recommendations are taken seriously and undertaking these roles have shown me that.
Life at Surrey is very relaxed. Having grown up in a very quiet area, I appreciate this type of environment.
There's a range of activities to do in Guildford, such as: visiting the Guildford Castle, having dinner in town or going to Creams (ice cream parlour) as a treat after tests or exams! There's more that happens both on and outside campus – according to your interests, but I believe that the town has a lot to offer to a plethora of different personalities.
I, for the most part, have spent most of my time on campus with my friends in my flat. Whether this is for a meal or just a quick catch up session over tea! There is a lot of gorgeous scenery around campus, however, my most favourite being the lake where you can have a picnic or revise in the warmer months.
I have had many good times here at Surrey. One of my best was engaging with UNICEF on campus. I gained a lot of new friends as I was a committee member and developed really special relationships.
I have definitely grown in many areas such as time management, social skills and the ability to look past academic development.
Looking back, I have realised that through various interactions with both coursemates and academics, my interests have changed.  I have become more open-minded to different things and have been challenged to aspire for better and this has opened more doors of opportunity.
I am not 100 per cent sure as to what I would like to do after graduating; however, I am considering doing a masters degree. I do have offers from banks in the City but I am thoroughly considering all my options. To add to this, there are a lot of friendly lecturers at Surrey that have helped me, in terms of weighing my alternatives. They have given me advice from masters courses to different aspects of finance that helped me even in my interview(s). I found this really invaluable and unique to my Surrey experience as I know that I do not have to make these important decisions without any help from the academics here at Surrey!
Coming to University is a bit of a scary prospect, particularly as an international student. However, Surrey creates an optimal environment for everyone to thrive in – regardless of where you come from.
I have had to miss one Christmas with my family and the support at Surrey has been phenomenal. The Students' Union, for example, planned a Christmas lunch for international students that stayed on campus for the holiday. This just shows how sensitive the university is to different needs and not just from an academic perspective."
Discover more about our economics courses, including our BSc Economics and Finance.