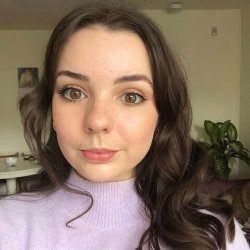 Sophia Quirke-McFarlane
"From speaking with graduates, I knew Surrey had great facilities, support systems, and a super friendly and welcoming School of Psychology."
Choosing Surrey
From speaking with graduates, I knew Surrey had great facilities, support systems, and a super friendly and welcoming School of Psychology. All of which I have since experienced first-hand! The campus is also a beautiful, leafy environment which to me was a massive selling point. I live in London and such university campuses are rare!
I chose to undertake my PhD at Surrey because of its merited reputation in health psychology. I was extremely keen to work with my now primary supervisor Professor Jane Ogden, whose research and dedication to the field of health psychology I have admired for years.
I also liked that the programme offers Stage 2 training, meaning I can register as a chartered health psychologist when I complete my PhD.
My research
Bariatric surgery, also known as weight loss surgery, is considered the most effective intervention for weight loss for those classified as obese. However, bariatric surgery success is dependent on the patient's lifelong commitment to behavioural and dietary changes post-surgery. Given that most of these changes occur within the patient's home, familial support networks play a significant role throughout their bariatric surgery journey.
More specifically, related literature has identified life partners as essential to the success of the patient's bariatric surgery. However, limited research within this evidence-base has specifically focused on this role. I'm particularly interested in gaining insight into experiences of negative social support from partners as this is rarely acknowledged in this field of research.
What makes me passionate about my subject is that the results from this study can inform the design of an intervention aiming to educate couples pre-operatively about the potential effects of bariatric surgery on partner social support and the types of partner social support that previous patients have found helpful and unhelpful.
As a result of my primary supervisor's connection with the founder of Obesity UK, we are extremely fortunate to be collaborating with this charity throughout my PhD. Obesity UK is a leading charity dedicated to supporting people living with obesity. The charity will be assisting us with participant recruitment for several studies.
Life at Surrey
I've loved becoming an active member of the School of Psychology! As a result of being a course representative, academic tutor and graduate teaching assistant, I've had the opportunity to get to know not only my fellow postgraduate researchers but also the academic team and many undergraduate, placement and masters students.
My days on campus typically include grabbing lunch at Hillside and a coffee with my fellow postgraduate researchers at Lakeside (who do the best coffee on campus in my opinion!). Weather dependent, I also like to walk along the picturesque lake to reset during my lunch breaks.
Discover more about our psychology research courses, including our Health Psychology PhD.