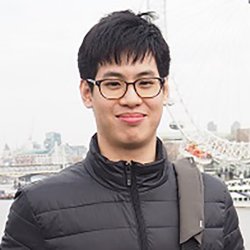 Thanat Varathon
"One of the best things about the course, in my opinion, was the opportunity to experience seminars delivered by guest speakers from satellite companies."
Course
Satellite Communications Engineering MSc
"Before I came to Surrey I was working as a communications engineer at Thaicom Public Company Limited – the only satellite operator in my home country, Thailand. Satellite communication technology is really significant in Thailand as we have many areas where terrestrial infrastructure can't be used for geographic reasons.
I realised that, as satellite technology is constantly evolving, my knowledge was not deep enough to enable me to help the company grow.
I decided to apply for a sponsorship from my company to study for a specialist Masters course and, after a week's research, found that Surrey's MSc Satellite Communications Engineering was the best choice for me based on the curriculum and the University's renowned, successful spin-out company Surrey Satellite Technology Limited (SSTL). The University of Surrey's high ranking in the league tables also fulfilled my company's requirement that scholarships must be taken with top 10 universities.
The Surrey course provides an extensive knowledge of both ground systems and space engineering, enabling you to cover the whole field of satellite communication systems. Most other Masters courses tend to focus on one or the other.
I found that all the academic staff are truly passionate about their field. When students ask questions, they always explain clearly why you need to have this piece of knowledge, and how you would apply this in a real job, which I found very helpful. The lab facilities at Surrey are also very well equipped with high-level devices and software, and there's lots of support provided to enable you to demonstrate the theory you learn in lectures into practical results.
One of the best things about the course, in my opinion, was the opportunity to experience seminars delivered by guest speakers from satellite companies. As an employee of a Thai satellite operator, I was very interested to hear about the latest developments from satellite operators in a developed country like the UK, while gaining insights from a payload engineer at Airbus (a leading global satellite company) was a particularly exciting opportunity.
I think that the MSc Satellite Communications Engineering is the right programme for anyone wanting to work in satellite communications or already working in this field. Since re-joining Thaicom, thanks to my Masters study, I've been invited to take part in verifying the company's new satellite payload."
Discover more about our electrical and electronic engineering programmes, including our MSc Satellite Communications Engineering.