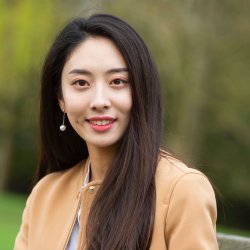 Yoo Ri Kim
"It is a joy to come into the PhD office and focus on my research, but also to meet and interact with my fellow colleagues."
Course
Hospitality, Tourism, Transport and Events PhD
"I have always had the passion to study tourism and hospitality, even before starting my undergraduate degree, as it is such a dynamic and mobile industry that is multi-dimensional and inter-disciplinary. I always thought that it has so much research potential, and after graduating with a BSc in Geography with Economics, my interest in tourism and hospitality heightened with inter-disciplinary view point, linking tourism with economic geography, which I wanted to research in my PhD. I have also wanted a career in academia, which drove me into higher education up to the doctoral level.
I did my masters at the University of Surrey in MSc International Tourism Development. I chose to come to Surrey as the University is a leading institution in tourism and hospitality globally but also as it is well-known for its academic rigour.
My overall experience of studying for a PhD at Surrey so far has been amazing. My PhD office is full of friendly and supportive colleagues, which really makes the whole experience better. It is just amazing to have the opportunity to do something you really love in an environment where your colleagues are also in the same position and together we can cheer for each other.
My meetings with my supervisors have really helped me to achieve my aims so far. With my confirmation coming in a few months time, the support and advice, but also the motivation I get through our meetings, have enabled me to maintain a steady pace from the beginning of my PhD. Through this, I have managed to achieve all the targeted aims and goals so far, and have the time and space to prepare a research paper with my supervisors.
"My relationship with my supervisors are good, and they are extremely supportive towards me and my research."
The Doctoral College and the Researcher Development Programme (RDP) have been extremely helpful with their workshops, providing me with enough guidelines with the necessary skills and information for my PhD – this includes from using the Internet to search information but also to use the online platform for research impact to writing skills for a PhD thesis. The School of Hospitality and Tourism Management also provides their own RDP seminars which have also assisted with my understanding and skill-building with Thesis and paper writing.
It is also great to have the lake and natural environment surrounding Surrey, which helps me relax and refresh my mind when needed.
I am currently preparing a research paper with my supervisors, and I have also managed to get collaborative support from an external organisation – People1st – and they will be helping me with my research, especially with maximising the research impact in later course.
Having started my PhD last October, my proudest achievement was getting the ESRC SeNSS (South East Network for Social Sciences) Studentship, which not only funds me but provides me with additional doctoral training and platforms to network and share research ideas. I have always pursued a career in academia, thus after my PhD I plan to apply for jobs in universities for teaching and research.
It is an outstanding and joyful opportunity to be able to study as a PGR student at the School of Hospitality and Management. Surrounded by the leading scholars and researchers in the field, the environment is full of bright minds, new ideas and insights, which is reflected in the diversity of the School. My supervisors and colleagues have been really supportive and enthusiastic from the start, which has enabled me to progress well both academically and personally."
Discover our programmes in hospitality, events, tourism and transport including our PhD Hospitality and Tourism Management.