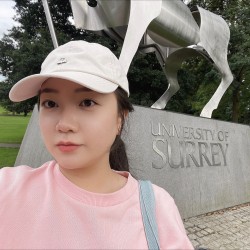 Youyang Qu
"The experiences and opportunities provided by Surrey have enhanced various skills that are highly valued in the job market. These include adaptability, communication skills, organisational abilities, critical thinking, and intercultural competence."
Choosing Surrey
I chose Surrey because my fiancé has been doing his PhD at this university, and I wanted to stay close to him. However, my decision wasn't solely based on our relationship. Surrey has its own allure that attracts people to study here. And after spending almost nine months here, I can confidently say that I made the right decision!
I had the opportunity to work at the university where Surrey's Chinese campus is located, so I was familiar with the institution several years ago. It has a solid reputation for its professional and amiable academic staff, well-structured teaching system, and high standards of education. Therefore, I already knew that Surrey was a good choice even before coming here.
Choosing your course
Having experienced years in an intercultural studying environment and then in an intercultural workplace, I have always been fascinated by different cultures and wanted to excel in intercultural communication. When I came across this course, it immediately caught my attention and I couldn't forget about it. It offers a well-balanced combination of modules from two different schools, focusing on communication and business, which I believe will be both interesting to learn and beneficial for my future career.
I appreciate the intimate nature of our program, with only 11 students. Many of our classes follow a seminar format, providing ample opportunities for comments, group discussions, and Q&A sessions. Moreover, our culturally diverse group of students and lecturers adds a lot of fun to the course; it fully engages me, boosts my confidence, allows me to be myself, and fosters lasting friendships.
Staff
The academic staff on my course have exceeded my expectations in terms of motivation, support, and respect. They encourage the expression of ideas and patiently address any questions I have. I often find them not only to be excellent teachers but also close friends.
Support at Surrey
I have greatly benefited from the extensive support available to students in various areas, including academics, employment, and wellbeing. Throughout the year, I have taken advantage of the classes offered by the English Language Support Programme (ELSP), which have enhanced my academic skills in areas such as grammar and assignment writing. Additionally, I have had the opportunity to attend free Japanese classes provided by the Global Graduate Award (GGA). Moreover, our module leader has organised sessions with the Learning Development team, who have offered valuable support in understanding assignment questions, note-taking skills, paraphrasing and referencing, and even career guidance. Furthermore, the Students' Union organises a wide range of activities and events, including free dog therapy and yoga sessions, which have been instrumental in supporting our overall wellbeing.
Career support
Apart from the career support session organised by our module leader, I had the opportunity to participate in the English for Employment Skills classes offered by the ELSP. The knowledge and skills gained from these classes such as job-search and preparing for CV have been instrumental in enhancing my employability. Also, I am aware of Surrey's dedicated Employability and Careers Team which offer careers appointments, organise skill sessions, and host job fairs. I had the opportunity to attend a session about immigration options for international graduates, which helped me understand regulations on graduate visas.
Employability
I believe my time at Surrey has had a significant impact on my employability beyond the acquisition of a master's degree from an overseas university. The experiences and opportunities provided by Surrey have enhanced various skills that are highly valued in the job market. These include adaptability, communication skills, organisational abilities, critical thinking, and intercultural competence.
Looking back – best bits!
It's difficult for me to choose a single best moment at Surrey because I have created so many cherished memories! From joyful moments of laughter with friends to engaging in group presentations, expressing myself in class, receiving high marks on assignments, participating in yoga sessions, and cooking food together, to practicing Japanese conversations in the library—each experience has contributed to my overall positive journey at Surrey.
Life at Surrey offers a sense of safety and peace. The university is situated in Guildford, a town well known for its safety and prosperity. If I ever need to indulge in some extensive shopping, I can easily travel to London, which is just 40 minutes on the train.
Looking forward
My experience at Surrey has brought about significant changes within me. I have become more sociable, optimistic, confident, and resilient since starting my journey here.
I would like to highlight the diversity and inclusivity that I have experienced at Surrey. The university truly embraces and celebrates cultures from all around the world. I have also had the opportunity to collaborate with individuals from diverse backgrounds. As an international student, I highly recommend choosing Surrey as your educational destination, and enjoy the rich and diverse student life it has to offer.
Advice for students
If you are considering postgraduate study, my advice is to embrace the opportunity and go for it! I am personally grateful for the chance to be a student again after years of working, as it has been a transformative experience. I find myself more motivated and dedicated to my studies, resulting in improved academic performance.