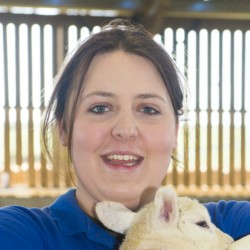 Zoe Nalborczyk
"I couldn't be more certain that I made the right decision in choosing the University of Surrey to complete my veterinary education."
Course
Veterinary Medicine and Science BVMSci (Hons)
"The first year of any student vet's life is always going to be a rollercoaster of experiences and emotions; meeting friends, adjusting to a heavy workload, handling new species, stressing about exams, missing family (and more importantly pets) and learning how to use a washing machine!
Being part of the first cohort of student vets at Surrey was slightly daunting, to say to least. But despite this extra pressure, when we started in September, students and staff alike were brimming with enthusiasm and curiosity, and excited to see where this journey would lead us.
Hands-on from the start
My very first day at Vet School was spent at the RSPCA, handling dogs and cats and learning the basics of animal husbandry. Throughout Semester 1, one day a week was spent off campus on placement with one of our partners, where we were taught in small groups of six students about the safe handling and management of several species including horses, cattle, reptiles, sheep and rabbits.
Practical handling has remained a core part of the course during Semester 2, and we've performed neurological, cardiovascular and musculoskeletal examinations both on dogs at University and on horses and farm species during placement days at Chichester College.
Having repeated hands-on experience with live animals has been crucial, not only in reinforcing lecture content but also in ensuring we all feel comfortable with a variety of species before starting our Extra Mural Studies (EMS).
During the Easter break, we all went out on a lambing placement as part of our Animal Husbandry Extra Mural Studies (AHEMS). This was not only our first chance to put our husbandry and handling skills to the test, but also the first chance for the public and wider community to get a taste of who we are as Surrey vet students.
Working with specialists
We benefit from small group teaching for our dissection classes, with less than four students per specimen. A low student-to-demonstrator ratio means we have increased hands-on learning and more opportunities to ask questions.
The School's partnerships with Marwell Zoo and Heathrow Airport means we've had the chance to see a rich source of more unusual specimens including snakes, crocodiles, oryx, zebra, a Highland bull and most recently a cheetah. Specialists from within Surrey and from the Vet School's partners have provided us with detailed information about their relevant species and subject areas, which has deepened our understanding of fundamental anatomy and its functional relevance, as well as allowed us to explore our individual interests.
Friendly Vet School staff
From the pathology technicians to Professor Chris Proudman, the Head of the School of Veterinary Medicine, our teaching staff are an absolutely incredible bunch of people, not only because of their impressive credentials but also because they all genuinely care about the students.
Their energy and enthusiasm is limitless  - we are on first name terms and they constantly make themselves available to us on an individual and group basis to organise extra sessions, discuss difficult concepts, delve deeper into their subject area or just to have conversations surrounding vet school life in general.
We are actively encouraged to speak to any member of staff about any issue, whether personal or academic, and the staff go out of their way to make themselves available to us. Considering the intensity, longevity and sheer breadth of this course, the benefits of having an extensive supportive staff network cannot be undervalued.
Helping shape the School
The student body is actively encouraged to take the lead, be proactive and get involved in the growth of the Vet School, with the advice and support of the staff. We have established a Veterinary Society, an Equine Clinical Club and a Welfare & Behaviour group which have started organising discussion forums, social events, external speakers and excursions to some of our partner practices.
Six months after starting, I couldn't be more certain that I made the right decision in choosing the University of Surrey to complete my veterinary education."
Discover more about the School of Veterinary Medicine, including our BVMSci Veterinary Medicine and Science and take a virtual tour of our new School.