Selected publications
Please see a list of selected publications below. 
Revell V.L., Della Monica C., Mendis J., Hassanin H., Halter R.J., Chaplan S.R., Dijk D.J. 'Effects of the selective orexin-2 receptor antagonist JNJ-48816274 on sleep initiated in the circadian wake maintenance zone: a randomised trial.' Neuropsychopharmacology: official publication of the American College of Neuropsychopharmacology, 2021-10, DOI: 10.1038/s41386-021-01175-3 
Win Z., Weiner 3rd J., Listanco A., Patel N., Sharma R., Greenwood A., Maertzdorf J., Mollenkopf H-J., Pizzoferro K., Cole T, Bodinham C.L., Kaufmann S.H.E., Denoel P., Del Giudice G. and Lewis D.J.M. (2021) 'Systematic Evaluation of Kinetics and Distribution of Muscle and Lymph Node Activation Measured by 18FFDG- and 11C-PBR28-PET/CT Imaging, and Whole Blood and Muscle Transcriptomics After Immunization of Healthy Humans With Adjuvanted and Unadjuvanted Vaccines', Front. Immunol, 11:613496, doi: 10.3389/fimmu.2020.613496  
Pollock K.M., Cheeseman H.M., Szubert A.J., Libri V., Boffito M., Owen D., Bern H., O'Hara J., McFarlane L., Lemm N., McKay P.F., Rampling T, Yim Y.T.N., Milinkovic A., Kingsley C., Cole T., Fagerbrink S., Aban M., Tanaka M., Mehdipour S., Robbins A., Budd W., Faust S. N., Hassanin H., Cosgrove C.A., Winston A., Fidler S., Dunn D., Mccormack S., Shattock R.J. (2021) 'Safety and Immunogenicity of a Self-Amplifying RNA Vaccine Against COVID-19: COVAC1, a Phase I, Dose-Ranging Trial' SSRN Electronic Journal.  
Weiner J., Lewis D.J.M., Maertzdorf J., Mollenkopf H.J., Bodinham C., Pizzoferro K., Linley C., Greenwood A., Mantovani A., Bottazzi B., Denoel P., Leroux-Roels G., Kester K.E., Jonsdottir I., van den Berg R., Kaufmann S.H.E., Del Giudice G. (2019) 'Characterization of potential biomarkers of reactogenicity of licensed antiviral vaccines: randomized controlled clinical trials conducted by the BIOVACSAFE consortium', Sci Rep, 2019;9(1):20362.  
Priddy F., Lewis D., Gelderblom H., Hassanin H., Streatfield C., Labranche C., Hare J., Cox J., & Dally L., Bendel D., Montefiori D., Sayeed E., Ackland J., Gilmour J., Schnepp B., Wright J., Johnson P. (2019) 'Adeno-associated virus vectored immunoprophylaxis to prevent HIV in healthy adults: a phase 1 randomised controlled trial', The Lancet HIV; 6 (4), pp. e230-e239 
Hassanin H., Serba S., Schmidt J., Maerten A. (2019) 'Ex vivo expanded Telomerase-specific T cells are effective in an Orthotopic Mouse Model for Pancreatic Adenocarcinoma', Clinical and experimental Immunology, [online] 158(1), pp.125-132 de Wolf A.C.M.T., van Aalst S., Ludwig I.S., Bodinham C.L., Lewis D.J., van der Zee R., et al. (2017) 'Regulatory T cell frequencies and phenotypes following anti-viral vaccination', PLoS ONE, 12(6), p.e0179942.  
Elhmouzi-Younes J., Palgen J., Tchitchek N., Delandre S., Namet I., Bodinham C.L., Pizzoferro K., Lewis D.J.M, Le Grand R., Cosma A. & Beignon A., (2017). 'In depth comparative phenotyping of blood innate myeloid leukocytes from healthy humans and macaques using mass cytometry', Cytometry Part A, 91(10), pp.969–982. 
Leeder J., Glaister M., Pizzoferro K., Dawson J., & Pedlar C. (2012). 'Sleep duration and quality in elite athletes measured using wristwatch actigraphy.', J Sports Sci, 2012;30(6), pp.541-545. 
Plaskota M., Lucas C., Evans R. & Cook K., Pizzoferro K., Saini T. (2012). 'A hypnotherapy intervention for the treatment of anxiety in patients with cancer receiving palliative care', International Journal of Palliative Nursing; 18(2), pp.69-75. 
McDonald K. [Pizzoferro K], Trick, L., Boyle J. (2008). 'Sedation and antihistamines: an update. Review of inter drug differences using proportional impairment ratios', Human Psychopharmacology: Clinical and Experimental; 23, pp.555–570.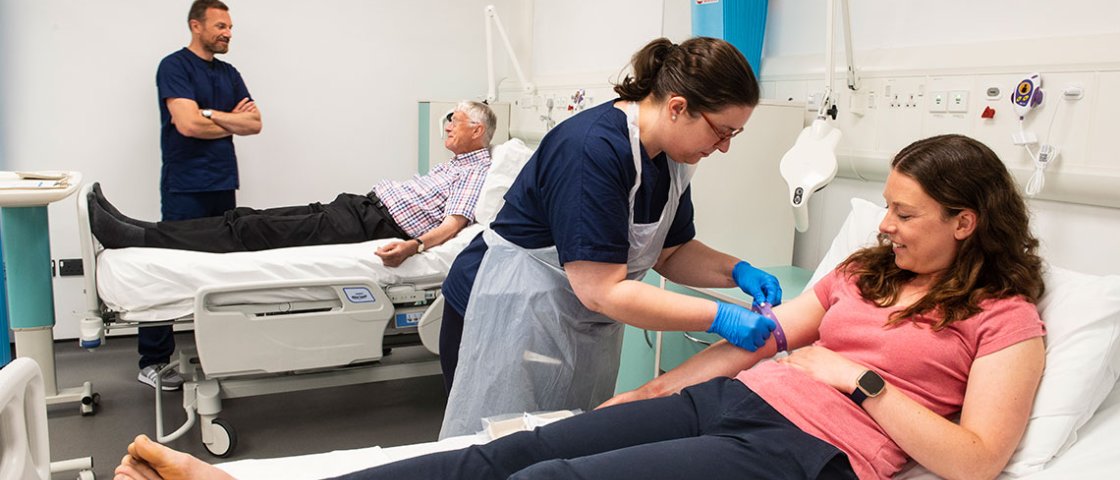 Surrey Clinical Research Facility