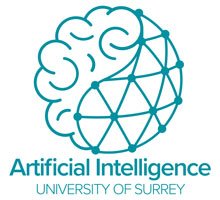 Fundamentals of AI and data science
Creating AI systems than can mimic the natural world and think independently.
Fundamentals of AI and data science

The University has led fundamental advances in AI and machine perception for over three decades through its Centre for Vision, Speech and Signal Processing (CVSSP) established in 1987 and, over the past decade, the Nature Inspired Computing and Engineering Group (NICE).
CVSSP is an internationally recognised leader in AI and audio-visual machine perception research, and has pioneered technology and award-winning spin-out companies in the biometric, communication, medical and creative industries.
The NICE group focuses on the development of computational models and algorithms inspired from systems found in the natural world to solve practical problems in sectors such as health, security, energy and the environment.
Globally, Surrey is taking a leading role in developing the fundamental principles which will underpin effective ways to characterise 'information semantics' for machine perception. It has joined a group of universities across the UK and US for the Multidisciplinary University Research Initiative (MURI) which aims to enable future machine perception systems to extract meaningful and actionable information from sensors mounted on autonomous vehicles, installed in smart cities, or supporting assisted living.
Developing algorithms that think like humans

In order for machines to 'think' independently, or just support us in making challenging decisions, we first need to understand how humans extract knowledge so that we can develop novel machine learning algorithms and architectures which can mimic (and ultimately improve) the process.
Combining core research in this area with expertise in visual recognition, CVSSP is breaking new ground in image and video retrieval. It has recently developed a novel deep convolution neural network architecture, REMAP, which enables instantaneous recognition of large volumes (potentially billions) of objects in images and videos. The unique feature of this approach is that the objects of interest are not previously known: The system learns to recognise any object instantly having been shown a single example – just like a human would. CVSSP's excellence in this field was recently demonstrated when it won first place among 218 teams globally in the Google Landmark Retrieval Challenge.
AI systems that mimic nature

Other fundamental research at Surrey, within the NICE group, explores how AI systems can mimic the natural and biological world – taking inspiration from the ways that living organisms adjust to new situations, make complex decisions and even heal themselves. Researchers are developing evolutionary and Bayesian algorithms which will help to optimise complex data-driven systems and improve neural architecture search. This work could open the door to machines – such as hybrid cars – which learn, interact and make decisions based on evolutionary principles.