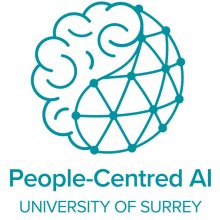 AI for health and wellbeing
How can AI improve health and wellbeing?
AI holds great promise for transforming almost every aspect of healthcare and health research, ranging from monitoring, diagnosis, clinical trials and health care delivery to health economics. AI has the potential to personalise healthcare monitoring, diagnosis and treatment for the individual in the community and at home.
Realisation of the potential of AI in healthcare requires strong linkage between AI expertise, existing health (domain) expertise, key stakeholders and the public.
How sleep can predict dementia

People with dementia typically suffer from poor sleep quality, and disturbed sleep is a key predictor of cognitive decline. Academics in Surrey's Sleep Research Centre are at the forefront of research to explore this link as part of an ongoing £20m collaboration, funded by the Dementia Research Institute, which aims to develop dementia-friendly 'Healthy Homes'.
Leading the project, Professor Derk-Jan Dijk, Director of Surrey Sleep Research Centre says: "For the first time, we are using AI sensors to track sleep and circadian rhythms. This will give us the data to develop interventions for patients and their carers to use – such as staying awake for a little longer, spending more time outside during the day, or changing the light in their living environment. The aim is to enable people to live in their own homes for as long as possible."
Improving clinical outcomes and wellbeing

Identifying which patients are likely to experience health-related problems is very useful in being able to target health resources to the people who need them most, improving patients' clinical outcomes and wellbeing, and reducing healthcare costs. Surrey's School of Health Sciences is aiming to do just this through the EU-funded eSMART study which is building models to predict a patient's risk of developing symptoms during chemotherapy.
Remote monitoring for dementia
Remote monitoring of patients is another area of pioneering research for Surrey. Drawing on expertise within CVSSP and Surrey's 5G/6G Innovation Centre, the University has led the first trial of at-home dementia care in collaboration with the Surrey and Borders Partnership NHS Foundation Trust.
In a pilot study, people with dementia were remotely monitored using a network of internet-enabled devices installed in their homes in combination with AI algorithms developed to alert clinicians when support was needed. The results showed that those using the technology experienced a significant reduction in symptoms such as depression and agitation, and the technology has now been certified as a medical device which the NHS will deploy around the UK.
This study has been recognised with the E-Health Insider's Best Mental Health Initiative Award 2017, NHS 70th Regional Parliamentary Award 2018, and Health Technology Digital 'Innovation of the Year' Award 2019.
CVSSP together with the Surrey Sleep Research Centre are now leading a major UK programme building on this research supported by the UK Dementia Research Institute in 'care research and technology' to realise solutions to help people live well with dementia.
AI for health

AI technologies and interconnected devices make it possible to assimilate and analyse large quantities of medical data, monitor patients remotely, and deliver highly targeted treatments.
Surrey is at the forefront of each of these areas of research. In the field of cancer therapy, academics within the University's Centre for Vision, Speech and Signal Processing (CVSSP) are developing new medical imaging methods for capturing images which reveal information not visible to the human eye.
One pioneering technique involves reconstructing images from raw data, and uses a range of methods including:
Optical tomography
Computed tomography
Magnetic resonance imaging (MRI)
Positron emission tomography
Ultrasound
Imaging with a proton radiotherapy beam.
Giving clinicians access to highly accurate information about the nature and patterns of cancer tumours, this technique is opening the door to more personalised – and successful – treatments.
Smart care project
Social scientist, Professor Christine Hine from the University of Surrey, is working alongside machine learning expert, Professor Payam Barnaghi at the Imperial College London, on emergent everyday ethics in infrastructures for smart care, to explore how ethical challenges arise and are managed in everyday practice.
Food and nutrition

Nutrition is an integral part of human health and overall wellbeing, and a healthy diet is essential for the prevention of non-communicable diseases (NCD) and mortality. With an ageing population in the UK, it is becoming ever more important to encourage people to eat well and participate in physical activity in order to facilitate healthy ageing.
A major focus for Surrey's Department of Nutritional Sciences and its Food, Consumer Behaviour and Health Research Centre is exploiting advances in AI and deep learning in order to create tools which can change people's diet-related behaviour over the long term.
PROTEIN project
The University is a partner in the Horizon 2020 PROTEIN project – launched in 2015 – which aims to create an advanced, dynamic personalisation tool that can be used at home, at a restaurant or in the supermarket, supporting individuals to meet their own evidence-based healthy eating targets. Combining insights from genetics, nutritional science and behavioural science, PROTEIN represents a shift in our thinking about how best to transition towards a sustainable, healthy diet.
The PROTEIN AI Advisor tracks the user's dietary intake, physical activity and health status using wearable sensors, and provides real-time AI recommendations and early warnings for specific NCDs. The technology incorporates deep learning to collect and analyse large volumes of data and, to facilitate this component, Surrey is running two trials with participants from a number of target groups such as healthy adults and adolescents, athletes, and adults with cardiovascular disease. The quantitative and qualitative data collected will then be used to refine the system before commercialisation.
Pan-European research infrastructure
Surrey is also playing an integral role in helping to build a pan-European research infrastructure that will enable system-level analysis of the complex problem of nutrition-related health. In 2005-10 we were part of the European Food Information Resource Network project which succeeded in developing – for the first time in Europe – a single online platform with up-to-date food composition data across Europe. We also worked with partners across Europe in the EuroDISH study on the need for food and health research infrastructures in 2012-14 which mapped the determinants of food choice, intake of foods and nutrients, status and functional markers of nutrition health, and health and disease risk.
Building on this earlier work, the University is currently part of the international Europe-wide Food, Nutrition and Health Research Infrastructure (FNH-RI), which aims to link over 1,000 research institutions and pool their associated expertise. Harnessing advances in AI and data analytics, this infrastructure will be a virtual environment in which data can be combined, validated, compared and linked. FNH-RI will enable big data synergies throughout the food system (for example retail loyalty cards), and will establish new standards and services for transdisciplinary data exchange and innovation within the consumer and food environment.
Animal health

Surrey's School of Veterinary Medicine has rapidly built a reputation for its innovative approach to research, and in 2016 launched the vHive innovation hub, which is dedicated to the development of new digital technologies in animal health. Supported by a co-investment of £8.5m, vHive is made up of both academic and commercial experts who are able to deliver a combination of academically verified research and bespoke business development to their partners.
One area where AI can make an invaluable contribution is in gathering data and mobilising infrastructure across a wide, sometimes disparate region. vHive is currently collaborating with partner Zoetis, the world's largest animal health company, to support its African Livestock Productivity and Health Advancement (ALPHA) initiative, which is co-funded by the Bill & Melinda Gates Foundation. 
One of the most rapidly developing regions in the world, sub-Saharan Africa is also home to some of the largest livestock populations and the highest density of impoverished livestock farmers: Over half of people living on less than $1 a day in the region depend on livestock.
The three-year ALPHA initiative, launched in 2017, seeks to implement a sustainable disease diagnostics infrastructure which will bring together veterinary laboratory hubs and outreach services incorporated into business hubs in Ethiopia, Nigeria and Uganda. The project draws on Surrey's expertise in digital innovation, data analysis and epidemiology to support the Zoetis in-country teams. The overall aim is to reduce barriers to entry into the highly volatile and fragmented sub-Saharan African animal health market and enhance small-holder farming productivity by reducing livestock disease and increasing the availability of veterinary medicines and services.