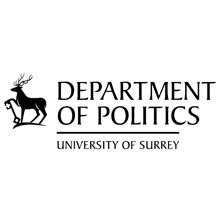 Department of Politics
We are a thriving space for study, research and public engagement with a strong focus on applied politics. We are also globally recognised for our work in European politics and on international intervention.
Study with us
We seek to help you develop your understanding of the world and give you the tools to express that.
Research
We are a leading centre for research in European and British politics and have a growing reputation in the area of international security and intervention. We also investigate international politics and policy, on people and power, as well as on institutions, theories and processes.
Stay connected
Latest tweets
@SurreyPolitics
Exam Busters Day 1 Part 1: Prof Hadfield leading a session on generic tools and techniques in preparation for the u…
https://t.co/RLOR6Nz5xM
Jumpstarting 2020 with the first part - blog of Prof. Amelia Hadfield's two-part review of the 2019 UK General Elec…
https://t.co/IgXZPs8MOg
16.01.20
Transition remains the Cinderella of Brexit: unnoticed by the ugly sisters of Withdrawal and the New...
09.01.20
Part II : Labour Retrospective – How to Lose an Election[1] From a short-term perspective, Labour's...