Nonlinear time series techniques
We have expertise in various techniques for characterising the complexity of signals including the use of entropy methods and novel variants of Lempel-Ziv complexity. We are developing new methods to analyse physiological data based on the method of delays and Takens embedding theory.
Our expertise
Attractor reconstruction methods for physiological data
Entropy measures
Variants of Lempel-Ziv complexity.
Meet the team
Members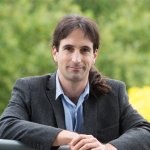 Head of Centre for Biomedical Engineering, Senior Lecturer in Biomedical Engineering
Associate members