Community Practitioner Nurse Prescribing (V100)
Key information
Start date:

Due to run in 2023/24

Attendance dates:

To be confirmed

Venue:

Kate Granger Building, 30 Priestley Road, Surrey Research Park, Guildford, Surrey GU2 7YH

Depending on the subject and content, modules will mainly be delivered via a combination of face-to-face and online.

Some modules may be taught at: Stag Hill campus, University of Surrey, Guildford, Surrey GU2 7XH

Contact details:
Level


6 (undergraduate)

Credits


15

Module code


NUR3191
Module aims
This module aims to:
Equip you with the principles of prescribing to enable you to be a safe, effective and cost-effective prescriber in a primary care setting.
Enable you to understand the principles of good prescribing, the law relating to prescribing, accountability in prescribing and the pharmacokinetics and pharmacodynamics of drugs that are listed in the Nurse Prescribers Formulary.
Learning outcomes
On successful completion of the module you will have the knowledge and skills to meet the standards of proficiency required for community practitioner nurse prescribing and will be able to: 
Assess and consult with patients/clients and parents/carers
Undertake a thorough history, including medication history and current medication (including over-the-counter, alternative and complementary health therapies) to inform diagnosis
Understand and apply the relevant legislation to the practice of nurse/midwife prescribing
Critically appraise, use sources of information/advice and decision support systems in prescribing practice
Demonstrate an understanding of the ethical dimensions of prescribing
Understand and apply knowledge of drug actions in prescribing practice
Demonstrate an understanding of the roles and relationships of others involved in prescribing, supplying and administering medicines
Prescribe safely, appropriately and cost effectively
Practise within a framework of professional accountability and responsibility
Demonstrate knowledge and skills in prescribing.
Course content
Indicative module content includes:
Assessment, history taking, communication and consultation with patients/clients and their parents/carers
Developing management plans
Diagnosis
Prescribing and not prescribing, non drug treatment and referral for treatment
Numeracy and drug calculations.
Patient/client demand and preference vs patient/client need – knowing when to say, "No"
External influences (for example companies and colleagues)
Patient/client partnerships in medicine-taking, including awareness of cultural and ethnic needs
Concordance as opposed to compliance.
Rationale, adherence to and deviation from national and local guidelines local formularies, protocols, policies, decision support systems and formulae
Understanding the role and functions of other team members
Documentation, with particular reference to communication between team members, including electronic prescribing
Auditing, monitoring and evaluating prescribing practice
Interface between multiple prescribers and management of potential conflict
Budgets and cost effectiveness
Dispensing practice issues.
Anatomy and physiology as applied to prescribing practice and community practitioner formulary 
Basic principles of drugs to be prescribed- absorption, distribution, metabolism and excretion, including adverse drug reactions (ADR)
Interactions and reactions
Patient/client compliance, concordance and drug response
Impact of physiological state on drug responses and safety, for example in elderly people., neonates, children and young people, pregnant or breast feeding women.
Rationale, adherence to and deviation from national and local guidelines, protocols, policies, decision support systems and formulae
Continuing professional development – role of self and role of the organisation
Management of change
Risk assessment and management, including safe storage, handling and disposal
Clinical supervision
Reflective practice/peer review
Critical appraisal skills
Auditing practice and scrutinising data, systems monitoring
Identify and report adverse drug reactions and near misses and learn from mistakes.
Sound understanding of legislation that impacts on prescribing practice
Legal basis for practice. Liability and indemnity
Legal implications of advice to self-medicate including the use of alternative therapies, complementary therapy and over the counter (OTC) medicines
Safe-keeping of prescription pads, action if lost, writing prescriptions and record keeping
Awareness of reporting of fraud (recommendations from the Shipman Inquiry, Fourth Report)
Drug licensing
Yellow Card reporting to the Committee of Safety on Medicines (CSM) and reporting patient/client safety incidents to the National Patient Safety Agency (NPSA)
Prescribing in the policy context
Manufacturer's guidance relating to literature, licensing and off-label
Ethical basis of intervention
Informed consent, with particular reference to client groups in learning disability, mental health, children, critically ill people and emergency situations.
The NMC code of professional conduct, standards for conduct, performance and ethics 
NMC Standards for prescribing practice
Ethical recommendations from the Shipman Inquiry, Fourth Report
Accountability and responsibility for assessment, diagnosis and prescribing
Maintaining professional knowledge and competence in relation to prescribing
Accountability and responsibility to the employer.
Duty to patients/clients and society
Inappropriate use of medication including misuse, under-use and over-use
Inappropriate prescribing, over-prescribing, and under-prescribing
Access to health care provision and medicines.
Learning and teaching methods
For the 2023/24 curriculum, our PGT/CPD modules will continue to be delivered using hybrid learning. This means that depending on the subject and content of learning and teaching, modules will mainly be delivered via a combination of face to face and online delivery (both live and asynchronous), as this has worked really well for our practice-based colleagues. It is important to recognise the majority of modules contain face to face contact time and attendance at the University will be required.
Learning and teaching methods include:
Lectures
Discussion groups
Seminars
Case studies
Pre and post session study
E-leaning.
Assessment
The assessment is designed to demonstrate the integrative nature of the learning and its application in practice and consists of three parts:
Examinations 
A general paper of multiple choice questions  - pass mark: 80 per cent
A calculation paper of short answer questions - pass mark: 100 per cent.  
Assignment 
A critical account of a prescribing incident, following the principles of good prescribing.
Practice log 
A log of 18 prescribing related, practice hours and two prescriptions relevant to practice should be included (one related to the essay).    
Course leader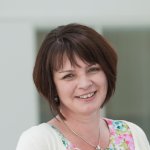 Senior Lecturer in Integrated Care (Population Health), Director of Studies for Specialist Practice
Entry requirements
You must be a qualified Nursing and Midwifery Council (NMC) Specialist Practice or Specialist Community Public Health Nursing (SCPHN) working in primary care.
How to apply
Please download and fill in an application form. 
Please note: 
Applications typically close six weeks before the start of the module or earlier if we reach a maximum number of applications. If we still have spaces on the course, we may extend the application deadline date.
It is important to ensure that you complete all sections and answer all questions, incomplete forms will cause a delay and may result in you missing out on an available place.
If you are registered on a Continuing Professional Development (CPD) course then you will need to complete an application form for each CPD module you wish to apply for.
Send your completed application to postreg_admin@surrey.ac.uk.
Terms and conditions
When you accept an offer of a place at the University of Surrey, you are agreeing to comply with our policies and regulations and our terms and conditions. You are also confirming you have read and understood the University's prospective student privacy notice.
If your sponsoring healthcare provider is funding you for this module, by submitting an application you agree to allow all information regarding your module (for example your exam results) to be shared with the sponsoring provider.
Cancellation policy
If you withdraw less than seven days before the module commences or do not attend on the first day (without informing the module administrator) the full cost of the module will be charged. Withdrawals after the module commences will also be charged.
Module availability
Places are confirmed approximately one month before the module start date. Please note that modules may be subject to teaching availability, student demand and/or class size caps. 
Disclaimer
Modules listed are indicative, reflecting the information available at the time of publication. The University of Surrey has used its reasonable efforts to ensure that the information is accurate at the time of publishing, but changes (for example to module content) may occur given the interval between publishing and commencement of the module. It is therefore very important to check this website for any updates before you apply for a module with us. Read the full disclaimer.
Campus location
Kate Granger Building
Our Medicine (Graduate Entry) BMBS degree, nursing and midwifery, and health science courses are taught at the Kate Granger Building (30 Priestley Road), on the Surrey Research Park.
Additional information
Depending on the subject and content, modules will mainly be delivered via a combination of face-to-face and online.
Some modules may be taught at: Stag Hill campus, University of Surrey, Guildford, Surrey GU2 7XH.
Post-registration Administration team
Address
University of Surrey
Guildford
Surrey GU2 7XH