Space 4 Sustainability
Earth observation is making a significant contribution to addressing UN Sustainable Development Goal indicators such as quality education, climate action, and clean water and sanitation. At Surrey, multidisciplinary teams are using Earth observation to provide data which can make a difference to people's lives across the world.
Meeting sustainability goals using Earth observation
The UN's Sustainable Development Goals aim to end poverty, protect the planet, and ensure that all people enjoy peace and prosperity by 2030. One of the challenges in meeting these goals is obtaining data of the required quality and quantity to populate the 232 indicators which inform them. This is particularly true in developing countries, with limited resources available.
Earth observation is a promising and innovative way of addressing this issue, enabling reliable, unbiased information to be gathered without heavy costs or on-the-ground infrastructure. Bringing together knowledge within the Centre for Environment and Sustainability and Surrey Space Centre (which pioneered the low-cost small satellite industry), Space 4 Sustainability is aimed at optimising the use of Earth observation to provide much-needed data.
Find out about the Centre for Environment and Sustainability's research with the National Physical Laboratory on 'Seeing Sustainability from Space'.
Read about the analytical framework developed by the Centre to translate Earth observation data into sustainable development indicators.
Projects
Our recent and active projects demonstrate the critical role Earth observation can play in helping to achieve environment and sustainability goals by addressing the UN Sustainable Development Goal indicators.
Special issue
Professor Richard Murphy, Professor Stephen Morse and PhD student Ana Andries edited a special issue of Sustainability in March 2021.
Space for Sustainability: Using data from Earth observation to support sustainable development indicators
Meet the team
The Space 4 Sustainability team brings together researchers and academics from the Centre for Environment and Sustainability, Surrey Space Centre and Department of Civil and Environmental Engineering.
For further information, contact Richard Murphy.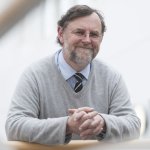 Professor of Life Cycle Assessment, Programme Director - CES Practitioner Doctorate in Sustainability, University Sustainability Research Theme Champion