---
news
Published:
09 November 2020
New event promotes research culture among early career researchers
A team from Surrey's Department of Physics has set up a week-long series of free events promoting wellbeing and offering support and advice to academics.
Credit: Research Culture Week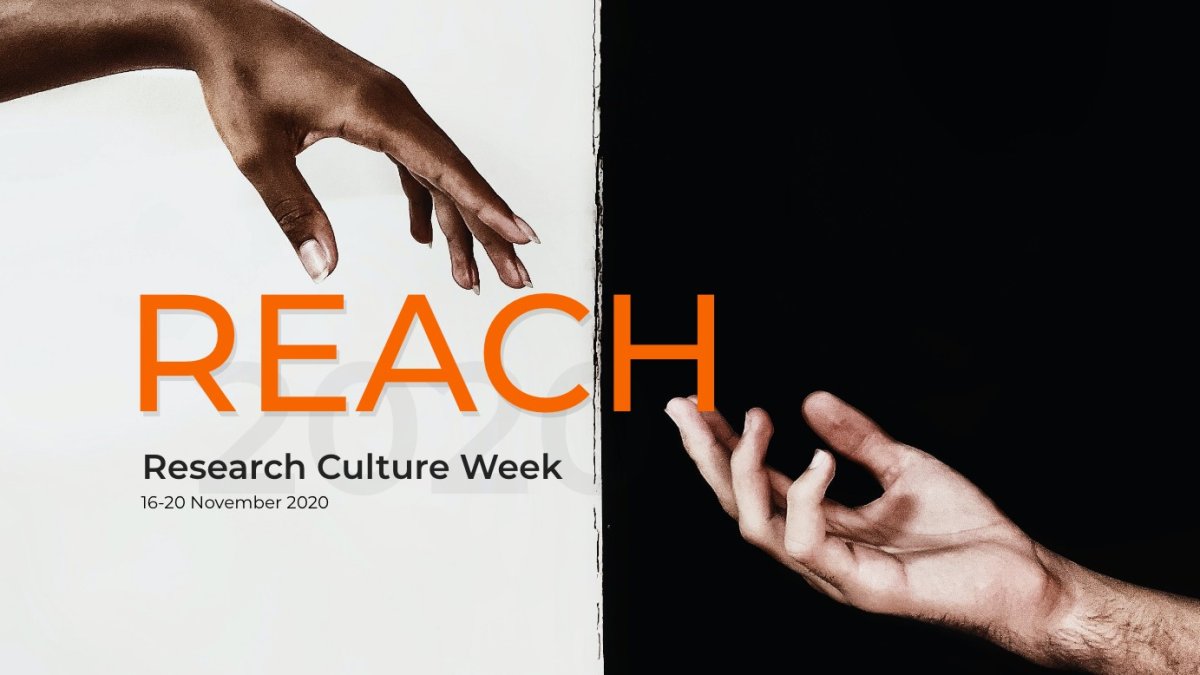 Created by lecturer Dr Noelia Noel, three PhD students and a postdoc from the Astrophysics Group, Research Culture Week is an online event aimed at supporting all academics.
Research versus research culture
"One side effect of the global pandemic is more people are considering returning to study for a masters or a PhD," says Noelia. "So, this is a good time to not only talk about research, which is the hard skill of investigating a subject, but also about research culture, which is the environment that surrounds this endeavour.
"A recent report by the Wellcome Institute published feedback from 4000 respondents. It suggested academic research culture worldwide is witnessing growing discontent.
"In worst-case scenarios, there have been reports of high stress levels, mental health problems and even discrimination.
"Surrey's always taken these types of issues very seriously. But for the good of the wider community, we need to be thought leaders on this subject, and discuss, assess, address and tackle these issues head-on."
Values and standards
"Several of us have done a year or two in other institutions and there's sometimes a feeling the research communities aren't as inviting as they could be," says astrophysics PhD student and team member Tariq Hilmi.
"That's not a problem Surrey has, but if we can help create a healthier and more accepting overall research culture, that may encourage students from more diverse backgrounds to try academia. That's obviously a worthwhile goal."
PhD student and fellow event organiser Sophia Lilleengen agrees: "It's important we look at research in a more holistic manner. The research culture within an institution is of vital importance.
"How welcoming it is and how it supports students from diverse backgrounds is the eco-system that supports the actual research. It's deeply intertwined with the values, standards and expectations within an academic community."
Schedule
Research Culture Week runs from 16-20 November and there will be two talks per day, which people can access for free online.
The initial event is called REACH, which is an acronym that stands for the five topics that will discussed:
R = research culture
E = engagement
A = attainment gap
C = career development
H = health and happy mind
These subjects are very much about offering support and suggesting ways to tackle and overcome current problems.
Speakers
"We're very excited about the speakers," says postdoctoral researcher Dr Stacy Kim. "Award-winning journalist and broadcaster Angela Saini is talking about sexism and racism in research, while Surrey's Pro-Vice-Chancellor of Education, Osama Khan, will share his experience of being a Bangladeshi Muslim immigrant in UK academia."
"Buddhist monk Gelong Thubten will be speaking about mindfulness meditation, with particular emphasis on its efficacy in handling stress and improving mental focus," says PhD student Arman Aryaeipour. "Surrey professors Jim Al-Khalili and David Sampson are among the speakers, too."
Alongside these talks, there's a Q&A session with Dr Kate Gleeson, Director of Surrey's Doctoral College, who'll be giving a presentation on Thriving in Your Career with Employability Consultant Emma Francis.
A full list of speakers at the event is available here.
Learn more and reserve your place at Research Culture Week.