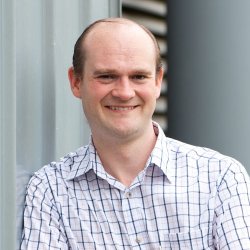 Dr Tim Brown
---
Lecturer in RF Antennas and Propagation
CEng, PhD
Biography
Tim Brown is a chartered engineer with specialism in antennas, propagation of radio as well as radio circuits and systems where he has undertaken a wide variety of projects for different applications and frequency bands. His PhD thesis was on diversity antennas for mobile terminals, which he completed in 2004. Since completing his PhD, Tim undertook further postdoctoral research at Aalborg University, Denmark in channel characterisation and modelling as well as antenna designs for multiple input multiple output (MIMO) communication systems.
In January 2007, Tim returned to the Institute for Communication Systems (formerly the Centre for Communication Systems Research, CCSR) at Surrey as a lecturer in RF Antennas and Propagation. During that time, Tim has led and initiated a wide range of projects, particularly in connection with novel antenna designs and propagation channels. Research topics include land mobile satellite MIMO, compact MIMO antennas, vehicular radio frequency identification (RFID), near field communication (NFC), contactless payments, ultra wideband (UWB), numerical magnetic resonance, cognitive radio and packet microwave backhaul links.
Both in research and teaching, Tim has had active collaborations with industry through European Cooperation in Science and Technology (COST) actions, UK research councils as well as EU Framework Programme 7 and 8 framework. Tim is also heavily involved in delivering continuing professional development (CPD) courses in radio, though which he has made many collaborations. Prior to his PhD, Tim has also gained industrial experience with Nortel Networks and Nokia Mobile.
University roles and responsibilities
Director of Postgraduate Studies

Exchange Programmes Coordinator

Course organiser for short courses on Antennas and Propagation, RF Systems and Circuits, Microwave Engineering and Emerging Technologies in Mobile Communications

Contact person for the Electronics and Amateur Radio Society

Marketing and outreach support
Research
Research interests
End to end RF solutions, intelligent antenna design and propagation modelling. Applications of RF based on current and past experience include land mobile satellite communications, wireless communication devices, ultra wideband (UWB), RFID, NFC, localisation techniques, cognitive radio, numerical magnetic resonance.
My teaching
EEEM006 - Antennas and Propagation (including propagation and antennas laboratory)
EEEM044 - RF Systems and Circuit Design (including RF circuits, broadcasting, and small devices)
EEE3033 - RF and Microwave Fundamentals (including low noise amplifiers, antennas and radar application)