Improving the management of small drinking-water systems
Sustainable Development Goal target 6.1 calls for universal and equitable access to safe and affordable drinking water.
Overview
Improving the safe management (water safety planning) of drinking-water systems provide an opportunity to make significant contributions to public health and well-being, address inequities and improve livelihoods. Much of the global population receives drinking-water from small water systems that range from individual household wells to piped supplies. However, small systems face specific challenges that impact their ability to deliver safe and adequate drinking-water.
A series of research projects being managed by Dr Katherine Pond, senior lecturer in the Centre for Environmental and Health Engineering is working towards the improvement of these supplies.
The World Health Organization (WHO) promotes water safety planning as the preferred method to improve the quality of drinking water systems. Sanitary inspection is a as an on-site assessment of risk to small drinking-water supplies. The sanitary inspection tool addresses some of the challenges faced by small supplies but UN reporting shows acquired data on these systems often does not inform decision-making about their management.
Aims and objectives
The aim of the research is to improve the management of small drinking water supplies. Research and associated activities are being undertaken in Uganda, Malawi and Iceland to:
Improve the World Health Organisation risk assessment tool for use by communities and individuals using small drinking-water supplies.
Identify and overcome barriers to the use of data to drive policy decisions and corrective action.
Funders
Team
Principal investigator
Additional collaborators University of Iceland British Geological Survey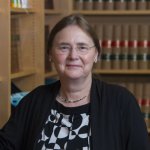 Professor Rosalind
Malcolm
Professor of Law, Director of Environmental Regulatory Research Group (ERRG) University of Malawi Kyambogo University, Uganda
Outputs
The research will have high global impact through the outputs:
Case study results will contribute to a chapter in the WHO small drinking-water supplies' policy guidance and supporting tools document (2021).
Risk assessment forms will be published in the global WHO Guidelines for Drinking-Water Quality (2021). These are used as tools to undertake risk assessment and management of small supplies as part of the Water Safety Planning approach.
Publications
Pond, K, King, R, Herschan, J., Malcolm, R., McKeown, RM, Schmoll. O (2020) Improving Risk Assessments by Sanitary Inspection for Small Drinking-Water Supplies ? Qualitative Evidence, Resources 9 (6) 71.
Herschan, J.; Rickert, B.; Mkandawire, T.; Okurut, K.; King, R.; Hughes, S.J.; Lapworth, D.J.; Pond, K. (2020).Success Factors for Water Safety Plan Implementation in Small Drinking Water Supplies in Low- and Middle-Income Countries. Resources 2020, 9, 126.
King, R.; Okurut, K.; Herschan, J.; Lapworth, D.J.; Malcolm, R.; McKeown, R.M.; Pond, K. (2020). Does Training Improve Sanitary Inspection Answer Agreement between Inspectors? Quantitative Evidence from the Mukono District, Uganda. Resources, 9, 120.
Herschan, J.; King, R.; Mkandawire, T.; Okurut, K.; Lapworth, D.J.; Malcolm, R.; Pond, K. (2020). The Potential for Citizen Science to Improve the Reach of Sanitary Inspections. Resources, 9, 142.
Resources
Research groups and centres
Our research is supported by research groups and centres of excellence.