Overview
This three-year project consists of three human intervention studies that will study the prebiotic effect of galacto-oligosaccharides on emotion regulation abilities at the behavioural and brain level in children, adolescents and young adults, complemented by gut microbiome profiling. 
Funders
This project is conducted in collaboration with our industrial partner FrieslandCampina Ingredients, The Netherlands and the BUG group Surrey.
Researchers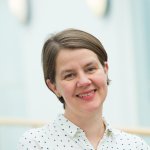 Dr Kathrin Cohen Kadosh
Reader in Developmental Cognitive Neuroscience
Biography
I read for my PhD at Birkbeck College, University of London and went on to receive postdoctoral training at University College London, King's College London, the National Institutes of Health, USA and the University of Oxford.
Since 2016, I am an associate professor in Developmental Cognitive Neuroscience at the University of Surrey, and head of the Social Brain & Development (SBD) Lab.
As a developmental cognitive neuroscientist, I use a combination of behavioural tests and brain-imaging techniques to understand how improving cognitive abilities and changes in brain function and structure shape the emerging social brain network.
I am also investigating the role of the microbiome gut-brain axis on behaviour and brain function in development, together with the Brain NUtrition Gut Microbiome group, a multidisciplinary research group at the University of Surrey. Dr Nicola Johnstone
Research fellow in Psychology
Biography
I received my PhD in Psychology from the University of Surrey in 2017. Since then, I have carried out postdoctoral research at the University of Oxford and University of Surrey. Presently, I am a Research and Teaching fellow here at Surrey.
Research themes
Find out more about our research at Surrey: