Secondary
Widening Participation and Outreach Team aims to support the development of aspirations and educational attainment amongst students from under-represented and disadvantaged groups. 
We work with target state secondary schools in Surrey, Berkshire and Hampshire. Find activities for each Year group and our targeting criteria below.
SECONDARY ACTIVITY MAILING LIST
Visit our Outreach Website
We have a brand new website, dedicated to our Widening Participation & Outreach activities. Click here to visit our new website and read more about our current opportunities for schools and learners.
Surrey Stars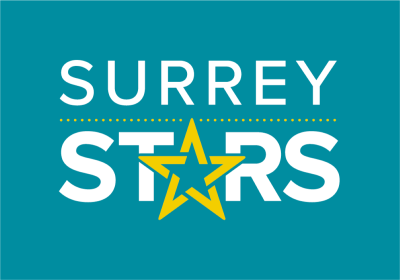 Surrey Stars is a strategic programme, developed collaboratively with partner schools, to provide a progressive programme of in-school and on campus experiences for students in Years 7 to 11. Please click below to download our in school and on campus programme overviews.
Eligibility
This programme features targeted intervention focused on attainment, primarily for students in receipt of free school meals or eligible for pupil premium. We also invite participation amongst students who are care experienced or are from a Gypsy, Roma or Traveller community alongside an embedded aspiration curriculum for the whole school.
How to apply
You can book workshops through our online schools booking form.
All bookings are on a first come, first served basis and are subject to availability. Where we are unable to meet your first choice in terms of dates/timings, we will best accommodate second or third choices. All workshops are FREE of charge whilst we provide transport and catering for on campus visits. To discuss Surrey Stars and how we can further support your students, please contact us at wp@surrey.ac.uk.
Booking Information
Surrey Stars Schools Programme 2022/23
Our Covid-19 Secure Approach
Surrey Scholars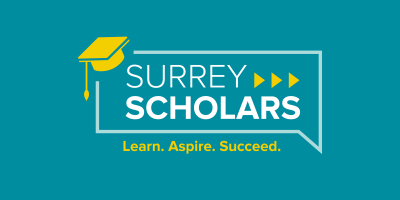 Surrey Scholars is a sustained programme of extra curricular outreach from the University of Surrey for students in Years 10 to 13.
As a Surrey Scholar, learners receive support with GCSE and Post-16 study in addition to advice and guidance towards progression into higher education and beyond. Scholars will receive priority status to attend our flagship programmes, as well as exclusive access to online and on campus events.
Surrey Scholars receive priority access onto the following programmes:
You can download our Surrey Scholars brochure below. Surrey Scholars are eligible to receive travel bursaries to attend on campus events whilst support with IT access and connection is also available upon request.
To be accepted onto the programme, you must be in Year 10, 11, 12 or 13 from September 2022 and meet one of the following eligibility criteria:
You live in an IMD decile 1 or 2 postcode
You live in a POLAR4 quintile 1 postcode
You have received free school meals within the last six years
You receive a 16-19 bursary
You are a young carer - you care for a friend or family member who, due to illness, disability, a mental health problem or an addiction, cannot cope without your support
You are care experienced - you have spent time in local authority care, in a residential children's home, have been looked after at home by a supervision order or have lived with relatives under kinship care
You are a forced migrant – you are a refugee or an asylum seeking young person
You are from a Gypsy, Roma, Traveller, Showperson or Boater community.
You can join the programme at any time and can participate in as many activities as you like. Surrey Scholars will receive a welcome pack along with their own account to our online portal, providing access to live and recorded content all year round.
You can apply through our online form. Once received, we will contact you within 14 days with further information about Surrey Scholars programmes and events.
For any further questions or queries, either from students or teaching staff, please contact wp@surrey.ac.uk.