Year 11
Our work aims to support the development of aspirations and educational attainment amongst students from under-represented and disadvantaged groups. To participate in our activities, students should be in state schools/colleges and meet one or more of our targeting and eligibility criteria.
We are currently offering a range of On-Campus, In-School and Virtual activity. Keep an eye out for our special annual events like revision masterclasses too!
Targeting and eligibility criteria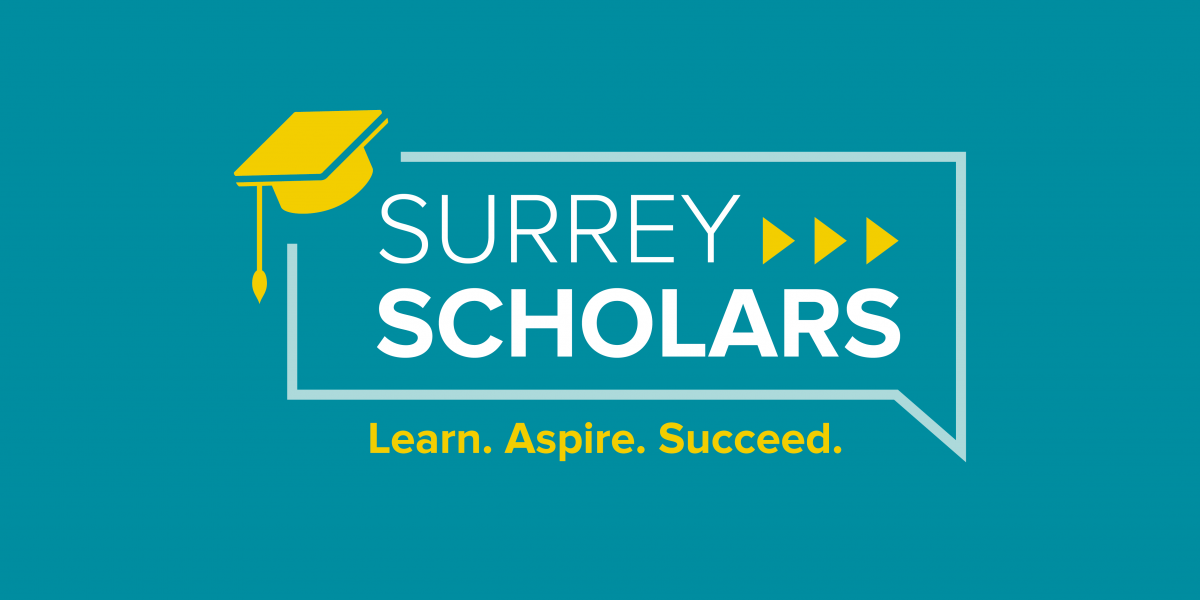 Surrey Scholars
Surrey Scholars is a sustained programme of outreach for students in Years 10 to 13 from the University of Surrey.
As a Surrey Scholar, you will receive continued support with GCSE and Post 16 study in addition to advice and guidance towards your progression into higher education and beyond. Scholars will receive priority status to attend our renowned flagship programmes as well as exclusive access to online and on campus events each year.
Surrey Scholars receive priority access onto the following programmes:
Y10 Realise Your Potential
Y11 Revision Masterclasses
Y12 Taster Days
Y12 Summer Schools
Open Day Befriender Scheme
AIM4University
Surrey Scholars will be exclusively invited to attend:
Campus Experience Days
Online workshops and resources
Surrey Scholars will also receive additional benefits, including a Welcome Pack, annual magazine and travel bursaries to attend campus events.
To be accepted onto the programme, you must be in Year 10, 11, 12 or 13 from September 2021 and meet one of the following eligibility criteria:
You live in an IMD Decile 1 or 2 postcode.
You live in a POLAR4 Quintile 1 postcode.
You have received Free School Meals within the last 6 years.
You receive a 16-19 bursary.
You are a young carer - you care for a friend or family member who, due to illness, disability, a mental health problem or an addiction, cannot cope without your support.
You are care experienced - you have spent time in local authority care, in a residential children's home, have been looked after at home by a supervision order or have lived with relatives under kinship care.
You are a forced migrant – you are a refugee or an asylum seeking young person.
You are from a Gypsy, Roma, Traveller, Showperson or Boater community.
You can join the programme at any time and can participate in as much activity as you see benefit. Surrey Scholars will receive a welcome pack along with their own account to our online portal, providing access to live and recorded content all year round.
The programme will be launching in September 2021. However, we are currently inviting expressions of interest from which can be submitted through our online form. Once received, we will contact you as a priority with further information about Surrey Scholars.
For any further questions or queries, either from students or teaching staff, please contact wp@surrey.ac.uk
Y11 Revision Masterclasses
Students are invited to apply for our Y11 Revision Masterclasses. These virtual sessions are applicable to all exam boards and are designed to increase confidence in preparing for GCSEs.
The Y11 Revision Masterclasses are 60 minute virtual sessions delivered by an educational consultant. Each subject is delivered across a series of 5 masterclasses, each focusing common themes/topics and sharing revision tips and techniques.
The subjects featured are:
 Students are invited to attend all subject areas and can log in to as many masterclasses as seen beneficial. The revision Masterclasses are only available live. Recordings will not be shared.
Login information is exclusively shared with participating students.
All live sessions are scheduled for 16:30 on each advertised date.
| | | |
| --- | --- | --- |
| Subject | Day | Dates |
| Science | Tuesday | 9 Nov, 16 Nov, 23 Nov, 30 Nov, 7 Dec |
| English | Wednesday | 10 Nov, 17 Nov, 24 Nov, 1 Dec, 8 Dec |
| Maths | Thursday | 11 Nov, 18 Nov, 25 Nov, 2 Dec, 9 Dec |
Students can apply for the masterclasses directly by completing our online booking form. Students meeting the widening participation & outreach criteria will receive priority booking.
For further information prior to sharing with students, teachers are invited to contact wp@surrey.ac.uk 
Aspirations Programme
Our Aspirations Programme offers teachers to build your own workshop that is tailored for your class' engagement and development. There are five themes, from which you can select multiple 30-minute topics that best suit your aims. 
The five themes include;
Higher Education
Education Pathways
Careers and Employability 
Developing Skills
Wellbeing
These one or two hour sessions are perfect for off-curriculum or drop-down days. These sessions can also be delivered virtually through Google Classrooms, Zoom or Microsoft Teams. Recommended packages for your Year Group are also available. 
To request our Aspirations Programme please contact us at wp@surrey.ac.uk
The Higher Education sessions we can deliver include;
Higher Education myth-busting
Introduction to university
Design a university
Life at university
Student finance
Accommodation
Clubs and Societies
Support at university
Student life
Education Pathway sessions we can deliver include;
Post 16 routes
Post 18 routes
Choosing your options
Goal mapping
Apprenticeships
How to make decisions
Next steps after school
Careers and Employability sessions we can deliver include;
Careers routes and your career pathway
Understand Labour Market Information
Explore Careers - An introduction to

Health and Medicine
STEM
Creative Industries
Digital

Interview skills
Presenting yourself
Preparing for work experience
Developing Skills sessions we can deliver include;
Revision
Preparing for exams
Budgeting
Time management
Being your own ambassador
Wellbeing sessions we can deliver include;
Dealing with exam stress
Resilience and wellbeing
Mindfulness