Individual needs summer schools
Are you in years 9 - 11 and a young carer? Our summer school is a chance to explore the range of subjects and support that university offers, and to meet new friends and fellow students who share similar experiences.
About the summer school
This is a fantastic opportunity to experience the life of a student in a supportive environment. During the summer school, students will find out what life is like at university, talk to current university students and try their hand at a range of exciting subjects. During the evenings there will be a variety of social activities held on the university campus, or in the surrounding area. 
Student Ambassadors will be able to share their own experiences of being young carers as well as answer questions about study options, clubs and societies, living arrangements and the support available at university. 
The summer school runs over three days and two nights and will give students the opportunity to stay in university accommodation. However, if due to caring responsibilities students can only visit during the day, this can be arranged. 
Applications
Applications for the Discover University summer school will open from January 2021. Students and parents will need to fill in the application form together. If the application is successful, the nominated teacher will be approached for a reference.
Can I apply?
Places will be allocated to students in years 9, 10 and 11 who have caring responsibilities. As the summer school takes place during term time, students will need permission from a teacher to attend.
What is the cost?
The summer school is free. Students will be provided with free accommodation, refreshments and meals for the duration of the summer school. The University of Surrey is also able to cover the cost of travel for students to and from the summer school, although students may be asked to travel to a hub location, for example, their school.
Example Timetable
Each year the timetable can slightly vary but below is an example of the types of activities that will take place during the summer school.
 
Tuesday
Wednesday
Thursday
07:00
 
Breakfast
Breakfast
08:00
Faculty of Engineering and Physical Sciences Subject Taster
Faculty of Arts and Social Sciences Subject Taster
09:00
10:00
Students arrive and welcome presentation
Subject taster from another university
11:00
Meet your group and icebreakers
Funding University 
Faculty of Health and Medical Sciences Subject Taster
12:00
Lunch
Lunch
Lunch
13:00
University Session
Support at University
Pathways and Apprenticeships
14:00
Campus Tour Scavenger Hunt
Faculty of Arts and Social Sciences Subject Taster
Reflection Activity
15:00
Faculty of Health and Medical Sciences Subject Taster
Sports Session
Closing presentation
16:00
Move into rooms and meet flatmates
 
17:00
Free time
Free time
18:00
Dinner
19:00
Evening activity e.g. bowling
Dinner
20:00
Evening activity e.g. quiz and garden games
21:00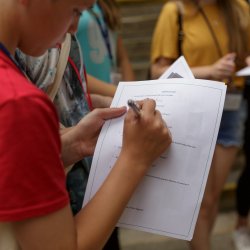 "I found it helpful to me because it's making me think that I should reach my full potential and go to uni."
Discover university student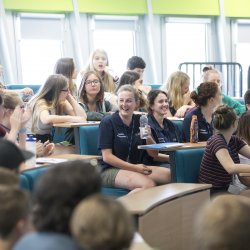 "I feel that I can definitely go to university one day and have made so many friends during this trip."
Discover university student