Individual needs summer schools
Are you in year 9, 10 or 11 and a young carer? Our summer school is a chance to explore the range of subjects and support that university offers, and to meet new friends and fellow students who share similar experiences.
Discover University Summer School
This summer school is fully funded and is available for 50 students in years 9 to 11 who:
Are a young carer, OR
Have current or previous experience of living within care.
This opportunity will enable students to gain an insight into the life of a student within a supportive environment, finding out what it is like to study at university by talking to current university students with similar experiences whilst trying their hand at a range of exciting subjects and activities. During the evenings there will be a variety of social activities held on the University campus, or in the surrounding area.
The summer school runs over three days and two nights and will give students the opportunity to stay in University accommodation with catering provided. However, if due to caring responsibilities students can only visit during the day, this can be arranged.
Upcoming dates
The summer school will take place from Tuesday 26 July to Thursday 28 July 2022.
Timetable
Each year the timetable can slightly vary but below is an example of the timings and activities that will take place during the summer school:
Day one
11am - 11:30am: Arrival
11:30am - 12 noon: Welcome
12 noon: Lunch
1pm: Workshops
4pm: Move into accommodation
6pm: Dinner
7pm: Evening activity.
Day two
8am: Breakfast
9am: Workshops
12 noon: Lunch
1pm: Workshops
5pm: Free time
6pm: Dinner
7pm: Evening activities.
Day three
8am: Breakfast
9am: Workshops
12 noon: Lunch
1pm: Reflections and celebrations
3pm: Summer school ends.
How to apply
To apply to attend the Discover University Summer School, please complete our online booking form. We have capacity for 50 places which will be considered on a first come, first served basis. Bookings will close once all places have been booked, or once our booking form closes on Sunday 26 June, depending on which comes first.
This summer school is for eligible students in years 9-11. Should you have any further questions or queries, please contact summerschools@surrey.ac.uk.
I found it helpful to me because it's making me think that I should reach my full potential and go to uni.
Discover University student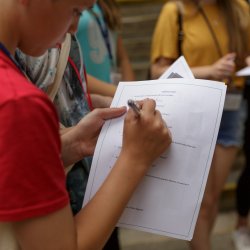 I feel that I can definitely go to university one day and have made so many friends during this trip.
Discover University student