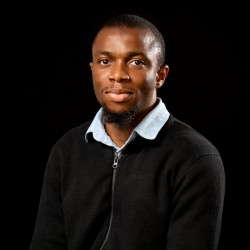 Abdulsalam Aderibigbe
"The University of Surrey is a place where you get to 'experience more' than you can be offered elsewhere."
Why did you choose to come to Surrey?
There are several reasons why I chose the University of Surrey. It all started while I was researching for universities for my Chevening Scholarship application. I came across the University of Surrey as one of Chevening's partner universities on the scholarship website and this alone speaks of the good reputation of the university.
Specifically, the modules offered in the MSc. Programme International Business Management are unique and at the same time diverse. Modules such as Global Strategy and Global Strategy Implementation are modules I would not have had elsewhere. Other modules in the programme position students to be able to choose from diverse careers in international business management. To cap it all, the Surrey Business School ranks as one of the top in the UK. These form the basis for me choosing the University of Surrey.
Why are you passionate about your subject?
My passion for the International Business Management course is largely driven by the need to build on my track record in business and entrepreneurship. Having run an SME for a period of four years, I wanted to explore new ways of running and managing businesses on a global scale. The course has met my expectations so far and I look forward to implementing as well as passing down the knowledge and skills acquired to SME-owners in my home country.
What do you like about your course?
The fact that we are not only learning the theoretical aspects of international business but also the practical aspects through assessments that simulate real-life situations interest me the most in the course so far.
What are the academic staff and facilities like on your course?
I have access to a wide array of online and offline library databases which include contents from top academic journals, textbooks and industry resources.
The academic staff are characterised by strong track records of achievements both in the industry as well as academic aspect of management. This is evident in the practical experiences they share about various theoretical concepts in the course.  
What course(s) did you study before, and where did you study?
I completed my first degree in Linguistics at the University of Ilorin, Nigeria in 2016. Afterwards I have engaged non-academic/fellowship programmes in the areas of business and entrepreneurship some of which include GiZ Start-up Loop, Business and Entrepreneurship Leadership at the University of Notre Dame, and leadership and cultural exchange programme at Dartmouth College, US.
Are you part of any clubs or societies? How have they contributed to your Surrey experience?
Early in my course, I joined the Surrey Model United Nations Society. The Society has so far provided me with the platform to improve my communication and debating skills, as well as learn about issues affecting countries around the globe in a United Nations settings. I have also served as a course representative, an international student ambassador, and worked with the Student Union as a students' voice ambassador.
What are the best things about life in general at Surrey?
Yes, proximity of Guildford to London has afforded me the opportunity to attend programmes and visit places and museums in London.
Have you used any of our support services?
I have enjoyed the services provided by the University's library as well as MySurrey Hive. Both facilities have provided me with support in terms of academic, professional, and wellbeing.
What careers support have you received?
Attending students' employability programmes, career fairs, as well as seminars presented by industry and academic experts are some of the career related support I have benefited from so far.
How do you think your time at Surrey has impacted your employability once you graduate?
My course includes modules from diverse management fields. This gives me the ability to spread my wings and choose from diverse careers in management. The modules also include assessments that simulate practical experience which I believe can be leveraged when joining the workforce.
Do you have any advice for students thinking about postgraduate study?
The University of Surrey is a place where you get to 'experience more' than you can be offered elsewhere. If you are thinking of a postgraduate study and you are looking for a unique and diverse environment for studies, I would recommend the University of Surrey.