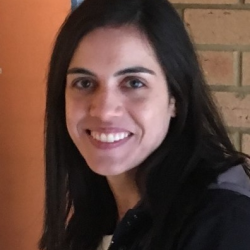 Christiana Demetriou
"The University of Surrey proved to be a great place to live, experience new things and develop myself further - both personally and professionally."
"The University of Surrey had been my top choice as I was looking for a top-tier UK university offering an MSc programme in Business Analytics. My preference was a secure university with a campus near London but not in Central London. Once I found out that Surrey Business School offers a 15-month Placement programme, I immediately applied!
My first impression of Guildford and the university campus was very positive, the campus is beautiful, well-maintained and the safe place I was looking for. The University of Surrey proved to be a great place to live, experience new things and develop myself further - both personally and professionally.
There are many reasons why I would highly recommend my programme, one of the main reasons being that it offers the placement route. The placement route is non-binding, you can always switch to the dissertation route prior to the deadline during the academic year in case you feel that you have not made the right choice. Another great thing about the programme is that it provides students with hands-on experience on several software programmes and programming languages, skills that are essential in today's highly competitive UK job market.
One of the most valuable things that the University has offered to me is the enhancement of my networking skills. Along with my studies, I took the opportunity to attend many of the employer-led events organised by our Employability and Careers team and thus started building my professional network in the UK. A useful workshop was "LinkedIn - Next Steps, with Simon Kelly", where Simon, one of LinkedIn's first sales leaders in Europe, taught us how to use the service for effective professional networking. In addition, the fact that I was living on campus which is very close to London, offered me the opportunity to attend several external events organised by big companies in Central London (e.g. Amazon's Diversity Evening, Capgemini's "Inspiring Women" networking event).
"Apart from being an excellent addition to my CV which will undoubtedly attract high calibre employers, joining this course has equipped me with a wide range of skills, both technical and soft skills, that will help me flourish in any role I take on during my career."
As a finance professional with already nine years of work experience, I had strategically chosen to follow the placement route over the dissertation route, considering this as the path that would help me gain a solid understanding of the UK postgraduate job market and allow me to successfully compete with other high-calibre candidates.
I think my strongest and at the same time, the happiest moment at Surrey was when I was awarded as 'The most engaged postgraduate participant' in Surrey's Employability Award at the celebratory event which took place in late May 2019. I felt very proud of what I had managed to achieve during the year and I also felt happy that my strong efforts had been recognised by the university."
Find out more about postgraduate study at Surrey Business School including the 15-month placement option available on a variety of courses.