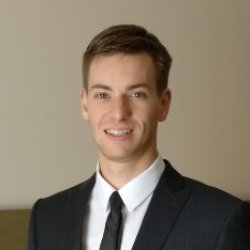 Dominic Clarke
"Studying for an MEng at Surrey confirmed I wanted to work in medical device product development. It also gave me a strong grounding in fundamental concepts across a variety of medical technologies."
Course
Biomedical Engineering MEng
Choosing Surrey
The content of the MEng Medical Engineering course – which is now Biomedical Engineering – was a major factor in choosing to come to Surrey. The campus, and the ease of access to London and my hometown of Crawley was an additional bonus.
The open day was also very well run. Being able to speak to the knowledgeable lecturers and professors, seeing the modern facilities, and the fact all Surrey degrees have the option of a built-in industrial placement year meant I was convinced this would be the right course for me.
My course
I chose to study medical engineering because it's a growing industry. In my opinion, it's the most interesting as the products we develop help people in such a direct way.
At times, it was very stressful, but it was always stimulating and I really enjoyed it. My strongest memories are linked to the Department of Mechanical Engineering Sciences' facilities, such as the CAD/FEA computers and the large workshop where we learnt about traditional manufacturing methods.
Studying for an MEng in Medical Engineering at Surrey confirmed I wanted to work in medical device product development. It also gave me a strong grounding in fundamental concepts across a variety of medical technologies.
Life at Surrey
Having Surrey Sports Park nearby was a highlight as it allowed me to go to the gym and play basketball each week.
I also lived in student accommodation at Manor Park. I was extremely happy there and I was lucky to share a flat with wonderful people. We enjoyed a lot of fun times.
Life after Surrey
I work as a Biomechanics Test Engineer within the Orthopaedics Test Laboratory for DePuy Synthes Joint Reconstruction, a multi-national orthopaedic medical devices company that comes under the umbrella of Johnson & Johnson Medical Devices. I work within the Joint Reconstruction franchise, which focuses on the development of new knee and hip joint replacements, and their associated instruments.
My work involves evaluating the robustness of new prototype device designs. By understanding the potential and real-life failure modes of various instruments and implants, we can mitigate residual risk and have confidence the device will perform as required in field.
Prior to my permanent role, I entered the company on the newly established DePuy Synthes Engineering Graduate Scheme. I was one of four people to be accepted from an initial intake of 350 applicants. This scheme gave me a fantastic grounding in the running of the business.
With the wide range of experiences and opportunities I took on, I achieved Chartered Engineer status with the Institution of Mechanical Engineers after just four years.
Advice to students
My advice to students wishing to work in this profession is:
* Be focused on your degree from day one. Aim to attend all lectures, tutorials and laboratories to get the most from your degree.
* Diligently scope out the industry and where it's heading to ensure you learn the most relevant skills to make you stand out when it comes to job applications.
* Spend time outside of contact hours reading, studying and completing assessments on-time. The more reading you do, the better placed you'll be for future roles.
* Try to balance your studies with activities outside of course work, such as socialising and sport.
Learn more about studying in our Department of Mechanical Engineering Sciences.