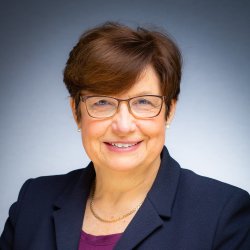 Helen Glenister
"When I came across the nursing degree at Surrey, I was really excited by it – choosing Surrey is the best thing I've done."
Choosing nursing
I was the first to go to university in my family, and you might say, 'why the degree in nursing?'. There was quite a lot of pressure on me to go to university and to study biology, chemistry or something scientific. When I came across the nursing degree at Surrey, I was really excited about it – choosing Surrey is the best thing I've done. 
Life at Surrey
There was always something happening on campus – whether it was rushing for a textbook in the library or attending a practical. I remember one day I looked out of my bedroom window in Battersea Court and saw that someone had moved the whole of the kitchen onto the lawn outside!
When I wasn't studying, you could find me playing the viola for the University orchestra. We did a wide range of classical music. Mussorgsky's Pictures at an Exhibition is a piece that's special to me from that time. I never played it before, and we played it really quite well. Whenever I hear it now, I always think about my time with the orchestra.
I still play the viola and am now Chair of the Saffron Walden Orchestral Society.
My career
The only bit of career planning I've ever done was to become an infection control nurse, and over the years I became very involved in the care of patients with AIDS. 
After graduating, I initially worked at Royal Surrey County Hospital before getting a job in infection control at the Middlesex Hospital. Within a week, the first AIDS patient was admitted to the hospital. There was a lot of fear at the time and we had to set some examples. We were actually the first hospital to have its own AIDS ward, which was opened by Princess Diana a few years later in 1987. 
I got involved in the Royal College of Nursing, producing guidelines for the care of patients with AIDS and the planning of wards. The Department of Health also asked me if I could go on secondment with them. Even though I was very young, only in my early twenties, I took on the position and went on to brief ministers on the care of people living with AIDS.
After working in a few different roles and returning to Surrey for my PhD, I became the Director of Safer Practice, and later the Deputy CEO, for the National Patient Safety Agency. We were really ahead of the curve in England, and I got involved with the World Health Organisation, both in Geneva and in Copenhagen, to share the learning of our work. I'm really proud that many of the safer practice solutions we introduced are now embedded in the health service, like telephoning 2222 on the ward if someone is having a cardiac arrest.
Now I'm a non-executive director of the Princess Alexandra Hospital. I'm also chair of a health focused social enterprise in London, and I'm chief executive of a hospice. With parkruns every weekend, I'm as busy as I've ever been!
Looking back, I think it's making a difference that drives me. Whether it's in an organisation or if I'm directly involved with patients, for me it's all about making positive changes in healthcare.
My advice
If you're considering studying nursing, I would say that it's a wonderful career and many opportunities will come your way - think carefully and do take them if they appear.
Looking to the past to inspire the future
We're celebrating 40 years of nursing at Surrey. Discover more stories from our nursing graduates through the decades.