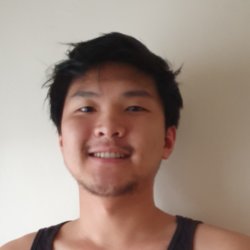 Iain Lee
"The tutors are always happy to help if you have questions via email or after class, while students are encouraged to innovate and be creative during assessments and conduct research themselves under guidance."
Course
Nuclear Science and Applications MSc
Choosing Surrey
I really liked the campus when I visited, and the students and staff were friendly. I felt very welcomed. Being a medium-sized university, the balance between students and staff seemed about right, too.
The student ambassadors I talked to on the applicant day gave me a good idea of what to expect here. The location in the south of England was ideal for me, as well.
I attended an open day to get a feel of the university, and an applicant day to understand the course and working environment.
My course
I'm studying an MSc in Nuclear Science and Applications. I completed a widening participation program that focused on science, technology, engineering and maths (STEM) subjects when I was 17. Physics was the most interesting and it had the widest scope of any discipline. I learnt more about nuclear fusion and I decided that was the path I wanted to pursue.
The course is supportive of anyone who wants to learn about nuclear physics. All students are brought up to speed in the first semester, learning key skills and concepts to solidify their understanding. The second semester tests these skills and you learn more about the applications, such as how you measure radioactivity, the lessons we've learnt from the past and the international safety precautions taken to prevent accidents. The learning is compact and assignments are set between the learning periods.
I enjoyed getting a well-rounded education on nuclear science. This year, there was a visit to the National Physical Laboratory to learn from current researchers.
The tutors are always happy to help and encourage students to innovate and be creative during assessments and conduct research themselves under guidance.
Life at Surrey
I prefer being outside of cities and the greenery is plentiful in this area, which helps to pick up your mood if research becomes demanding.
There are plenty of things to do when considering the variety of events at the Students' Union and in Guildford, and there are many events in London, which is only 40 minutes away by train.
In terms of clubs and societies, I've played Ultimate Frisbee for four years and I often join PhySoc events, too.
The future
When my course ends, I'm planning on doing a PhD at Surrey, which I found out about at a PhD fair. My research will be related to how quantum dynamics affect fusion reactions in stellar environments.
Find out more about masters courses in physics.