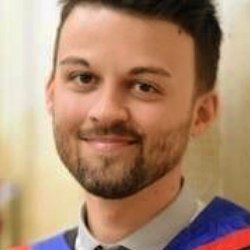 Sam Miller
"The course was led by a team who all individually shared the same passion for the modules that they taught."
"Walking around the Surrey campus for the first time instantly appealed to me. With its lakes, green spaces and heaps of interesting architecture, it stood out as the most impressive campus I had visited. There was an obvious sense of community and the students that I encountered were clearly happy.
Surrey appealed as well as the course offered a diverse mix of engaging modules – ranging from Animation, British Film, Director Study, Short Film Fiction and Asian Cinema – all of which I thoroughly enjoyed. The inclusion of creative writing as part of the course also gave me an opportunity to practice various forms of writing – from short story fiction to poetry.
The course was led by a team who all individually shared the same passion for the modules that  they taught. This came across every day in our lectures, which were always informative, engaging  and interactive. I also received a lot of support from both my personal tutor and my dissertation tutor, who were always happy to informally discuss my personal development.
I have worked within the TV industry since I graduated at Surrey in 2015 and I am currently working as an Assistant Producer for a production company in Bristol.  I love my job as no two days are ever the same and every production is different. Over the past four years, I have worked across a range of genres - from gameshows to dating shows – with programmes including First Dates, Don't Tell the Bride, Eat Well for Less, Tipping Point and The Great British Bake Off.
"The Professional Training placement programme was instrumental in helping me decide my career path and the encouragement and support given to us from our tutors made a real difference." 
Working within the television industry was never on my radar prior to studying at Surrey, but I was placed with the TV-production company 'Renegade', which led to a paid position as a Production/Casting Assistant during my final year.
My top tips would be to be determined and persevere, and to make as many contacts as possible within as many companies as possible. Networking is essential and you will have access to more opportunities if you have a wider circle of contacts, plus a strong CV which clearly outlines your experience and strengths. The tutors at Surrey can help you create a CV that is eye-catching, well formatted and informative. If an opportunity comes up to do some work experience for a company - even if it's unpaid – you should go for it!
I am proud to be a graduate from the University of Surrey and I will always have the University to  thank for helping me kick-start my career within the TV industry. A special thanks must also go to my personal tutor - Dr Bella Honess Roe. I will always be grateful for the support, encouragement and  invaluable advice that she gave me during my four years at Surrey."
Discover more about our English literature and creative writing courses.