About
The Centre for Environment and Sustainability (CES) is an internationally-acclaimed centre of excellence on sustainable development. Established in 1992 by Emeritus Professor Roland Clift, the centre is now being led by Professor Richard Murphy.
About us
Our research uses interdisciplinary approaches to the analysis of complex systems, integrating the engineering and science-based disciplines with insights from the economic and social sciences, and from this develop action-oriented, policy relevant responses to long-term environmental and social issues. The impact of our research and teaching is enhanced by our work in close partnership with diverse businesses and industry on sustainable innovation and implementation issues in practice. These activities inform our teaching (undergraduate, masters, doctoral) to enable our graduates to develop the leading-edge knowledge and skills needed for successful careers in all aspects of sustainability.
We provide a friendly and supportive environment in which innovative thought and creativity are strongly encouraged and in which our internationally and culturally diverse group of students and staff can flourish. We will be delighted to hear from you and look forward to opportunities to work with you.
Reflections by our founder, Professor Roland Clift CBE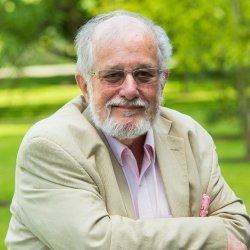 "The Centre for Environment and Sustainability (CES) originated from a Damascene experience at a conference in January 1991.
I was chairing the UK research initiative on clean technology, including several research councils, but becoming disillusioned by the growing realisation that our lack of progress in addressing environmental problems was due not to lack of technology but to lack of sufficient understanding of how to use available technologies.
At the conference I met some people who have been significant in CES, notably Tim Jackson and Walter Stahel, and first encountered some of the issues that have been pursued in CES, for example Life Cycle Assessment (LCA). The conference crystallised the conclusion that the solutions to our environmental challenges do not lie within a single academic discipline.
My response to this flash of the blindingly obvious was to seek funding to set up a research centre to bring together engineering and the social sciences. At the time this was seen as a strange idea, but things went well. The Vice Chancellor of the time, Anthony Kelly, saw the point and backed CES from the start; in fact the University has generally been supportive of this foray into transdisciplinary research.
In addition to myself as Director, the first academic staff recruited were a social geographer (now a professor at KCL) and a sociologist (still at Surrey) as a joint appointment with the Sociology Department. It was these people, rather than I (already a professor) who took the brave step of gambling their careers on a unusual enterprise. We were funded by the EPSRC for one of the first five Doctor of Engineering programmes, initially run with Brunel University although the shared programme subsequently diverged. Out of the courses for the EngD grew a set of MSc Programmes.
Although my original intention was to set up a small research centre, CES has grown to the size of a modest department with national and international recognition and influence.
Oh, and it has been fun."
Emeritus Professor and Founder of the Centre for Environment and Sustainability, Roland Clift, CBE.
CES founder awarded highest honour by IChemE