---
news
Published:
06 December 2022
Surrey's 12 days of Christmas
We're all familiar with the 12 days of Christmas. But here's our take, with some Surrey-sourced fun facts.
On the first day of Christmas...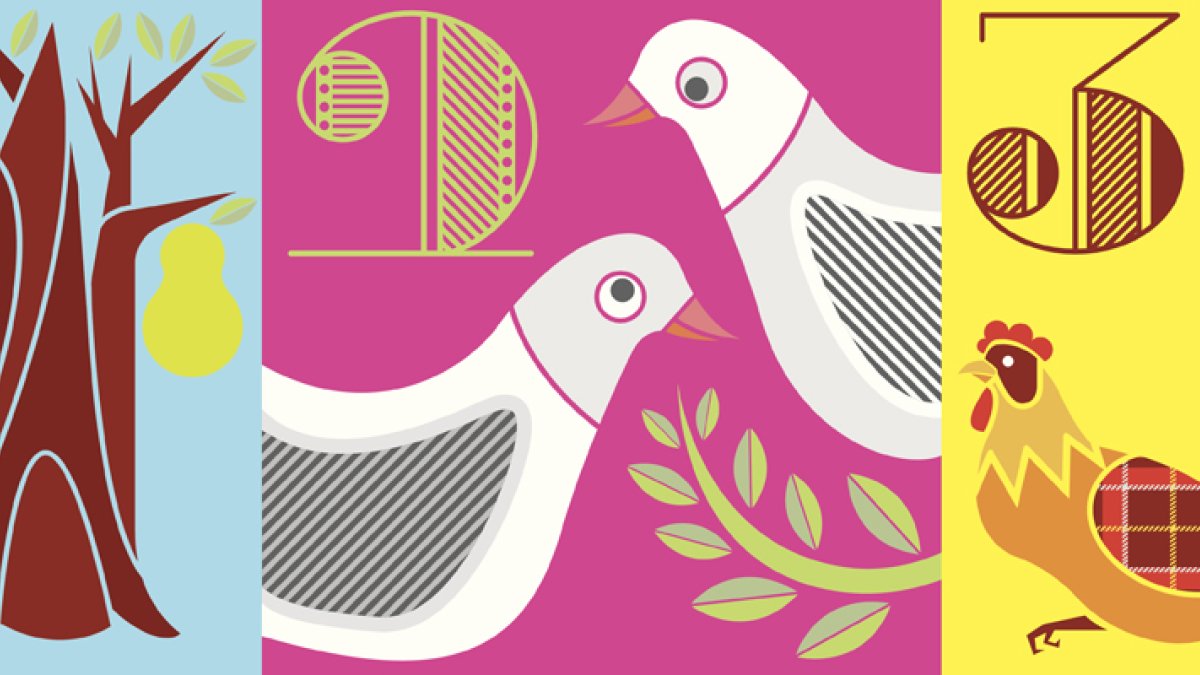 A partridge in a pear tree
Did you know we have 2,800 trees across our two campuses? We also have bird boxes and bee hives, and we're recognised as a 'Hedgehog friendly campus'.
Two turtle doves
The Breeding Bird Survey 2021 found that the number of turtle doves in the UK declined by 96 per cent between 1995 and 2020. The Wildlife Trust states that the turtle dove is the UK's "fastest-declining bird species and is on the brink of extinction".
At Surrey, we have a partnership between Surrey Wildlife Trust and our Centre for Environment and Sustainability.
Mike Waite of the Surrey Wildlife Trust says: "Turtle doves just about cling on as a breeding bird in Surrey, but several others have already been lost from our countryside, including Corn Bunting, Tree Sparrow, Yellow Wagtail and Willow Tit."
Three French hens
Speaking of France, Surrey has partnerships with universities all over the world, and within our School of Literature and Languages alone, we're partnered with three French universities:
ESSEC Business School, Cergy-Pontoise in Paris
Université Jean Moulin Lyon III in Lyon
Université Gustave Eiffel in Marne-la-Vallée in Paris.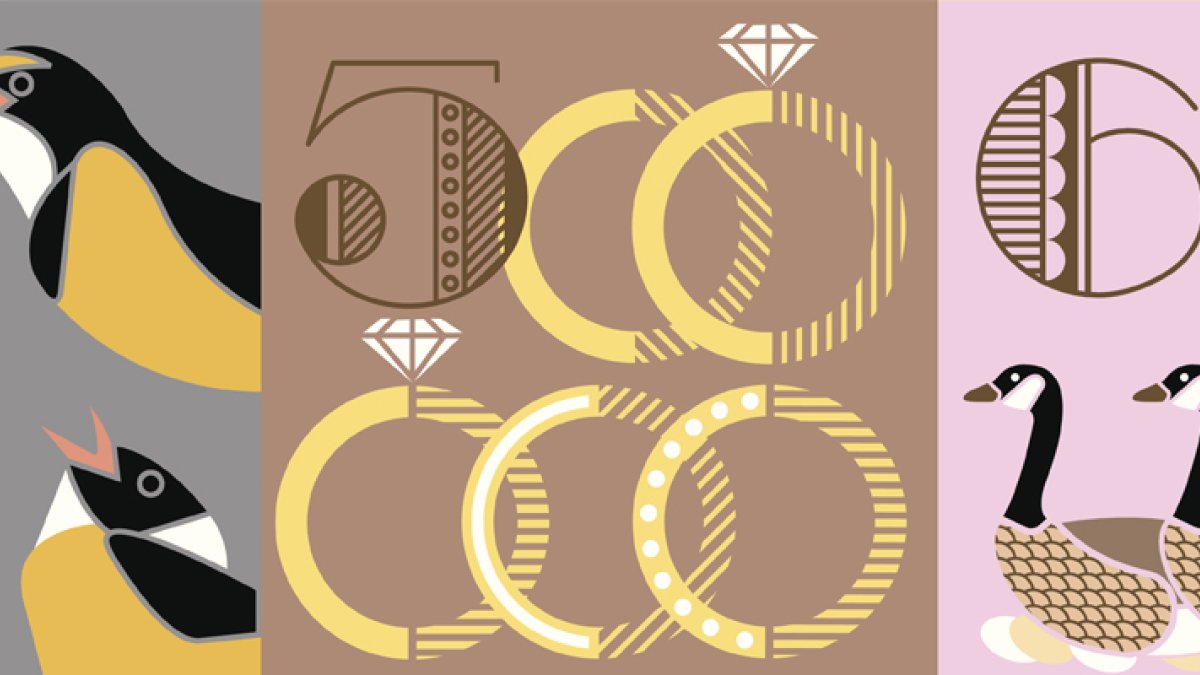 Four calling birds
Birds, sheep, cows and reptiles are just some of the animals our vet students work with. Not to forget our wonderful horses, including our beloved teaching pony, Ruby, who is now settled in her forever home at the Berkshire Animal Connection Centre. We caught up with Ruby and her new owners last year.
Five gold rings
The most famous five rings in the world belong to the Olympic Games flag and Team GB had one of its proudest moments at London 2012. Surrey Sports Park, our £36-million facility which opened in 2010, played an integral part in this, acting as a training base for UK athletes and 16 international nations. In terms of gold medals, it was a record haul for Team GB, who won a total of 63 golds across the Olympics and Paralympics.
Six geese a-laying
Eggs are a symbol of new life and creation, and this year we celebrated the origins of nursing at Surrey, where some highly successful careers were hatched... We got in touch with graduates from 1982 to hear their stories from the past 40 years. Among the fond memories and life lessons shared, Marianne Wallis had this sound advice for current students: "To the future nurses of Surrey, I'd say start as soon as you can. Make plans for where you would like your life and career to go and when something better turns up, take the opportunity and don't look back."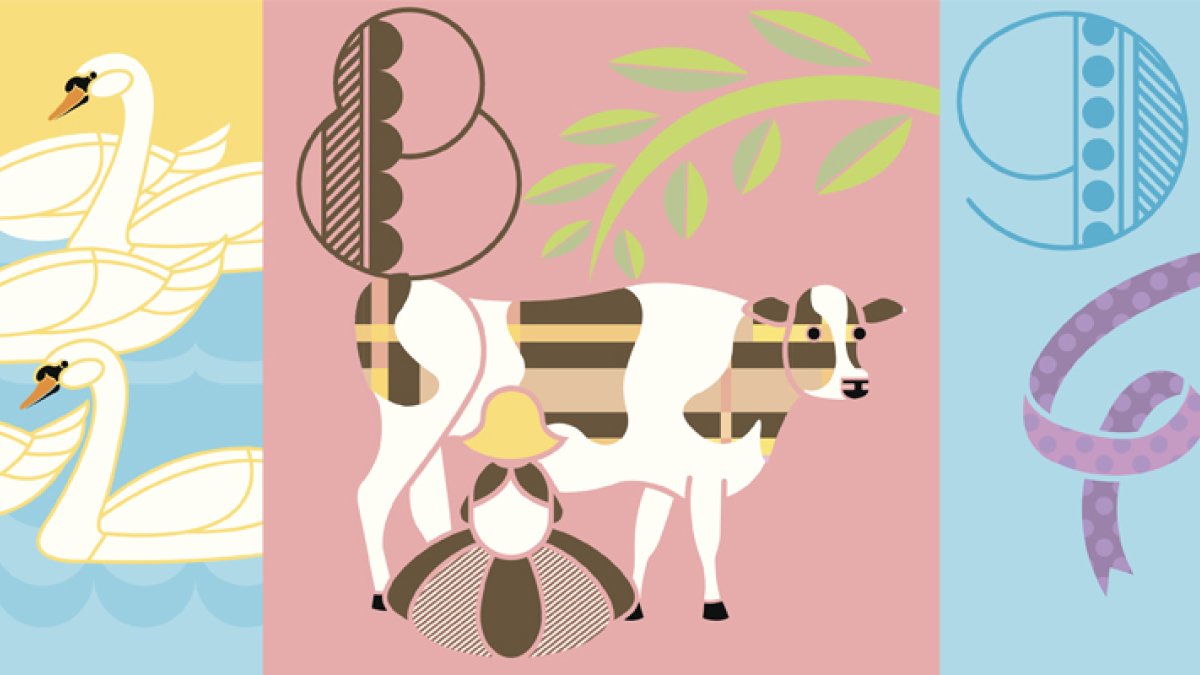 Seven swans a-swimming
A 1482 law saw many swans come under royal ownership and it was only in 1998 when eating a swan in the UK stopped being an act of treason. They remain, however, remarkable birds.
"Some species of swans are in the running for the title of largest flying bird by weight," says Dr Rob Siddall, who builds robots inspired by nature in our School of Mechanical Engineering Sciences. "Another interesting fact is they can also sail. They position their wings in a certain way when they float, which allows them to sail in the wind. It's a very energy-efficient trick when you're a large-sized bird."
Eight maids a-milking
Did you know you can make cheese from milk through a process called lactic acid fermentation?
We caught up with Dr Veronica Giacintucci, Teaching Fellow in Food Science, to find out more about the science behind this and to get her recipes to make homemade paneer and cottage cheese.
Nine ladies dancing
Guildford School of Acting (GSA) has had nine tutors and graduates who have all professionally appeared in Cats the Musical, in the West End or on tour.
These include:
Elizabeth Futter
Chevaun Marsh
Karen Evans
Kate Tydman
Jo McShane
Charlie Prince
Brenda Newhouse
Emma Harris
Phyllida Crowley-Smith (Head of Dance at GSA).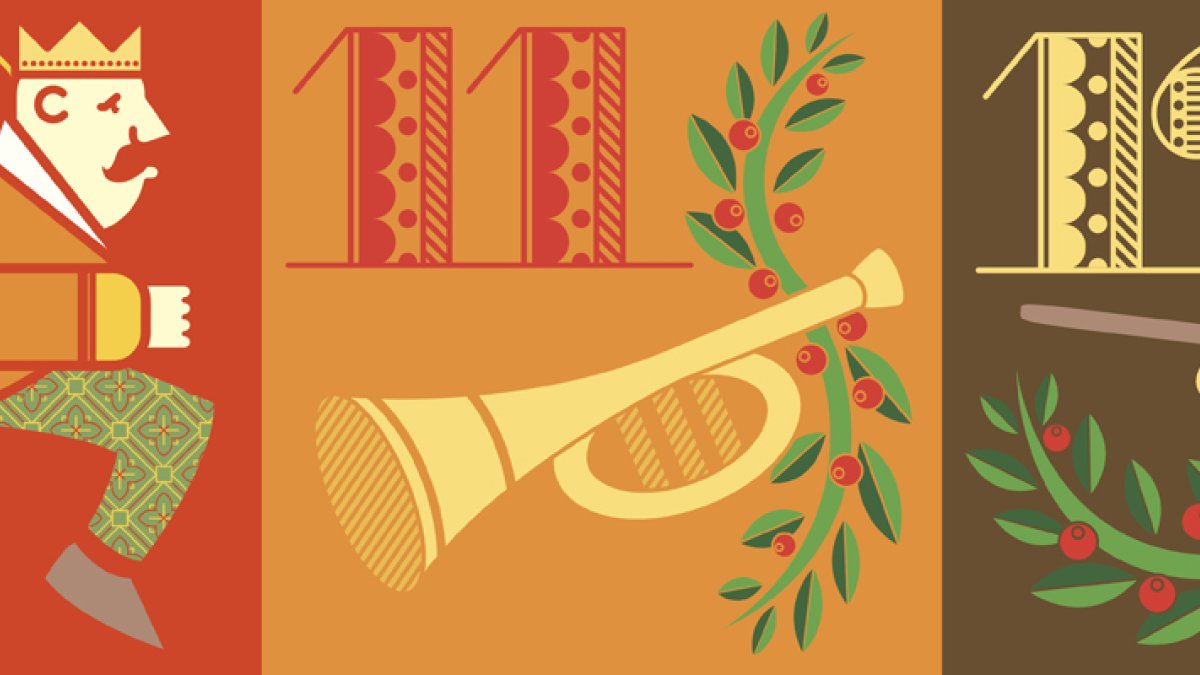 Ten Lords a-leaping
Each year, the School of Law holds the Toulson Law Lecture in memory of Lord Roger Toulson, a Distinguished Visiting Professor at Surrey who was one of Britain's foremost lawyers and an intellectual leader within the Supreme Court. The Toulson Law Lecture has previously been delivered by Lord David Neuberger and Baroness Brenda Hale.
Professor Bebhinn Donnelly-Lazarov, Head of our School of Law, says, "The Toulson Law Lecture is the highlight of our calendar each year, drawing leading lawyers and academics to our campus to discuss the most pressing issues with students and wider community. It's a privilege to be able to take part in these conversations and honour Lord Toulson's memory in this way."
11 pipers piping
One hundred and forty students, graduates, staff and members of the community signed up for our Orchestra Day in September of this year, hosted by the Department of Music and Media. Between them, woodwind musicians bought a bass clarinet, six bassoons, seven clarinets, seven flutes and six oboes, with brass adding two cornets, three French horns, one saxophone, four trombones, two trumpets and two tubas for our largest play day yet, rehearsing Prokofiev's Romeo and Juliet in one day.
12 drummers drumming
Did you know Surrey has links to one of the greatest drummers of all time? On 25 October 1968, the New Yardbirds, as they were then billed, played their first gig under their new name of Led Zeppelin at Surrey. The line-up included drummer – and infamous rock 'n' roll hell-raiser – John Bonham.
"Bonham managed to fuse the visceral power and timbre of rock, a staggering technical virtuosity, and a creative sophistication he gained from listening to jazz drummers like Buddy Rich and Gene Krupa," says Dr Milton Mermikides, director of our MMus Music course. "These diverse skills combined to create a drummer of rare flexibility and invention, with creative intros, solos and patterns which complemented the playing of his bandmates and forged an individualism that continues to influence drummers and the development of the wide genre to this day."
We hope you enjoyed our (often tenuous) Surrey links to the 12 days of Christmas! Have a very Merry Christmas and a safe and happy New Year.
Featured Academics
---
Related content
---