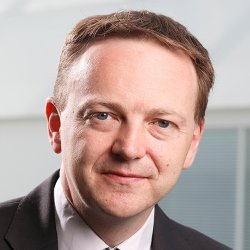 Philip Grainge
---
Executive Assistant: Sarah Dent
About
Philip joined the University of Surrey in July 2016 as Chief Financial Officer with Executive Board responsibility for Finance.
He holds an MA in Economics from Trinity College Cambridge and after graduating worked for Safeway Stores Plc. where he qualified as a Chartered Management Accountant (ACMA). He then moved to Colgate-Palmolive where he spent 12 years progressing through increasingly senior Finance roles, latterly leading the UK & Ireland Commercial Finance team covering all aspects of financial planning, analysis, reporting and control, and leading the business's budget and planning processes, as well as driving business simplification initiatives.
He was also a key member of several global teams tasked with the design, development and implementation of significant organisational
change, encompassing processes, systems and team structures, including the centralisation of transactional Finance roles to international service centres, and building high-performing Finance teams to partner the UK & Ireland Sales and Marketing teams.
Philip has previously been a Governor of two schools in Surrey Heath and has lived in the Guildford area since childhood.