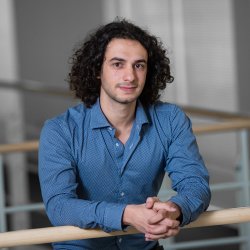 Raimondo Mancinelli
---
Doctoral Practitioner in Sustainability
My research project
The use of Data Analytics for Sustainable Product Development
Sustainability relevance in business management is constantly rising. More and more businesses realise how vital it is to adopt daily sustainable business practice. This is not only in response to the global quest for sustainability, but it can also guarantee profits in a quick-changing global market as well as on the long term as some successful firms have started to show. Such successful cases have been able to combine sustainability with profits, sometimes unlocking disruptive potential. Those successes are the result of inspired and visionary entrepreneurs who get the right vision of how the firm activities will impact society and could share such a vision.
However, difficult decisions are part of the sustainability challenge for the obvious complexity embedded into the relationship within the firm, the environment and society.
Big data insight has the potential of reducing such complexity and support decision-makers. For this reason, the research goals to understand how to better use data insight in strategic decisions for creating shared value and move forward the only profit maximisation culture.
The project partner is Costain Group Plc.
Research scope
The research intends to move decision-makers from the current shareholder profit maximization attitude to more sustainable business models and practices embracing the shared value theory where financial, environmental, and social aspects have an equal contribution. Opportunities for addressing environmental and social issues whilst building thriving businesses are out there but are hard to see. The scope is to give the decision-makers the right tools to translate the vision into actionable plans.
Current case study
Hydrogen for Road Transport –  Priorities for industry transition and infrastructure upscale
A mapping assessment of actors' needs across South East Wales in association with Costain and the University of Surrey
Hydrogen and Battery Electric vehicles have a great potential to reduce road transport emissions, but many challenges are pushing down the upscale of these technologies. Many actors have a role to play and understand their priorities is keen to accelerate the transition.
We are currently investigating stakeholder's needs regarding low-carbon emissions alternatives for road transport. If you or your organisation are involved or interested in the decarbonisation of road transport issue, please take less than 5 minutes to compile the following survey and contribute to the study.
Take the survey to contribute to the Hydrogen for Road Transport study.
Supervisors
Research
Research interests
The use of data analytics for sustainable product development
The project partner is Costain Group Plc.
Abstract
Given the current needs for businesses to be more sustainable, developing improved sustainability-based business decisions for managing a portfolio of products could be highly valuable for industry. Many successful firms use data-driven improved decisions to shape their business strategy and it is argued here that data analytics can help in their sustainability challenge too. To date, there is no universal way of assessing the impacts of such decisions towards sustainability. The aim of this research is to develop a data-driven decision support system for decision-makers to design more sustainable businesses and products. The focus of such a decision support system is the product business model in multi-product businesses. The term 'product' refers to both goods and services. Using an exploratory case study within the infrastructure sector, the research will explore how multi-product business strategies interact with environmental and social issues and use this to define a framework for decision-making in desining new sustainable business models. In addition, appropriate methods for data collection will be explored and tested, including an evaluation of the numerical methods available for data-insight extraction for such decision support system. The outcome will offer a validated data-driven procedure to support effective early decision for new sustainable products, as well as suggestions about wider implications of data-based opportunities for sustainable business models.
Description of PhD
The PhD focuses on the development of a standard procedure to support the business decision-making to embed strong sustainability in business decision since the early stage of a project. The Sustainable Product Development (SPD) so developed will aim to suggest better products' and systems' designs for delivering value to human and natural spheres without sacrifice financial returns.
The digital technologies have a fundamental role for market positioning as well as for driving more sustainable business and outcomes. Data-driven insights generate substantial economic opportunities from information and its analysis. However, the exiting synergy between innovative technologies and sustainability is not often sought enough. The SPD aims to understand this complexity of the system firm-market-environment-society and simplify the picture to help decision-makers taking insightful decisions.
Meeting industry challenges
How can digital business models and IoT solutions be designed to support sustainability? And how can data analytics help experts to design more sustainable solutions?
To answer these questions, it is necessary a clear holistic view of the firm's decisions and activities impact pathway on environment, on society, and on the market.
The challenge is that a firm's impact pathway is not simple to describe and monitor over time. It is a complex tree of cause-consequence relationships within it the firm affects clients, stakeholders, and natural assets and those affect each other over time. This generates a complex network of relationships. The challenge for the industry is to define clear priorities and best actions to deliver value to the three spheres without sacrifice any one of them.   
There is the need in the industry for tools and procedures that are able to analyses and simplify such complex behaviour. The current decision-making processes rarely aim to systematically investigate the complex nature of the relationships existing between the firm, the market, the environment and society. With better tools, a firm can make insightful decisions in choosing to invest in specific product development, and so initiate a positive cascade effect on the whole external system.
Meeting academic challenges
Life Cycle Assessment is a powerful and well-known procedure for sustainability assessment, but it is not applicable to many business decisions and social impacts. A sustainability assessment for business models need to be able to assess the impact of intangible factors, as in example brand reputation, competitor strengths, or social wellbeing are. Moreover, it needs to take into account uncertainty and problematic preferences.
For these reasons, the Hierarchical Bayesian Neural Network (HBNN) will be proposed and tested as a novel approach for the Multi-Criteria Decision Analysis (MCDA) for complex system analysis. The firm's impact pathway will be described via an influence diagram obtained by experts' and stakeholders' judgements combined thanks to the HBNN. The SPD so developed will allow to identify the factors to priority within the impact pathway, run scenario analysis, and compare alternative solutions. For estimating sustainability, the three Capitals approach has been chosen for comparing the business models' impacts. Finally, the SPD will be developed in accord with the Bellagio STAMP principles to adopt strong sustainability perspective.
Business opportunity
As the sustainability agenda is getting more and more important on both national and international levels, so it is happening in the infrastructure sector as well.
Data-driven companies are already disrupting their market offering cheaper and more efficient services to customers with higher proximity. The next step is to do the same to tackle social and environmental issues. Targeting the right customer, it is possible to engineer the business in order to deliver desired values as co-benefits. To do so, it is necessary to have a clear and holistic understanding of the interaction between the company and the system within it acts. Big Data analytics help to have a deeper understanding of the system's interactions and the appropriate Data strategy might become part of each effective Sustainability strategy in the future.
There is a big opportunity in the needs of tools for sustainability assessment that are able to deal with business decision, uncertainty and intangible factors.
The research has the scope to develop the procedure and the tools to give guidance during this transition. The SABM will be adaptive to the business environment, the market and the future scenarios in which the customer acts. By analysing these variables, the Costain's consultancy can guide customers among their sustainability transitions with digital solutions. The SABM will be tested on projects running in Costain and then included in the consultancy offer for sustainability.
Many existing technological solutions are ready to transform more sustainable infrastructures, but there is still the challenge to embed Sustainability into common business practices and to tackle the inertia of the business-as-usual to solve the global crisis of our time.
Summary and current findings
The enterprises have played a key role in shaping contemporary society and so will be in the future. Many successful firms have used data-driven decisions to shape their business and disrupt their market. This has raised the profits, however, nowadays enterprises are called to be more sustainable with urgency. Being able to make more sustainable business decisions in the early stage of a project would be highly valuable for the infrastructure industry. Data analytics can help in this challenge, however, there is no standard procedure to assess the business impacts on society yet. 
The decisions taken internally from a firm can have long term impacts on the system within its act. Those impacts are difficult to predict due to the complex relationships existing between the firm, environment and society. The technology offers nowadays a computational power that before was precluded; however, even the most advanced simulation cannot solve anything if it is not designed to drive the right vision of the society and if it is not associated with the human ability of discerning. The firms will have key roles in both tackling or harming furthermore the global issues, and their decision-makers will decide which direction to take. Those decision-makers need to be in the best position to make insightful decisions to run their business in more sustainable ways. The research aims to understand how to represent the complex system enterprise-environment-society and then to simplify the representation for decision-makers giving them the digital tools necessary to make better-informed decision to reduce impacts and to drive more sustainable outcomes.
My publications
Additional publications
Description of the Lesch‐Nyhan neurobehavioral disorder and its management through participant observation of three young individuals. 
Anna Bozano, Alessandra Schiaffino, Alessandra Spessa, Francesca Valeriani, Raimondo Mancinelli, Vanna Micheli, Diego Dolcetta JIMD Reports. 2020; 1– 9. https://doi.org/10.1002/jmd2.12100
Abstract
Lesch‐Nyhan disease (LND; OMIM 300322), caused by virtually absent hypoxanthine‐guanine phosphoribosyltransferase activity, in its classic form is characterised by hyperuricemia, variable cognitive impairment, severe motor disorder and a characteristic behavioural disorder (Lesch‐Nyhan Behavior, LNB), typically described as self‐injurious behavior (SIB) and "self‐mutilation." This work focuses on the latter aspect with the aim of exploring and broadening it. [...] We are proposing a wider LNB description, beyond the classical Self‐injurious behavior (SIB), stating that it is widespread and pervasive, involving every facet of the patients' life. Caregivers and operators should be aware that they might face different LNBs, and have to recognize them to find the better way to manage patients.
Distributed sensor placement optimization for computer aided structural health monitoring. 
Ameduri, S., Ciminello, M., Dimino, I., Catignani, A., & Mancinelli, R. (2019). Archive of Mechanical Engineering.
Abstract:
An optimal sensor placement methodology is implemented and herein proposed for SHM model-assisted design and analysis purposes. The kernel of this approach analysis is a genetic-based algorithm providing the sensor network layout by optimizing the probability of detection (PoD) function while, in this preliminary phase, a classic strain energy approach is adopted as well established damage detection criteria. The layout of the sensor network is assessed with respect to its own capability of detection, parameterized through the PoD. A distributed fiber optic strain sensor is adopted in order to get dense information of the structural strain field. The overall methodology includes an original user-friendly graphical interface (GUI) that reduces the time-to-design costs needs. The proposed methodology is preliminarily validated for isotropic and anisotropic elements.