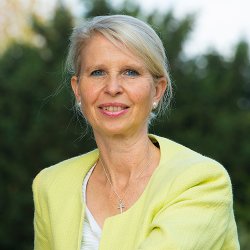 Susan Lanham-New
---
Head of the Department of Nutritional Sciences
Personal assistant: Elise Frost-Bridges
Biography
Biography
Current Position:
Head of the Department of Nutritional Sciences at the University of Surrey in Guildford, UK.
Registered Public Health Nutritionist (RPHNutr).
Academic Training:
UG training (Chichester) in Exercise Physiology and PG training (Aberdeen) in Human Nutrition and Metabolism.
PhD in Nutrition and Bone (University of Aberdeen, Rowett Research Institute, Aberdeen Royal Hospitals)
Awards:
1991 PhD Scholarship, Nutritional Consultative Panel
Young Investigator Award at the World Osteoporosis Conference, Amsterdam, 1996
Young Investigator Award at the National Osteoporosis Society Conference, Bath, 2000
Young Investigator Award at the Joint Meeting of ECTS and IBMS, Madrid 2001
2001 Nutrition Society Medal: Role of the skeleton in acid-base homeostasis.
Book Editorship:
Editor (with Professor J-P Bonjour, Geneva) of 1st academic textbook on 'Nutritional Aspects of Bone Health' (NAoBH) 2003
Editor (with J-P Bonjour) of NAoBH 2nd Edition, 2010 due
First Editor on the Prevention and Management of Osteoporosis textbook, 2007
Editor-in-Chief of the NS Textbook Series
Committee Membership
Nutrition Forum for the National Osteoporosis Society
Scientific Advisory Group of British Nutrition Foundation and the BNF Taskforce on Ageing.
Editorial Board of Osteoporosis Review
Honorary Communications Officer of the UK Nutrition Society from 2000-2006.
External Examiner at the University of Ulster in Coleraine (2004-2008)
PhD Students:
5 successfully completed; 7 in active study
Research Publication:
Published more than 80 peer-reviewed original papers, book chapters and reviews
Research Income:
Raised more than £2M in research grants.
Research interests
Nutritional Aspects of Bone Health
The Department of Nutritional Sciences has received funding for research in Nutritional Aspects of Bone Health
Specific projects currently running:
Interaction between diet and sunlight exposure on vitamin D status in Caucasian and Asian women (D-FINES) study
Extent of vitamin D deficiency in Saudi Arabian women and boys and girls
Impact of veiling on Vitamin D status in Kuwait adolescent girls: impact on bone mass
Protein and bone health: systematic review and meta-analysis
Role of dietary and supplemental potassium to osteoporosis prevention
Nutritional influences on stress fracture incidence in the Royal Marines
Role of trace elements to bone health
Nutrition and exercise influences on peak bone mass attainment
Nutrition and bone in the Swiss elderly
Role of the skeleton in acid-base homeostasis
Research collaborations
Collaborative research work
Dr Jacqueline Berry, Vitamin D Research Group, University of Manchester
Dr Jo Fallowfield, Institute of Naval Medicine, Gosport, Hampshire
Professor David Torgerson, Centre for Health Economics, University of York
Professor Richard Eastell, Dr Rosemary Hannon, Bone Metabolism Group, University of Sheffield
Professor Jalal Khan, King Abdula-Aziz University, Jeddah, Saudi Arabia
Professor Peter Burckhardt, University Hospital, Lausanne
Professor David Reid and Dr Helen Macdonald, Osteoporosis Research Unit, University of Aberdeen
Professor Gordon Ferns and Professor Margot Umpleby, Post-Graduate Medical School, University of Surrey
Nutritional Sciences Division staff: Dr Warren Lee; Professor Bruce Griffin; Dr Kath Hart; Dr Jonathan Brown; Dr Adam Collins; Dr Babs Engel
Teaching
Module Organiser for BMS3016 Nutrition Research Methodology and BMS3033 Sports Nutrition
Teaching Duties:
BMS 3016 Nutrition Research Methodology
BMS 3033 Sports Nutrition
BMS 3013 Reproduction and Growth
BMS 3015 Vitamins and Minerals
BMS 3017 Practical Nutrition
BMS 2012 Micronutrients
BMS 2027 Nutritional Needs of Population Groups
MSc Nutritional Medicine
MSc Toxicology
MSc Molecular Biology
Departmental duties
Reader in Nutrition
UG and PG Teaching Duties
Member of the Academic Assembly Policy Committee
Co-Local Organizer for 68th Nutrition Society Conference, University of Surrey, (29th June to 2nd July 2009). Member of NS Programmes Committee
Editor-in-Chief of the Nutrition Society Textbook Series. Member of NS Publications Committee
My publications
Publications
Lanham-New S.A. Vitamin D and calcium in the maintenance of bone health and prevention of osteoporosis. Proc Nutr Soc 2008;67:163-176.
Lanham-New S.A. and Shearer MJ. Is vitamin K special to bones? Osteoporosis Review 2008;16:1-4.
Lanham-New S.A. The balance of bone health: tipping the scales in favour of the potassium case. J Nutr 2008. 138:172S-177S.
Gannon RHT., Millward DJ., Macdonald HM., Frassetto LA., Remer T., Lanham-New S.A. Estimates of net acid excretion indirectly (NAEind) and net rate of endogenous non-carbonic acid production (NEAP) in the elderly UK population: analysis of the National Diet and Nutrition Survey (NDNS) of British adults aged 65 years and over. Brit J Nutr 2008 (in the press).
Ward KA, Roberts SA, Adams JE, Lanham-New S.A., Mughal MZ. Calcium supplementation and weight bearing physical activity--do they have a combined effect on the bone density of pre-pubertal children? Bone 2007;41(4):496-504.
Frassetto LA, Lanham-New S.A., Macdonald HM, Remer T, Sebastian A, Tucker KL, Tylavsky FA. Standardizing terminology for estimating the diet-dependent net acid load to the metabolic system. J Nutr 2007;137(6):1491-2.
Lanham-New S.A., Lee WT., Torgerson DJ., Millward DJ. Is vegetable protein better for bone than animal protein? In: Nutritional Aspects of Osteoporosis (6th International Symposium on Nutritional Aspects of Osteoporosis, Switzerland). Eds B. Dawson--Hughes, P Burckhardt and RP Heaney. Challenges of Modern Medicine. Elsevier Science 2007; ICS 1297; pp310-318.
Lanham-New S.A. Thompson RL., More J., Brooke-Wavell K., Hunking P., Medici E. Importance of vitamin D, calcium and exercise to bone health with specific reference to children and adolescents. Nutrition Bulletin 2007;32:364-377.
Cockrayne R., Adamson J. Lanham-New S.A., Shearer MJ., Gilbody S., Torgerson DJ. Vitamin K and the prevention of fractures: systematic review and meta-analysis of randomized controlled trials. Archives Internal Medicine 2006;166:1256-1261; Archives Internal Medicine 2007;167: 94-95 [Letter].
Lanham-New S.A. Are fruits and vegetables: the unexpected natural answer to osteoporosis prevention? American Journal of Clinical Nutrition 2006;83:1254-1255 [Editorial].
New S.A. Macdonald H. M., Grubb D. A., Reid D.M. Intakes of net endogenous non-carbonic acid production (NEAP) are positively associated with indices of bone health in pre and perimenopausal women. American Journal of Clinical Nutrition 2004;76:131-142.
Nurmi-Lawton JA., Baxter-Jones ADJ., Mirwald R., Bishop JA., Taylor P., Cooper C., New S.A. Evidence of sustained skeletal benefits from impact-loading exercise in young adolescent females: a 3-year longitudinal study. Journal of Bone and Mineral Research 2004;19:314-322.
New S.A. The role of the skeleton in acid-base homeostasis. The 2001 UK Nutrition Society Medal Lecture. Proceedings of the Nutrition Society 2002;61:151-164