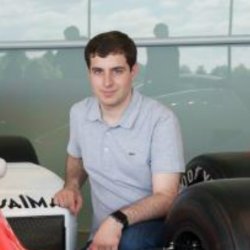 Abdullah Al-Shakarchi
"The opportunity to do a Professional Training year was definitely one of my motivations for coming to Surrey."
Course
Electronic Engineering
Placement company
McLaren Applied Technologies (MAT)
"I spent my Professional Training placement at McLaren Applied Technologies (MAT), part of the McLaren Technology Group, and the global leader in supplying electronics for motorsport and automotive applications.
In this industry, compromises in performance or size are not acceptable, which results in constantly pushing what is possible. McLaren, in particular, promotes a culture of absolute precision and a focus on winning, employing technology to generate high performance products that are ahead of the competition. This provided an excellent learning environment.
I was part of the Hardware Design team, along with around 20 other engineers. One of the projects I was assigned to was 'Rain Light'. MAT supply rear safety lights to all Formula 1 cars on the grid, and I was responsible for designing the next generation product which was to be brighter, lighter, more power efficient and easier to manufacture. I worked on initial designs, building and testing prototypes, supporting track testing of the prototypes, and finally building a supply chain and preparing all manufacturing documentation.
Five months into my placement, the Rain Light prototype was tested during a pre-season wet tyre test at Paul Ricard, which was a wonderful opportunity for me to validate my work and enjoy the visibility of the industry. Starting in 2017, cars on the grid will be running the new generation Rain Light product I designed, viewed by millions on television with each Formula 1 event.
My placement experience was exceptionally varied. In addition to Rain Light I worked on various products for Formula 1, Formula E and the automotive sectors, including three phase inverters, DC/DC converters, battery management systems and engine control units. My work involved feasibility studies, design, prototyping, and testing in the lab under high voltage conditions and within a mechanical dynamometer facility. I also got to work closely with both internal production teams and external suppliers.
All the work I did was on active and valuable projects, which is a testament to the trust the business has in its placement students.
The opportunity to do a Professional Training year was definitely one of my motivations for coming to Surrey. The University provides great support when it comes to securing a placement, with CV checking and interview skills sessions organised by the career service, while the Department of Electrical and Electronic Engineering also gave specific support in terms of suggesting employers and advising on applications.
I hope to pursue further study after I graduate, and later join industry. I'm particularly excited by the on-going evolution to electric vehicles and aircraft, and the autonomous driving revolution, and I hope to become an experienced engineer within these fields."
Discover more about our electrical and electronic engineering courses, including our MEng Electronic Engineering.