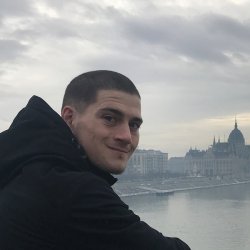 Jonathan Otty
"Surrey has allowed me to construct a formidable presence in the employment world."
"I first became aware of the MSc International Business Management during my undergraduate degree, which I also completed at Surrey. The masters course offers a truly unique exploration of the business field as well as providing students access to a range and depth of knowledge that I could not find in any other institutions.
I knew that Surrey would provide me with the foundations I need moving forward in my life, from the friendly and accommodating staff, to the world-class facilities; Surrey is one of a kind. The University provides a level of teaching, guidance and students that I personally feel is a cut above the rest.
I began my university career in South Africa at the University of the Witwatersrand. There, I studied two years of a BA, with the intent of majoring in psychology and sociology. After completing my second year I was given the opportunity to move to the United Kingdom. Once in the UK, I completed my undergraduate degree at Surrey, studying a BSc Liberal Arts and Sciences.
Surrey continually provides not only the tools needed to keep up to date with the ever-changing environment of the business sphere, but also the knowledge and skills to thrive in it. The MSc International Business Management course offers an eclectic mix of subjects and information – this stands out to me as I feel that it is through the appropriate synergy between different subjects that the best education footing can be found.
"One can truly say that Surrey got the recipe right."
The staff on the course are also second to none and are able to impart their knowledge and love for their subjects to the students exceptionally well. They're very open, friendly and more than happy to assist students to better understand their coursework. These aspects are, to me, the highlights of my masters, as they, together, provide a uniquely holistic approach to academia. One can truly say that Surrey got the recipe right. 
There are so many good things about life at Surrey, the best being the campus' close proximity to the town. Guildford is small but bustling with endless opportunities to explore and make new memories with friends and those you've met on campus. In saying this, one cannot overlook the social life at Surrey, with a multitude of social events every week and seemingly countless amounts of clubs and societies to join.
I've changed since beginning my journey at the University. Not only has my academic performance benefited but also my life outside the University. I have made new friends and loads of amazing memories that I otherwise would never have had the opportunity to do. I have met some incredible people during my time here. Surrey is home to people from every corner of the globe which has led to some of the most incredible debates and discussions of my life, as well as forming friendships I know will last forever.
Surrey has allowed me to construct a formidable presence in the employment world. Currently, I am looking at various graduate schemes both in the UK and abroad and I have no doubt that my time at Surrey will have bolstered my chances at gaining entrance to these."
Discover more about our courses in business, marketing and management, including our MSc International Business Management.