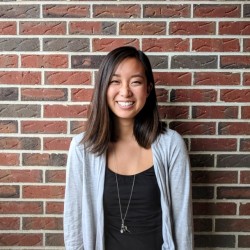 Melanie Hyo-In Han
"My supervisors have been instrumental in helping me to achieve my goals during my PhD by providing guidance and feedback on my research, enabling me to refine my ideas and hone my skills."
Research project
"My project critically and creatively explores the intersectionality of postcolonial transnationalism and identity, and its reflection in fragmented poetic form and multilingual poetry. Specifically, I analyse the poetry of Korean-American transnational women while writing my own collection of poems that draw on my experiences of being born in Korea and raised in East Africa. By examining the concept of postcolonial transnationalism as defined by scholars such as Bahri and Ramazani, I showcase my concerns with my cultural heritage and utilize innovative poetic techniques to emphasize the significance of transnational voices in our increasingly globalized world."
Choosing Surrey
I chose to come to Surrey primarily because of the supervisors I knew I would get to work with, plus the university's reputation for excellence in research and its commitment to a supportive and inclusive community. Additionally, the location of the university and its proximity to London was very appealing to me.
Overall, my impression of Surrey has been extremely positive. The campus is modern and well-equipped, with great facilities and a welcoming atmosphere. The faculty and staff are knowledgeable, passionate, and dedicated to helping students succeed in their academic and personal endeavours.
Your studies
Before starting my PhD, I studied at Gordon College in Boston, Massachusetts, where I completed a BA in English, Spanish, and Linguistics, and an MEd in Secondary English and Secondary Spanish. I then completed my MFA in Poetry and Translation at Emerson College, also located in Boston, Massachusetts.
As a former teacher in Boston, I loved teaching and interacting with my students in a classroom setting. However, I knew that I wanted to delve deeper into poetry and explore it in a more academic setting, which is why I decided to pursue a PhD.
After living in the US for almost a decade, I was ready for a change of scenery, which prompted me to apply to PhD programmes in the UK. The main reason I chose Surrey is because of my supervisors (Dr Stephen Mooney and Dr Gabriele Lazzari) and their expertise in my area of research, as well as the Vice Chancellor's Studentship Award that I received.
A passion for creative writing
Growing up as a transnational individual, I have always been intrigued by the ways in which upbringing, identity, and background are reflected in poetry. As a child, I was one of the few Koreans in my neighbourhood in East Africa, which led me to turn to poetry as a form of self-expression when I felt isolated or misunderstood. I am passionate about my research topic because I believe it is essential to raise awareness about transnationalism and bring people together through poetry.
Resources at Surrey
I have found the workshops offered by the university to be incredibly helpful, especially those focused on education and future teaching. For example, the Introduction to Learning and Teaching workshop provided me with a better understanding of the UK university system, which was particularly useful given my background in the US-based MEd program. Similarly, the Assessment and Feedback workshop gave me a deeper understanding of the ways that UK universities assess and provide feedback to students. These workshops have not only expanded my knowledge but have also equipped me with practical skills and strategies that I can apply to my own teaching and research. Additionally, I have also made use of the excellent resources available at the University library, including access to academic journals, databases, and other research materials.
Surrey supervisors
My supervisors have been instrumental in helping me to achieve my goals during my PhD by providing guidance and feedback on my research, enabling me to refine my ideas and hone my skills. They have also given me numerous opportunities to connect with the research community outside of the university, encouraging me to apply to conferences and being supportive of the upcoming publication of my second poetry book.
Collaboration and enjoyment
I have been attending the University's POC Writing Group regularly, where we meet to discuss writing and other relevant research material. This has enabled me to meet other researchers in the department and collaborate with them on specific projects related to our work.
One of the things I've enjoyed most about my PhD is being able to dedicate my time and energy to something that I'm truly passionate about. Through my research, I've made some exciting discoveries, including the ways that poetic language can reflect and illuminate the experiences of transnational individuals.
Overall, my experience at Surrey has been challenging but also incredibly rewarding. The support from my supervisors, as well as the community of researchers I've had the pleasure of working with, has been invaluable.
Looking forward
After completing my PhD at Surrey, I plan to pursue a career in academia as a researcher and educator. I hope to continue exploring the intersection of poetry and transnationalism, and to share my passion and knowledge with students through teaching and mentoring.
As for my time at Surrey, I can say without hesitation that it has been a truly rewarding and enriching experience so far. The faculty and staff have been incredibly supportive and encouraging, providing me with the guidance, resources, and opportunities necessary for success. The research community at Surrey is vibrant and diverse, and I have had the privilege of working alongside many talented and inspiring researchers. Overall, I feel fortunate to have the opportunity to study here and to contribute to the university's mission of advancing knowledge and understanding in the world.