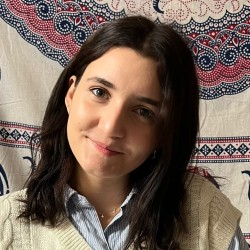 Sandra Vodarici
As cheesy as it might sound, as an international student, Surrey became my home and I couldn't have asked for a better one.
What's one snack you couldn't live without at university?  
Chocolate: it kept me going in stressful deadline seasons.  
Why did you choose to come to Surrey?  
The University of Surrey was ranked 4th globally for hospitality management in 2019 when I started my first year; that was the first thing that appealed to me when I applied for university.  
What was your first impression when you got here? 
Being an international student, I struggled with homesickness in my first year of university. However, Surrey is way more than simply one of the best hospitality schools. The campus, community feeling, proximity to London and student support made it easier to adapt. The campus just inspires friendliness and community bonding through all the cosy study spaces.  
Why are you passionate about your subject? 
I love analysing people and looking into travel demand patterns. 
What do you like most about your course, and why? 
What I like most about International Hospitality and Tourism Management BSc is the applicability of the modules.
During my degree, I've participated in hotel simulations and planned events as part of module assignments, gaining a better understanding of the industry. 
Who's been your favourite academic and why? 
My favourite academic is Sylvia Ganbert, who inspired me to pursue a career in revenue management. Her passion and professional experience, but also her energetic spirit, add value to the learning experience. Moreover, she is a great listener: a lecturer that helps her students build their confidence. I believe she has strongly impacted my development during university, and I will always be grateful for her support.  
What were the facilities like on your course?  
The course offers both assignment and career advisors, but it also provides opportunities to network, such as free Institute of Hospitality membership that offers students discounted and sometimes free tickets to industry events. These are great opportunities to meet industry professionals and explore career paths.  
What careers support have you received?  
I strongly believe the careers support offered by the university is life-changing.
I 'clicked' with one of the careers advisors, so every time I reached a new application stage, I would book an appointment with them. By the end of my final year, I was able to talk openly with this advisor about my insecurities, and share my stress and self-doubts during our mock interviews and sessions. 
Have you been on a Professional Training placement?  
I completed a professional training year at a boutique hotel in Central London, which helped me understand more what I would like to do after my studies and the career I would like to pursue. It was a difficult time to find a placement in hospitality in 2021, but I had a lot of encouragement, advice and guidance from my lecturers and successfully secured a place by the end of my second year.  
What did your placement involve? What were the highlights?  
My placement was an operations and management intern position. I gained experience in the front office, food and beverage, marketing and sales and revenue management departments of the hotel.  As my first experience within the hospitality, it helped me discover my strengths and weaknesses, but also my passions and interests.
I believe my Professional Training placement strongly impacted my final year experience at university, as I had a clearer perspective on the optional modules I wanted to do and the graduate job I'm looking for.   
Would you recommend a Professional Training placement to others?  
I would definitely recommend everyone to do a Professional Training placement as it perfectly complements your studies and helps you identify your strengths, weaknesses and passions. 
What are the best things about life at Surrey?  
As cheesy as it might sound, as an international student, Surrey became my home and I couldn't have asked for a better one. The campus is the perfect environment to make friends with a lot of initiatives to encourage students to bond. The best example is the 'Happy to chat' bench, which is located next to a study space. I think this shows how friendly the Surrey campus is.  
What has been your best moment at Surrey so far?  
It's difficult to choose my best moment at Surrey. In my final year Hospitality Events Management module, the assignment involved planning and organising an event. My group and I organised a sushi-making workshop, and we worked on it for almost 11 weeks. On the day of the event, all my friends and even my parents attended. It was a great success, turning out to be the most profitable event of the cohort. I think of it as one of my best moments at Surrey due to the mix of feelings I experienced: excitement, gratitude, stress and a feeling of achievement.   
How has your time at Surrey had an impact on you? 
It helped me grow on both a personal and professional level. It's made me strong, organised and confident, and taught me how to follow my passions.   
Do you know what you want to do when you graduate? 
I'd like to pursue a career in revenue management. In the immediate future, I want to be a cluster revenue manager, to be one of the very best, and to have experience in different markets and different hotels, and hopefully to inspire others, just like the people who inspire me now.   
Do you have any other comments you'd like to offer about your time at Surrey? 
 Thank you, Forever Surrey!