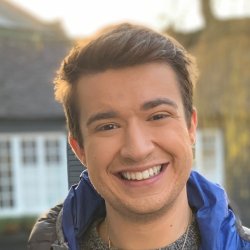 Will Collins
"I worked at Fitzpatrick Referrals, home of The Supervet, and assisted with spinal surgery on a miniature dachshund suffering from intravertebral disc disease."
Course
Veterinary Medicine and Science BVMSci (Hons)
Why I chose Surrey
Growing up in Cornwall, I've always been surrounded by animals. I absolutely love working with both people and pets, so becoming a vet was the perfect fit.
I chose to study at Surrey due to the passion of the lecturers and the amazing facilities that I saw on an open day and at my interview. Being the third cohort at Surrey, it was clear just how excited the University was to be filling the Vet School with students and to be contributing to the veterinary community in such a big way.
My course
I love that my course has been hands-on from the beginning – I've seen and touched live animals from day one! Many other veterinary degrees focus solely on the 'theory' before getting to grips with the animals themselves. But Surrey is special in the way they teach animal handling and husbandry throughout the course.
The teaching staff are very approachable and incredibly passionate about the topics they teach. The Veterinary Clinical Teaching Fellows (VCTFs) that work with the final-year rotations are particularly supportive – they feel more like colleagues.
The facilities are fantastic! The Veterinary Pathology Centre is perfect for practical sessions and even hosts one of the final-year rotations. The mock veterinary practice, Fledglings, in the Vet School Main Building, combined with the other clinical areas, are perfect for practising my skills and taking part in immersive simulations.
Credit: University of Surrey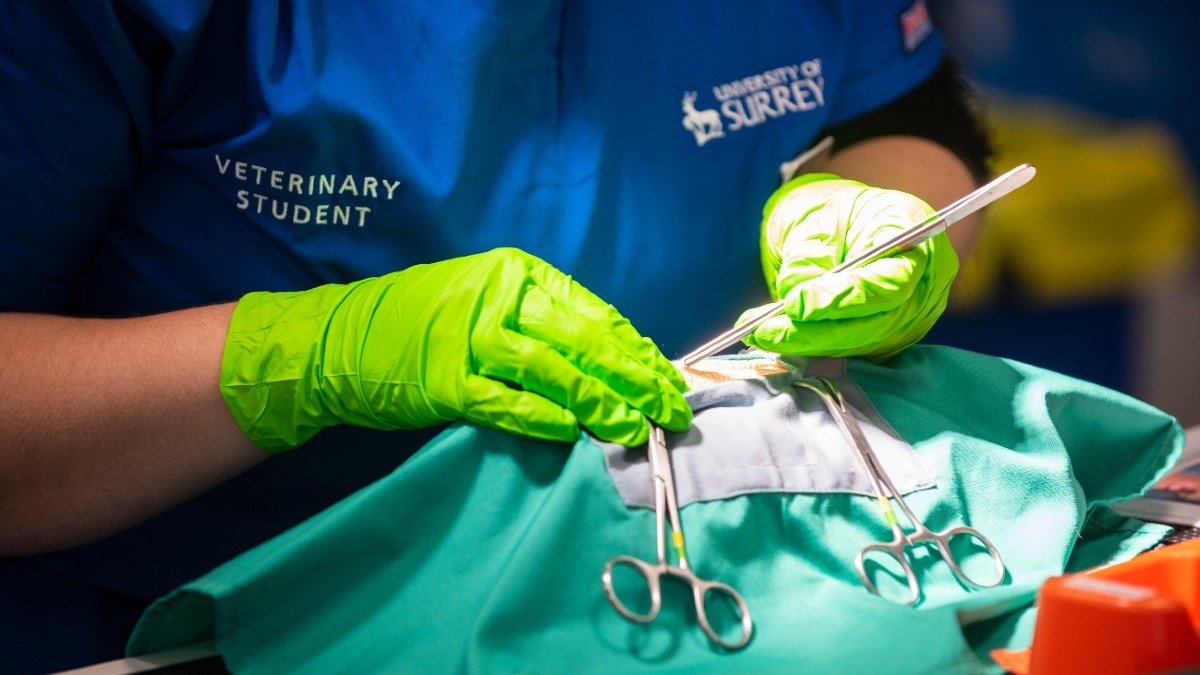 My extramural studies (EMS)
My EMS have taken me all over the UK and the world! I completed much of my pre-clinical animal husbandry extramural studies (AHEMS) at home in Cornwall. I also spent a week at an urban farm in Surrey and a travelling farm in Hampshire, and even got to bring my experience into the classroom teaching in primary and special education needs (SEN) schools. I had unforgettable experiences with lambing, calving/foaling, as well as milking on a dairy farm, calf management and perfecting the 'cat burrito' for particularly unhappy feline patients!
In later years, on my clinical EMS, I received my first surgical training with live animals, castrating dogs, cats, horses and calves. It was daunting at first but incredibly rewarding. I also worked in small animal clinics and hospitals in Cornwall and around Surrey, which gave me excellent opportunities to network for future jobs and develop my clinical skills.
I was lucky enough to spend two weeks in South Africa with a wildlife vet, where I placed an intravenous cannula in the ear vein of a white rhino that needed general anaesthesia! We also microchipped a leopard, castrated some howler monkeys and helped to rescue an escaped black rhino calf!
My intramural rotations (IMR)
I've been to a host of different practices all over the UK for my final-year IMR. I've spent six weeks across Somerset completing my production animal and small animal general practice rotations, which were great! For my special interest elective, I did an online rotation with vets and nurses from Marwell Wildlife, as conservation and exotic medicine are of particular interest to me. I'm just about to head to Middlesbrough to do three weeks of equine practice at a large animal hospital, which I'm sure will be an amazing experience.
Throughout my IMR, I've been involved with a wide range of tasks that have made me start to feel like a proper vet! I've:
Performed castrations and ovariohysterectomy procedures on a range of dogs and cats.
Carried out my own consultations to work up some more common presentations in small animal practice.
Scrubbed into some interesting orthopaedic and emergency soft tissue procedures.
Spent time with amazing veterinary nurses from whom I've learnt so much about small animal anaesthetic monitoring, diagnostic testing, drug calculations and patient care.
The clinical instruction mentors (CIMs), who are vets that work in the practices all year round, are absolutely fantastic at getting us involved. I've really felt like part of their teams in the relatively short time I've spent at each placement.
My biggest highlight has been working at Fitzpatrick Referrals, home of Channel 4's The Supervet: Noel Fitzpatrick. I spent a week with the fantastic neurology team and was lucky enough to assist with spinal surgery on a miniature dachshund suffering from intravertebral disc disease. It was a surreal experience and one I won't forget in a hurry. Thankfully, the dog has made a full recovery!
My life at Surrey
I spent my first year living in halls of residence over at Manor Park, which was very handy being so close to the Vet School. It was important for me to live with students from other courses, so I could come home and immerse myself in non-vet conversation.
One of my favourite things about Surrey is the lovely town centre, which is close to both campuses and great to spend the day shopping and eating in. At night, Guildford has a really great selection of pubs, bars and nightclubs, which I've made very good use of! There's also Rubix, the Students' Union nightclub on Stag Hill Campus, that hosts themed nights. It's one of my firm favourites!
My career and development
My time at Surrey has helped to improve my client and team communication skills. I've applied what I've learnt to my placements, which veterinary staff always comment on, so I know it must be working!
I'm excited to share I've just signed my contract to be a small animal veterinary surgeon in Berkshire, which I'll be starting after graduation! 
My advice
A veterinary degree is not an easy one by any means, so be prepared to work hard and put your organisational skills to the test.
The people behind the Veterinary Medicine and Science course at Surrey are some of the most compassionate, nurturing and hard-working that I've ever met. I'm honoured to be joining a profession where I can work alongside them.