Thermo-Fluid Systems University Technology Centre
Our Centre was established in early 2003 with support from Rolls-Royce plc, and was officially opened in November that year. We are located at the heart of the University campus, sharing some facilities with the Environmental Flow Laboratory (EnFlo) and Surrey's Advanced Vehicle Analysis Group (SAVAG).
Research
Our research focuses on turbomachinery internal fluid and thermal systems, and is funded with grants from industry, UK national funding agencies, and the European Commission. Current work includes the development of high-precision simulations of secondary flows within an engine, to improve efficiencies by refining the mechanical design.
Most of our research involves development and exploitation of advanced computer modelling techniques and dedicated high performance computing facilities are available to support this work. We are involved in a number of formal and informal collaborative projects with other European universities and turbomachinery companies, with considerable use being made of experimental data from other groups.
Get in contact
If you have any queries or would like to get involved with our research then please contact our Research Centre Administrator:

Facilities
We have numerous wind tunnels including a meteorological wind tunnel and EnFlo tunnel which is one of few in the world which allow experiments to be carried out in controlled conditions simulating the Earth's atmosphere.
Meet the team
Director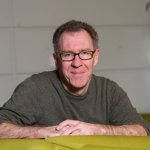 Professor of Computational Engineering, Faculty Associate Dean of the Doctoral College