Translation of creative content and technology
Translation of creative content and technology
This panel focuses on the intersection of autonomous human creation and machine-assisted creation of content, which may be used or (partially) de-selected when delivering documents and products across different media and institutional settings in the creative industries. 
Different contexts may serve as exemplars. For example, neural machine translation (NMT) trained on literary data does not appear to have the necessary capabilities for creative translation; it renders literal solutions to translation problems and, more importantly, using NMT to post-edit raw output constrains the creativity of translators, resulting in a poorer translation (Guerberof-Arenas & Toral 2022). In audiovisual translation, machine translation post-editing has become a common practice, without always serving as guarantee of the intrinsic creative component required for translators. Media-propelled controversy on successful international series (e.g. Squid Game 2021, Hwang Dong-hyuk) regarding subtitle output in streaming platforms points at an increasing awareness of the translation act and the reception of translation. In other sectors of the creative industries with both a wealth-generation and a community focus, such as museums, texts and narratives are made available through different media and technologies, often entailing moments of mindful mediation for their respective audiences. 
Overall, there is a sense that machine translation models, tools and media need to be designed or used by having translators (and their audiences) as a central focus. In this way, default, routine output may be backgrounded and technology can foster creativity rather than constrain it. To discuss these very topical issues, there will be short presentations by established researchers followed by a panel to discuss a translator-centred approach to technology. 
Panellists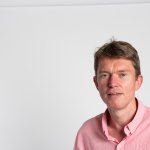 Biography
James has 20+ years of experience in language services. He started out as an in-house translator/copywriter with German agency Wieners+Wieners, before moving to transcreation specialists Mother Tongue as an account manager. In 2011, he opened the company's Singapore office, and spent 5 years there before moving back to London to become global operations director. The intersection of creative talent and technology platforms is a fundamental part of this role, and he's very excited to be invited to this panel.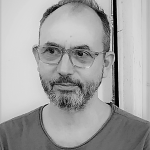 Biography
Dionysios Kapsaskis is Senior Lecturer in Media Communications at the University of Roehampton, London. Dr Kapsaskis teaches practical and theoretical aspects of translation, transcreation, intercultural communication and storytelling. His research focuses on the intersection of film and translation, while his articles have appeared in a wide range of journals such as Translation Studies, The Journal of Specialised Translation, Quarterly Review of Film and Video, and Dalhousie French Studies. Dr Kapsaskis recently co-edited The Routledge Handbook of Translation and Globalization (with Esperança Bielsa, 2021).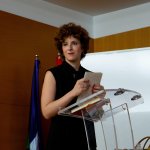 Núria Molines
Universitat Jaume I de Castelló
Biography
Núria Molines holds a Ph.D. in Translation Studies from the Universitat Jaume I de Castelló (Spain), her dissertation is on Jacques Derrida's translation philosophy. She combines her professional activity as a translator and interpreter with her position at the Universitat Jaume I (UJI), where she teaches Literary Translation, and at the master's degree program in Audiovisual  Translation (UEV). Her field of expertise are essays and contemporary literature, a field where she has translated more than 60 published books. She has translated authors such as Joyce Carol Oates, Jane Austen, Kate Millett, Ursula K. Le Guin, Fredric Jameson, Mark Fisher, Ernst Toller, and Mary Karr, among others. Her research interests are: deconstruction, ethics, gender, and literary translation.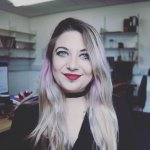 Biography
Paola Ruffo is a researcher in the field of Computer-Assisted Literary Translation (CALT). She is currently at Ghent University as a Marie Skłodowska-Curie Postdoctoral Fellow to work on 'Developing User-centred Approaches to Technological Innovation in Literary Translation (DUAL-T)'. She has previously worked as a freelance translator and as a Lecturer in Translation Technology at the University of Bristol.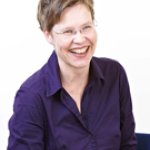 Biography
Marion Winters is Senior Lecturer in the Department of Languages and Intercultural Studies at Heriot-Watt University, Scotland. She is founding editor of New Voices in Translation Studies, member of the IATIS Publications Committee and a professional member of the German and Irish translators' associations (BDÜ, ITIA). She has published on translator style and translated autobiographical writing and is co-editor of the book Technological Change in Translation and Interpreting (Bloomsbury, forthcoming). In her current research project, in collaboration with Dorothy Kenny and the literary translator Hans-Christian Oeser, she investigates how the increasing use of machine translation may be affecting literary translators.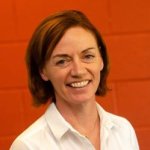 Biography
Dorothy Kenny is full professor of translation studies at Dublin City University. She holds a BA in French and German from DCU and an MSc in machine translation and a PhD in language engineering, both from the University of Manchester. Her current research interests include corpus-based analyses of translation and translator style, literary applications of machine translation and approaches to the teaching of translation technology. From September 2019 to August 2022 she was principal investigator on MultiTraiNMT, a European-Union funded strategic partnership that aimed to create and disseminate innovative materials for teaching and learning about machine translation. Her recent publications include the edited volumes Machine translation for everyone: empowering users in the age of artificial intelligence (Language Science Press, 2022), Fair MT: Towards ethical, sustainable Machine Translation (a special issue of Translation Spaces 9(1), coedited with Joss Moorkens and Félix do Carmo in 2020) and Human Issues in Translation Technology (Routledge, 2017). Professor Kenny is co-editor of the journal Translation Spaces and an Honorary Fellow of the Chartered Institute of Linguists.