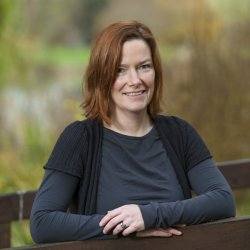 Dr Birgitta Gatersleben
---
Reader in Environmental Psychology
Biography
All human behaviour takes place in a physical environment. These environments have significant impact on the way people feel, think and act. At the same time people are constantly modifying their physical environment either consciously or not. My research studies these people-environment interactions. I am particularly interested in issues related to transport, environmental stress and restoration and sustainable living. 
Areas of specialism

Environmental Psychology;

Sustainability;

Urban living;

Environmental stress and wellbeing;

Nature experiences
University roles and responsibilities
Head of Environmental Psychology section

Director of Environmental Psychology Research Group

Programme Leader of the MSc in Environmental Psychology
My qualifications
1998
PhD
University of Groningen, The Netherlands
1994
MSc
University of Leiden, The Netherlands
Research
Research interests
My research focuses on human-environment interactions in particular in relation to transport, natural and urban environments and sustainable lifestyles. 
Transport
The way in which people move through their environment has profound impact on their own life as well as their environment. My research in this area focus on two themes: the symbolic-affective aspects of transport mode choices (or how walking, cycling and driving makes people feel) and (perceived) environmental quality. Examples of research projects include:
Symbolic-affective aspects
When it comes to how I travel, who am I?
The car as a material possession.
Cycling stereotypes and identities.
Instrumental, affective and symbolic aspects of the journey to work.
Promoting cycling to work: attitudes and perceptions in different stages of change.
Comparing perceptions of transport problems and travel demand management between residents, policy makers and organisations.
Perceived environmental quality
Hoody, goody, buddy. How mode use influences social perceptions
The impact of the Jubilee Line extension in London on travel behaviour, place attachment and neighbourhood quality.
The risk perceptions of transport generated air pollution.
Environmental stress and restoration
Environmental stressors such as traffic noise and pollution can significantly damage human wellbeing. Engagement with natural tranquil spaces, on the other hand, can help people recover from stress and mental fatigue. My research in this area tries to understand when and how different environments affect human wellbeing. Examples of projects include:
Greenery on and around residential buildings.
The psychological effects of exposure to bird song.
The impact of fear on the restorative potential and perceived quality or urban and natural environments.
The effect of outdoor experiences on the mood and confidence of adolescents.
Blind people's perceptions of natural environments.
Sustainable lifestyles
Much of my work in this area has been part of larger multidisciplinary projects examining motivations of consumer and pro-environmental behaviours and wellbeing. I am particularly interested in studying the link between consumer values and identities and wellbeing.  Projects include:
Living well with less
Sustainable lifestyles and wellbeing
Exploring consumer identities to understand pro-environmental behaviour
Materialism and wellbeing
Using smart technology to promote energy conservation
Evaluating large scale corporate sustainability interventions
Research funding
LiveLagom: Sustainable Consumption Changes (COI)

2015 – 2019; IKEA
With Centre for Environmental Strategies (CES) at Surrey

CUSP: Centre for Research on Prosperity Without Growth (COI)

2016 – 2021; ESRC
With CES, Sociology and several other institutions in the UK

SLRG (Sustainable Lifestyle Research Group) (COI)

2010 – 2013; ESRC, DEFRA, Scottish Government
With CES, Sociology (Surrey), Universities of Bath, Sussex and Edinburgh, Institute of Fiscal Studies

REDUCE (Reshaping Energy Demand of Users by Communication Technology and Economic Incentives) (COI)

2010 – 2013; EPSRC
With Centre for Communications Research, University of Surrey and CES at Surrey

RESOLVE (Research on Lifestyles, Values and the Environment) (COI)

2006 – 2011; ESRC
With CES, Sociology and Economics at Surrey

Sustainable lifestyle survey (PI)
Hoody Goody Buddy (PI)

2009 – 2010; Joseph Rowntree Foundation
With Cadense Works, Sheffield

BARENERGY (Barriers for energy changes among end consumers and households) (PI)

2008 – 2010; EU Framework 7 programme
With SIFO, Sweden, TNO, The Netherlands, University of Groningen, The Netherlands, EdF, France, University of St Gallen, Switserland, Central European University, Hungary, Centre for Sustainable Energy, UK

Investigation motivations of segments (COI)

2008; DEFRA
With CES, Surrey

Evidence Base Review on Public Attitudes to Climate Change and Transport Behaviour (PI)

2005 – 2006; DfT
With Robert Gordon University, Ecolane

ToolSust (The involvement of stakeholders to develop and implement tools for sustainable households in the city of tomorrow) (PI)

2000 – 2003; EU framework 5 programme
With SIFO, Norway, University of Groningen, The Netherlands, University of Padua, Italy

Croco-cycles and walking buses (COI)

2001 – 2002; Surrey County Council

Jubilee line Extension Perception Study (COI)

1999 and 2000; Oxford Brookes University and Transport for London (Jubilee Line Impact Study)

The risk perceptions of transport generated air pollution.

1998-2001: Guildford Borough Council
Workshops and networks
Too cute to kill? From the depiction of animals in children's literature to the framing of government policy by adults (COI)

2016: IAS: £4,000;
With VET school and School of English and Languages at Surrey and University of Reading

Lifestyles in transition; opportunities for sustainable lifestyles? (COI)

2014: IAS: £ 4,000
With Sociology and CES at Surrey

Psychology of Sustainable Development BPS seminar series (COI)

2010 – 2011: ESRC: £3,000 (£1,000 to Surrey)
With Cardiff University and University of Exeter

OHN: Outdoor Health Network (COI)

2009 – 2010; ESRC: £13,859 to Surrey
With 26 researchers from 15 different institutions (e.g., University's of Surrey, Brighton, Edinburgh, Glasgow, Natural England, Forestry commission, NHS Highland) participated in this project.

Environmental Socialisation within the European news media (PI)

2000; ESF Term II: (total: around 300,00 FRF: 45,000 Euro)
With Copenhagen Business school (Denmark), University of Plymouth, University of Groningen, University of Hohenheim, l'Università di Parma.
My teaching
Final year undergraduate module
Introduction to Environmental Psychology
Postgraduate modules
Introduction to Environmental Psychology
Key Questions in Environmental Psychology
The Psychology of Sustainable Development
Supervision
Postgraduate research supervision
Current Students
Laura Cowen: Mental models of energy use.
Patrick Elf: Live LAGOM (EngD student with IKEA)
Nick Grudgings: Developing sustainable travel in Surrey (EngG with SCC)
Amy Isham Consumerism, environment and wellbeing (CUSP PhD)
Linzi Shearer: Encouraging waste reduction and prevention (EngD with SCC)
Emma White Environmental restoration and garden design
Chris Wiles: Using VR to study environmental restoration and mental health
Mark Newman: Using VR to study nature expeirences
Clara Weber: Privacy in open plan offices
Completed
Eleanor Ratcliffe (2015). The effects of listening to birdsong on restoration from stress and cognitive fatigue.
Alison Armstrong (2012). Mindfulness and Consumerism; A Social Psychological Investigation 
Matthew Andrews (2010). When Walking in Nature is not Restorative.
My publications
Additional publications
2018
Golding, S, Gatersleben, B., & Cropley, M. (2018). An Experimental Exploration of the Effects of Exposure to Images of Nature on Rumination. International Journal of Environmental Research and Public Health, 15, 1-19.
2017
Gatersleben, B., Murtagh, N, Cherry, M, & Watkins, M. (2017) Moral, wasteful, frugal, or thrifty? Identifying consumer identities to understand and manage pro-environmental behavior. Environment and Behavior, 1-26
Cowen, L. & Gatersleben, B. (2017) Testing for the size heuristic in householders' perceptions of energy consumption. Journal of Environmental Psychology, 54, 103-115.
2016
Gatersleben, B. & Griffin, I. (2016). Environmental Stress. In: Fleury-Bahi, Ghozlane, Pol, Enric, Navarro, Oscar (Eds.). Handbook of Environmental Psychology and Quality of Life Research, Springer, pp. 469 – 485.
Greenwood, A. & Gatersleben, B. (2016). Let's go outside! Environmental restoration amongst adolescents and the impact of friends and phones. Journal of Environmental Psychology, 48, 131-139.
Ratcliffe, E., Gatersleben, B., & Sowden, PT. (2016). Associations with bird sounds: How do they relate to perceived restorative potential? Journal of Environmental Psychology, 48, 136-144.
Shearer, L., Gatersleben, B. Morse, S. Smyth, M & Hunt, S. (2016, in press). A problem unstuck? Evaluating the effectiveness of sticker prompts for encouraging household food waste recycling behaviour. Waste Management.