5G and Future Generation Communication Systems MSc
Why choose this course
5G and future generation communication systems will connect almost anything in the world around us. Like the invention of air travel and the internet, it will become difficult to imagine life without it.
On our MSc in 5G and Future Generation Communication Systems, you'll be at the forefront of this evolving, exciting sector. At Surrey, we're internationally recognised in future connectivity – our pioneering 5G Innovation Centre is home to the world's largest academic research group specialising in 5G communications.
Using software simulators and testbeds, our research generates new concepts in the field, transforming ideas into forward-thinking solutions for tomorrow's world
Five reasons to study for a masters in electrical and electronic engineering at Surrey
Read more
What you will study
Mobile communications are rapidly becoming the main telecommunications infrastructure in the world.
With technology like 5G, mobile communications will connect everything from transport to factories, homes and, of course, people themselves. Offering smarter operational efficiency in a variety of areas, this technology could improve the country's overall productivity.
Our MSc in 5G and Future Generation Communication Systems will enable you to understand the engineering aspects of this rapidly developing field, as well as emerging systems for the support of broadband mobile internet.
Surrey is home to the world's largest academic research group in 5G communications, with founding members including the UK's major mobile operators, so you'll be exposed to advanced communications and study modules on both 4G and 5G technologies.
Research
Our Department is home to the Institute for Communication Systems. This houses more than 100 researchers working across many communication technologies including 'internet of things', satellite, security and radio, as well as its core research hub – the 5G Innovation Centre (5GIC). Over £100 million worth of investment from government and industry is enabling 5GIC to pioneer tomorrow's connected society and digital economy. Your studies will be informed by some of the best innovation and research in the world.
Professional recognition
MSc - Institution of Engineering and Technology (IET).
Accredited by the Institution of Engineering and Technology on behalf of the Engineering Council as meeting the requirements for Further Learning for registration as a Chartered Engineer. Candidates must hold a CEng accredited BEng/BSc (Hons) undergraduate first degree to comply with full CEng registration requirements.
Careers and graduate prospects
Our graduates have progressed to working in large mobile and satellite companies including British Telecom, EE, 3, Huawei, Samsung, Vodafone and Telefonica.
Accreditation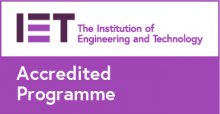 Academic year structure
Modules
Entry requirements
A minimum of a 2:2 UK honours degree in either Communication Engineering, Computer Engineering, Electrical Engineering, Electrical and Computer Engineering, Electronic Engineering, Information and Communication Technologies, Physics or Telecommunication Engineering, or a recognised equivalent international qualification. We'll also consider relevant work experience if you don't meet these requirements.
English language requirements
IELTS Academic: 6.5 overall with 6.0 in Writing and 5.5 in each other element.
Credit transfer
The University of Surrey recognises that many students enter their higher education course with valuable knowledge and skills developed through a range of professional, vocational and community contexts. If this applies to you, a process called recognition of prior learning (RPL) may allow you to enter your course at a point appropriate to your previous learning and experience, or to join the start of a course without the formal entry requirements. This means that you may be exempt from certain elements of study in the course for which you have applied and be awarded credit based on your previous qualifications/experience. There are restrictions on RPL for some courses and fees may be payable for certain claims. 
Please see the code of practice for recognition of prior learning and prior credit: taught programmes (PDF) for further information. Please email Admissions with any queries.
Fees
Please note:
These fees apply to students commencing study in the academic year 2020-21 only. Fees for new starters are reviewed annually.
If you are on an unstructured self-paced part-time course, the fee shown is per 15 credits for the 2020-21 academic year. The fee payable in subsequent years will be reviewed annually.
Additional costs
There are associated costs with this course:
Books/stationery/admin: Costs may be incurred associated with the purchase of writing paper. 
Funding
Scholarships and bursaries
---
We're committed to making sure that we offer support for students who might need it.
Terms and conditions
When you accept an offer of a place at the University of Surrey, you are agreeing to comply with our policies and regulations, and our terms and conditions. These terms and conditions are provided in two stages: first when we make an offer and second when students who have accepted their offers register to study at the University. View our offer terms and conditions and our generic registration terms and conditions (PDF) as a guide as to what to expect.
 
Please note: our offer terms and conditions will be available in the September of the calendar year prior to the year in which you begin your studies. Our registration terms and conditions will vary to take into account specifics of your course.
Disclaimer
This online prospectus has been prepared and published in advance of the academic year to which it applies. The University of Surrey has used its reasonable efforts to ensure that the information is accurate at the time of publishing, but changes (for example to course content or additional costs) may occur given the interval between publishing and commencement of the course. It is therefore very important to check this website for any updates before you apply for a course with us. Read more.
Campus location
Stag Hill
Stag Hill is the University's main campus and where the majority of our courses are taught.
Address
University of Surrey
Guildford
Surrey GU2 7XH