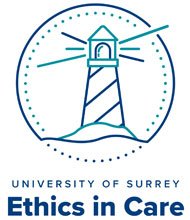 Ethics in Care Research Theme
Our vision for research in the ethics in care research theme is to illuminate the complexity and significance of ethical care and to identify and develop evidence-based interventions that promote sustainable ethical practices and respond effectively to unethical practice.
Research and educational focus
Ethics and professionalism are integral to health and social care practices. Care-givers and care leaders must respond constructively and effectively to the everyday ethical issues that arise in their practice.
Practitioners' responses include making ethical decisions relating to actions and omissions. Practitioners are accountable for those decisions and draw on ethics to provide the language and arguments to underpin their decision-making. Everyday decision-making in health and social care relates to, for example, the allocation of scarce resources, truth-telling, confidentiality, moral distress, the consent process, raising concerns and the promotion of person-centred care. 
Research areas
Cross-cultural perspectives on roles, responsibilities and the future of care of older adults
Values-based end of life care for young people with learning disabilities
Understanding and responding to fitness to practise complaints against paramedics and social workers
Researching ethics education interventions that promote ethics in social care
Truth-telling in fitness to practise complaints
Professionalism in paramedic practice.
Research methodologies
Philosophical analysis of ethical issues, concepts and theories
Delphi process – iterative process to reach consensus on complex ethical questions
Qualitative research – grounded theory and ethnography
Quantitative research – involving measurements of aspects of the moral life
Mixed methods
Systematic reviews.
PhD studies
Olivia Luijnenburg: ETHoS Project: The Ethical Implications of 'Spirituality' in Residential Care for Older People (Supervisors: Dr Ann Gallagher, Dr Freda Mold)
Ali Haddad: Perceptions of Patients, Doctors and Nurses of being the "Good Nurse" in Kuwait: A Grounded Theory (Supervisors: Prof Ann Gallagher, Dr Anna Cox)
Hanna Groothuizen: Values in students of adult nursing following exposure to the clinical environment (Supervisors: Dr Alison Callwood, Dr Debbie Cooke, Professor Ann Gallagher)
Wendy Grosvenor - Successful completion in May 2019: Student nurse perspectives on the impact of longitudinal home visits to people with dementia and their carers. Whole Sight: New Ways of Seeing (Supervisors: Prof Ann Gallagher, Prof Sube Banerjee).
Publications
Gallagher A. & Herbert C. (Editors) (Launch June 2019) Faith and Ethics in Health and Social Care: Improving Practice through Understanding Diverse Perspectives Jessica Kingsley, London
Tranvåg O., Nåden O. & Gallagher A. (2019) Dignity Work of Older Women Caring for a Husband with Dementia at Home Health Care for Women International
Miyama T., Gallagher A., Numoto K., Kawahara N., Tanabe M. & Takenaka Y. (2019) Philosophical perspectives on the care of elderly people from the viewpoint of advanced practice nurses in Japan Bulletin of Kyoto Tachibana University 45 (15): 209-221
Ota K., Maeda J., Niimi Y., Gallagher A., Fai Chan M., Yahiro M. & Matsuda M. (2019) Development of an inpatient dignity scale through studies in Japan, Singapore and the United Kingdom Asian Nursing Research (see https://www.asian-nursingresearch.com/article/S1976-1317(18)30223-8/fulltext )
Sala Defilippis T.M.L., Curtis K. & Gallagher A. (2019) Conceptualising Moral Resilience Nursing Inquiry (see https://doi.org/10.1111/nin.12291)
Austin Z., van der Gaag A., Gallagher A., Jago R., Banks S., Lucas G. & Zasada M. (2018) Understanding Complaints to Regulators about Paramedics in the UK and Social Workers in England: Findings from a Multi-Method Study  Journal of Medical Regulation 104(3): 19-28
Gallagher A., Watson F. & Fitzpatrick N. (2018) Love as a core value in veterinary and medical practice: Towards a humanimal ethics Clinical Ethics (https://journals.sagepub.com/doi/abs/10.1177/1477750917738110?journalCode=ceta )
Lucas G., Gallagher A., Austin Z., Jago R., Banks S., & van der Gaag A. (2018) Understanding complaints about paramedics: a qualitative exploration in a UK context Australian Journal of Paramedicine (https://ajp.paramedics.org/index.php/ajp/article/view/616
Gallagher A., Zasada M., Jago R., Austin Z., Banks S., Lucas G. & van der Gaag A. (2018) Fitness-to-practise concerns and preventative strategies Journal of Paramedic Practice 10 (4) pp.163-169
Cox, A., Lucas, G., Marcu, A. Piano, M., Grosvenor, W., Mold, F., Maguire, R. & Ream, E. (2017) Cancer Survivors' Experience With Telehealth: A Systematic Review and Thematic Synthesis. Journal of Medical Internet Research Vol 19, No 1.
Cox, A., Arber, A., Gallagher, A., MacKenzie, M. & Ream, E. (2017) Establishing Priorities for Oncology Nursing Research: Nurse and Patient Collaboration. Oncology Nursing Forum. Vol 44, No 2, 192-203
Cox, A. (2017) Research on palliative and end-of-life care is a priority for patients. International Journal of Palliative Nursing. Vol. 23, No. 4, 202–203
Cox, A., Arber, A., Bailey, F.,, Dargan, S., Gannon, C., Lisk, R., Quinn, B., Samarasinghe, J., Wrigley, M. & Gallagher A. (2017) Developing, implementing and evaluating an end of life care intervention. Nursing Older People 31; 29 (1): 27-35.
Vandrevala, T. Pavey, L., Chelidoni, O., Chang, N.F., Creagh-Brown, B. & Cox, A. (2017) Psychological rumination and recovery from work in Intensive Care Professionals: Associations with stress, burnout, depression, and health. Journal of Intensive Care 5:16
Gallagher, A., Peacock, M., Zasada, M., Coucke, T., Cox A.. & Janssens, N. (2016) Care-givers' Reflections on an Ethics Education Immersive Simulation Care Experience:  A Series of Epiphanous Events. Nursing Inquiry. 
Konstantära, E., Vandrevala, T., Cox, A., Craigh-Brown, B. & Ogden, J. (2016) Balancing Professional Tension and Deciding upon the Status of Death: Making End-of-life Decisions in Intensive Care Units. Health Psychology Open. 3 (1): 1-9
Gallagher, A. & Cox, A. The RIPE Project protocol: Researching Interventions that Promote
Ethics in Social Care (2015).  Working Papers in the Health Sciences 1:11 Spring 2015
Cox, A. & Faithfull S. (2015) Aiding a reassertion of self: a qualitative study of the views and experiences of women with ovarian cancer receiving long-term nurse-led telephone follow-up. Support Care Cancer 23(8):2357-64.
Gallagher, A., Bousso, R., McCarthy, J., Kohlen, H., Andrews, T., Paganini, M., Abu-El-Noor, N., Cox, A., Haas, M., Arber, A., Abu-El-Noor, M., Baliza, M., & Padilha, K. (2015) Negotiated reorienting: A grounded theory of nurses' end-of-life decision-making in the intensive care unit. Int J Nurs Stud.; 52(4):794-803
The International Care Ethics (ICE) Observatory
The ICE Observatory promotes international research, development of ethics teaching, cross-cultural discussion and understanding, and ethical inter-professional and inter-agency co-operation.