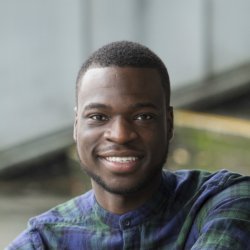 Abdul Hafiz Balogun
"The academic staff on my programme are very engaging. Whenever they are teaching, they make studying law interactive and fun."
"One of the main reasons I came to Surrey is because of how highly it ranks in the relevant league tables across the country. It was a great indicator of the University being on an upward spiral and has solidified its position as one of the best universities around. 
I also chose to study at Surrey due to the unique opportunity of doing a Professional Training placement. I felt this was invaluable, because it would give me an edge in the legal industry if I secured relevant work experience, before I had even graduated!
I attended an Open Day during the summer, and the campus and University lived up to my expectations. It was a great decision to come to the Open Day, because I could ask myself whether I would be happy spending the next few years studying and living in Guildford. Needless to say, the answer for me was a resounding yes.
"The best thing about life at Surrey is the friendly people I have met, and continue to meet. I have found that I have made really good friends studying my course, and with other students I have met during my time here."
I also attended an Applicant Day. My advice to anyone wanting to study Law at Surrey would be to visit the university on an Applicant Day to get a real sense of what it would be like to study Law at the University of Surrey. Mini lectures and activities are held to give applicants a real taste of what you would be doing on a day-to-day basis.
The aspect of my programme that I enjoy the most is the tutorials. I enjoy attending my tutorials, because it is usually a class of eight to ten students, and each person is given the opportunity to speak or listen to what your peers think about the questions that are being addressed.
I have fond memories of interesting discussions that have taken place in my tutorials, and I always seem to have learnt something new whenever I come out of one.
The academic staff on my programme are very engaging. This is another part of my programme I treasure, because the lecturers and tutors all have big personalities. That means that whenever they are teaching, they make studying law interactive and fun!
Clubs and societies have played a big role in my university life. I am involved with the Team Surrey Tennis Club, African and Caribbean Society, and the Law Society. They present a chance to step away from studying, and enjoy activities that might not necessarily be directly related to your degree."
Discover more about our law programmes, including our LLB Law.